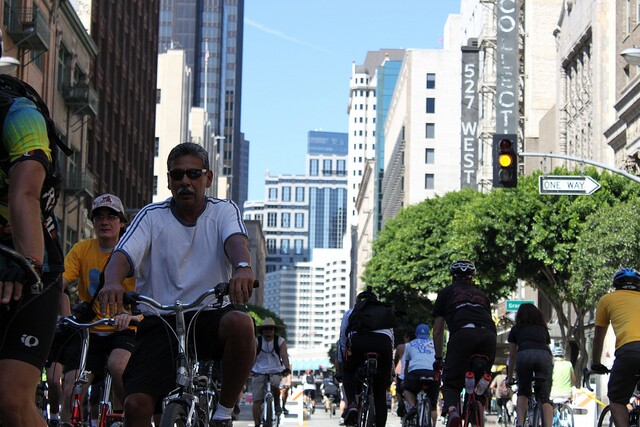 The Los Angeles City Council voted unanimously on Tuesday to approve a motion for CicLAvia, the event where miles of streets are closed to vehicles and opened for cyclists and pedestrians, to be awarded a $200,000 grant from the Mobile Source Air Pollution Reduction Trust Fund (MSAP).
"We are thrilled that the City Council has once again endorsed CicLAvia and we look forward to our continued collaboration in 2012 and beyond," said CicLAvia organizer Aaron Paley.
The money allocated by the City Council will cover the City's costs associated with CicLAvia, said Paley. The costs are divided between Street Services, the Department of Building and Safety, the Los Angeles Fire Department, Street Maintenance and Street Services, the Department of Transportation, which includes the traffic officers, posting of signs and the development of a master traffic mitigation plan for the event.
The MSAP fund receives a portion of a six-dollar fee that is imposed on vehicles registered in the South Coast Air Quality Management District (SCAQMD), and the funds are used to encourage permanent reduction of motor vehicle pollution, according to a transportation committee report. CicLAvia is an event where residents of Los Angeles are able to experience different modes of transport other than fossil-fueled vehicles.
"This important allocation is an indication of the public sector-private sector collaboration that characterizes CicLAvia," explained Paley. "The non-profit community-based organization, CicLAvia, has raised an equal amount of dollars to support the marketing and production of the October event as well as supporting ongoing efforts to expand CicLAvia throughout Los Angeles and Los Angeles County."
The next CicLAvia could be the biggest event for the organization to date. Organizers are expecting an estimated 100,000 Angelenos to take to the streets on October 9th. This year will be a many of firsts for the non-profit group. The route has been extended to 10 miles and will stretch into south Los Angeles communities. Organizers are also introducing CicLAvia walks, a new initiative to provide participants with opportunities to slow down and discover the city in a new way by providing neighborhood guides.
"The City's financial support is a crucial element of this partnership and makes this program part of the City's efforts to improve the health of Angelenos, the economic development of these neighborhoods, and the advancement of alternative transportation modes in Los Angeles," Paley said.

Regina Graham is a graduate student at the University of Southern California's Annenberg School for Communication & Journalism, which has partnered with KCET-TV to produce this blog about policy in Los Angeles.
The photo used on this post is by Flickr user katsakat. It was used under a Creative Commons License.