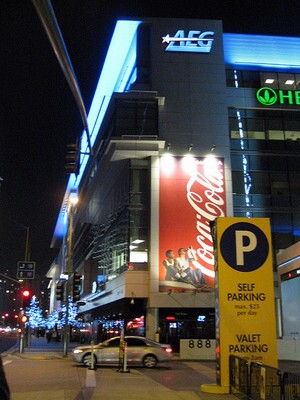 Small business owners on Olympic Boulevard have mixed feelings about the prospect of a NFL stadium being built right next door to their downtown businesses near L.A. Live. Traffic conditions, public transportation and parking were three major concerns that business owners shared over the proposed $1.3 billion Farmers Field.
Guy Pasquini, owner and operator of Pasquini Espresso located just three blocks away from L.A. Live on West Olympic Boulevard, said that Los Angeles has long needed a professional football team and that anything that brings more life to downtown is good.
"I'm all in favor of the stadium and I hope that they do a lot for the community in this area because there are a lot of depressed portions around here," Pasquini said. "I hope that this is not a selfish act, and I thought what the City Council did for the Staples Center enhanced the area as far as helping the community out."
For 50 years, Pasquini's business has provided espresso machines, coffee products and roasted coffee to clients.
"We have three big defects in this city and the number one thing is traffic," continued Pasquini. "I would like to see public transportation more employed by the City, and I am really disappointed that the [current] stops are still two and a half blocks away from the Staples Center."
27-year-old Ivan Leonardo, who has owned Angel Medical Uniform on Olympic Boulevard for five years, said that jobs will be the only good thing to come from an NFL stadium being built downtown.
"It's good for the people who are fans, but the traffic is already really bad in Los Angeles so imagine if there is a stadium," Leonardo explained. "When there are games it's going to be really hard to get to work or go home around here."
Leonardo said he's not happy about the proposed stadium location.
"The parking is going to be really bad over here, too, and the only people who are going to make a lot of money are going to be the owners of the stadium so it will be really good for them," noted Leonardo. "But for people like us, who work around here, it's not going to be a good thing because we could lose out on business."
Ludwig's Kaffee und Essen owners Michel Agustin and Steven Glover see the proposed stadium as an opportunity to help their small and new Olympic Boulevard business grow.
"Honestly we have been looking for a lot of new ways to promote our business and we are trying to get into the concession stands inside of the Staples Center," Glover said. "I'm hoping that with a stadium we could possibly get in there, too, and advertise during games."
Glover, 22, said he's not concerned about traffic because it is always rough around there during rush hour, and people stop in for coffee or snacks to escape it on the 110 freeway, one block away.
"I totally welcome the stadium and am for it," Glover said.
But his business partner, Agustin, is on the fence about the idea. "I have a love-hate relationship with the whole aspect of the idea because, yes, it would bring business to us, but at the same time something that big with corporate sponsors will bring a lot of competition against small business owners like us," he said. "The stadium is definitely a positive for the area, but during construction for the next five years or so, that is going to be bad for this area in terms of traffic and that's an issue within itself."

Regina Graham is a graduate student at the University of Southern California's Annenberg School for Communication & Journalism, which has partnered with KCET-TV to produce this blog about policy in Los Angeles.
The photo used on this post is by Flickr user davidcjones. It was used under a Creative Commons License.