If you're looking for something to do during the weekend of Carmageddon (July 15-17), here's a list of ideas that may be local to you.
Car-mageddon.com is a clearinghouse where you can find or post discounts on food and drinks, survival tips and events to help get you through the weekend.
Folks in Santa Monica will be able to go to their beloved Farmers' Market on Saturday, July 16, but the farmers will have to drive in a day early to avoid the 405 shutdown. Many of them will need a place to stay for the weekend. Check out Host a Farmer if you want to help.
The website of LA County Supervisor Zev Yaroslavsky offers 53 Ways to turn 53 hours of Carmageddon fever into good communal karma.
Walk Along the 405 from the Valley: Who needs cars to get over Sepulveda Pass anyway? A walk is scheduled to go from the Valley to the Mulholland Bridge and back along Sepulveda. Meet on Saturday, July 16 at 9:00 a.m. on the south side of Kester and Ventura, near Mel's Drive-In in Sherman Oaks.
Dinosaur Hall opens July 16 at the LA County Natural History Museum. The new world-class permanent exhibit lets you wander around and sometimes even underneath the astonishing fossils in their 14,000 square foot gallery space. You can buy tickets online.
Little Tokyo Design Week offers symposia, outdoor film screenings, fashion shows, product demonstrations, performances, and music in all the interesting meeting and plaza spaces of Little Tokyo. On Saturday there is a Pecha Kucha night - where young designers showcase their work by presenting 20 images, each shown in 20 seconds, July 14 - 17
The Beach Comes to Hollywood on July 16, 5PM at the Egyptian Theatre. Ukuleles, polynesian dancers, a tiki fashion show, food & drink for sale. Where's my parrot shirt?
Griffith Park Free Shakespeare Festival, the Independent Shakespeare Co. performs under the stars at the site of the old Griffith Park zoo. Check website for directions. No seats, so bring a blanket or lawn chair. See Hamlet July 15 & 16 at 7 pm; Merry Wives of Windsor July 17 at 7 pm.
Shakespeare by the Sea, performances of King Lear on July 15 in Manhattan Beach; Much Ado About Nothing on July 16 in Manhattan Beach and on July 17 in Rancho Palos Verdes. All shows are free and start at 7 pm.
Orange County Fair, Costa Mesa. July 15, 16 & 17 til midnight, this year's theme? "Let's Eat!" Enough said.
Dance Downtown Learn how to shake it, move it and groove it under the stars with live music/DJ and beginner dance lessons. Music Center Plaza, July 15 6:30pm-10pm free
Raymond Chandlers Los Angeles, Bungalows. Crime. Hollywood. Blondes. Vets. Smog. Death. Four hour bus tour by Esotouric into "the secret heart of Los Angeles." Leaves Clifton Cafeteria at noon July 16. Reserve online.
Brazilian singer and lyricist Katia Moraes free concert LACMA, Hancock Park, 7/16 5 pm, free
TMZ Hollywood Tour - It's a show on wheels offering clubs, restaurants, hilarious stories and celebrity hotspots. July 16 & 17, 4 times per day. Tours depart from the Starline terminal at the Chinese Theater located at 6925 Hollywood Blvd, Los Angeles
Mary Star of the Sea Fiesta Port/Long Beach/San Pedro Carnival rides, bingo, raffles, food, fun 7/15, 16, 17 free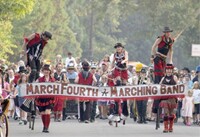 MarchFourth Marching Band A mobile big band spectacular, think Duke Ellington meets Sgt. Pepper with stilt-walkers, dancing girls, flag twirlers, clown antics, and acrobatics - Memorial Park in Pasadena, 7/15 at 7 pm, free.
Outfest 2011: Under the Stars at the Ford - An outdoor screening series of L.A.'s longest running film festival, including the annual sing-along July 15, 16, 17.
Seun Kuti & Egypt 80 An evening of funky, soulful, driving African rhythms. July 15 8pm Grand Performances, 350 S. Grand Ave, free
Congolese-Belgian singer/rapper Baloji and his band plus Canadian-born singer/songwriter Tasneem, July 16 8pm, Grand Performances, 350 S. Grand Ave, free
Fleetwood Macbeth - classic tale of Macbeth and the music of Fleetwood Mac by LA's inimitable Troubadour Theater Company. A "classic Troubie mash-up of the Bard's Macbeth and the rocking sound of Fleetwood Mac" at La Mirada Theatre for the Performing Arts July 15, 16, and 17.
Renegade Craft Fair, 200 artists, handmade goods, crafting activities and food trucks! Los Angeles State Historic Park, 1245 North Spring Street, Los Angeles, CA, 7/16&17 11a-7p free
Old Pasadena Film Festival, the largest free outdoor film festival in Southern California. July 15, 16, 17 - One Colorado Courtyard, 41 Hugus Alley free
Reflections on the Harbor: Our Stories and Memories. Gallery exhibitions plus storytelling, workshops, dance, music and theatre. At Angels Gate Cultural Center, in San Pedro. July 15, 16 11am to 5pm.