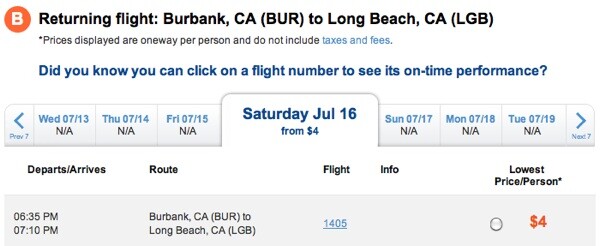 If you're really worried about that drive between Burbank and Long Beach in your car this "carmageddon" weekend, Jet Blue has a solution for you. For $4 each way--"Advertised fare includes all taxes and fees," says their website--you can take a 20-minute flight on Saturday.
Can we say marketing gimmick? Yes, but it's worth pointing out that the route is pretty much covered by public transit.
From Metro's North Hollywood Red Line station, about 3.5 miles from the Burbank Airport, to the Long Beach, where each of its four stations are about an equidistant 4 miles away, takes around an hour to one hour and twenty minutes to travel (other options exist, too, such as Amtrak's Pacific Surfliner that stops at a station next to Burbank Airport. Metrolink trains also stop there, but not on the weekends).
Obviously 20 minutes of flight time beats one hour of ride time, but with flying there's always getting to and from the airport, checking in, security, boarding and taxiing. And, of course, there are many variables as train stations and airports are not always starting points or final destinations. And yes, with public transit, there's transferring from train to train and, if busy, standing-only room. With both, a delay would not be surprising.
One's not necessarily better than the other because it really comes down to personal choice, which should really be the lesson here.
The full closure of the 405 freeway is about widening it, ultimately creating a carpool lane along a 10-mile northbound stretch. That gives drivers more opportunities to make a choice when choosing how to commute: solo or with someone else to use the carpool lane. The extra lane will add capacity, but will not necessarily equate to shaving minutes off a commute.
The same goes for increasing public transportation capacity, such as digging a tunnel between the valley and the Westside. It might not mean a faster commute--hopefully it's competitive--but it's another option on the menu of getting from one point to another.
As for me, if I need to get from my Studio City home to Long Beach this weekend, I'll be riding the rails. One major benefit for me is that I won't have to worry about missing any airport deadlines. Trains run every 15 minutes or so on the weekends meaning I can travel when I please.
Added Note: As some people have mentioned after this post was published--specifically in regards to "One's not necessarily better than the other because ..."--the carbon footprint of the flight, especially such a short one, is very high.