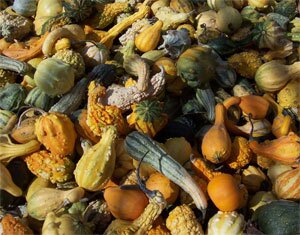 Autumn gives me a feeling that I cannot define and that I cannot live without: a patina of spooky anticipation. My birthday is in September (send presents!) and during particularly rough bouts of summer heat--when I need to think cool thoughts--I remind myself that soon it will be my birthday and when it's my birthday it'll be fall. What I choose not to remember in those moments, is that the heat doesn't usually lift until October.This year, apparently, is different. On the walk to my metro stop after work yesterday, a cool damp wind blew mischievously through my hair and as I picked strands of it out of my lip gloss, I got that feeling. That spooky anticipation. I might just get my autumnal birthday.
Luckily, Squash Week can accommodate this unexpected shift in seasons. Although one of my friends told me my squash efforts are futile. She is unconvinced. She will never eat squash. "They call it squash, because it's squashy." I haven't confirmed that claim, maybe because squash doesn't have to be squashy. Any overcooked vegetable will be mushy and if you don't overcook vegetables, they maintain structural integrity. But ok, she doesn't like summer squash. I have several texture-based food aversions, so I'll let this slide. For something more autumnal and less "squashy" in texture, let's make Butternut Squash Soup. And one proviso, because of my budgetary and kitchen spacetary restrictions, my fancy kitchen tools are limited. But I do think an immersion blender is a worthwhile investment. I've made hummus, white bean dip, salad dressings, frosting, even smoothies with mine. And I've used it to blend soups in the pot, which is much much much less messy and annoying that transferring hot soup from the pot to a blender/cuisinart and back again to blend. With that said... Butternut Squash Soup.
For this you will need: 6 T butter; 2 large yellow onions, chopped; 1 fennel bulb, chopped;
4 c. diced butternut squash (This puppy is tough to cut, even after I sharpen my knives. Last year there was a guy at the farmers market who sold slabs of squash and because an entire squash is usually too much anyway, I'd opt for the slab when possible.); 2 T garlic, minced; 6 T flour; grated rind of Ruby Red grapefruit, plus juice of half the grapefruit (You can substitute an orange for the grapefruit if you want, but I like the tang of the grapefruit.); 3 c. vegetable broth (Do you know how easy this is to make at home? Take whatever vegetables you have lying around, put them in a pot, cover with water and simmer for an hour until you get some flavor, strain out the vegetables, voila.) OR 3 c. chicken broth (Do you know how easy THIS is to make at home? Take a chicken carcass, put it in a pot, add an onion and a carrot, maybe, cover with water, simmer for an hour or until you get some flavor, skim off the fat and strain out the solids, voila. It doesn't keep long, so if you aren't using it ASAP, freeze it.); 3 c. milk; salt and pepper.
Melt the butter in a large saucepan, add the onion and some salt and sweat the onion (that is, cook it so it wilts but doesn't get brown). Add squash, fennel and garlic, saute until fennel is floppy and squash starts to give. Transfer to a soup pot. I do think it's easier to start in a saucepan, it gives the squash more room to roam while it's sauteing, but for the rest of the recipe and for serving, a soup pot or Dutch oven works better. Stir in the flour and while stirring, add the broth, milk and grapefruit rind. (I also add the grapefruit juice at this time, and it curdles the milk a little, but after all the simmering and blending and whatnot, the texture gets smooth. But if you hate the sight of slightly curdled milk, add the juice later.) Simmer until the vegetables are very soft. Whip out your immersion blender and blend away. Serve with some nice crusty bread.
Hint: Butternut Squash does not part willingly with its tough outer skin. My preferred vegetable peeler is the "Y" (or "harp") shaped guy, it looks a little like a disposable razor. I just think it's better for harder jobs than the traditionally shaped peeler. They are like $3.50 at Surfas. They don't last forever, so I generally get a couple at a time. They are super sharp, so only let children you don't like play with them.
And Happy Fall, everyone. If the heat doesn't return by September 18, I will be a happy birthday girl.