Watch: Chop Suey's Next Wave
Chinese and Taiwanese food in Orange County is highly underrated which is a shame because that's where a lot of restaurateurs are moving these days. Rumor has it that even Sichuan powerhouse Chengdu Taste is looking to build their third outpost in Irvine. As the Chinese population in Southern California is expanding, a lot of them are heading south to the other side of the Orange Curtain.
As for the food, the bulk of the better Chinese restaurants are straight-up imports from the San Gabriel Valley. This means that OC residents don't have to drive as far to get their authentic Chinese food fix. Here's a guide:
1. Din Tai Fung
Din Tai Fung graced Orange County with their third Southern California outpost in July -- pushing out plates of soupy pork and crab dumplings and beef noodle soup. Located at South Coast Plaza in Costa Mesa, the dumpling powerhouse spans 8,000 square feet and has a bar and lounge to go with it. 3333 Bristol St., Costa Mesa, CA 92626, (714) 549-3388.
2. Super Juicy Dumpling
This is the second outpost of Wang Xing Ji in San Gabriel and they specialize in ginormous soup dumplings the size of softballs, filled with pulverized crab and pork. The menu is identical to their Valley Boulevard location, except here they have chicken dumplings as an option. The soup dumplings are similar to Din Tai Fung's, except that here, the skin is thinner and the broth is sweeter. 2445 E. Imperial Hwy, Unit A, Brea, CA 92821; (714) 928-7666.
3. Tasty Noodle House
Noodle House specializes in Shanghainese and Taiwanese fare. Their specialties are soup dumplings and shen jian baos, which is an iconic breakfast snack in Shanghai. Stuffed with pork, it has a thicker skin than most dumplings. It is first steamed in a huge bamboo steamer and then pan-fried on the bottom before getting a liberal sprinkling of sesame seeds. The noodle soups here are also something to take into account. Popular variations: beef or seafood. Note that this is completely unrelated to the San Gabriel Tasty Noodle House, which focuses on Dalian-style cooking. 11316 S. St., Cerritos, CA 90703; (562) 809-1333.
4. Class 302
Class 302 serves large bowls of snow shaved ice and Taiwanese goods like crispy pork chop rice and beef noodle soup. We like the green tea shaved snow. It's pleasantly earthy and topped with a heap of fresh fruit and a thick chocolate drizzle. Other variations include mango and chocolate, but nothing quite beats the original. Made with sweet milk, it's generously seasoned with red beans and mochi-like rice cakes. You can also choose your own combinations. The original location is in Rowland Heights. 18090 Culver Dr., Irvine, CA 92612; (949) 552-0555.
5. Mas' Chinese Islamic Restaurant
Mas' Chinese pushes out plates of Halal-abiding dishes, like cumin-drenched lamb and gigantic slabs of fluffy sesame bread. They serve Chinese Islamic food, which is known as "huizu cai," or food of the Hui people. Pork isn't served here, and the animals are slaughtered according to specific religious procedures. Technicalities aside, Mas' stands its own ground with its food. They do a lot of noodles and lamb. We recommend the knife-shaved noodles -- thick chunky pieces of dough sautéed with your protein of choice. Note: it's disguised on the menu as "beef dough noodle." 601 E. Orangethorpe Ave., Anaheim, CA 92801; (714) 446-9553.
6. 101 Noodle Express
101 Noodle is best known for their beef rolls -- thinly sliced and marinated beef rolled up with a medley of pickled greens and cilantro. It's exterior is a flaky and substantial scallion pancake. Dumplings and noodles abound here. Note that they do homemade noodles, meaning that the noodles are thick and chewy, and believe us -- you will be able to tell the difference. Cash only. 5408 Walnut Ave., Irvine, CA 92618; (949) 654-8542.
7. Chong Qing Mei Wei Resturant
If you want spicy Sichuan fare, look no further than Chong Qing Mei Wei in Irvine. They have all the classics: water-boiled fish, mapo tofu, cured duck, and thinly sliced garlic pork. It's a haven for spice aficionados; just be sure to order a big tub of rice to complement all the spice. 5406 Walnut Ave., Ste. C, Irvine, CA 92604; (949) 651-8886.
8. Canaan Restaurant
While Artesia technically is in Los Angeles County, we'll let it slide because Canaan is a favorite among Orange County folks. They do Taiwanese breakfast in the morning and an eclectic menu of various Chinese and Taiwanese specialties for the rest of the day. There's mapo tofu and boiled fish in chili oil for those looking for a spicy kick and an homage to Sichuan flavors. Dumpling aficionados can get their fix in the form of soup dumplings or fried dumplings. For the vegetable-inclined: give the string beans with bean curd a whirl. 11610 South St., Artesia, CA 90701; (562) 809-8369.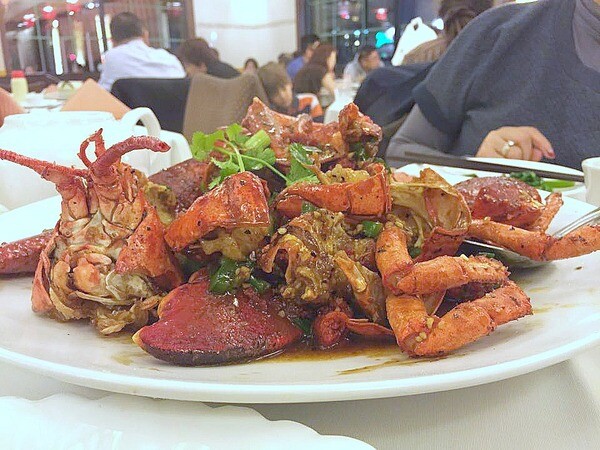 9. Capital Seafood
Capital Seafood is your quintessential dim sum restaurant by day and seafood banquet hall by night. First timers: go for har gow (crystal shrimp dumpling), shu mai (pork and shrimp dumpling in egg wrapper), the BBQ pork bun, and egg tart. As for the seafood, their specialty dish is the lobster coated in fermented black soy beans. Also consider the Peking duck paired with a mayonnaise-covered honey walnut shrimp. 2700 Alton Pkwy, Suite 127, Irvine, CA 92606; (949) 252-8188.
10. A & J Restaurant
A & J started off in Taiwan in 1971, and today has various outposts around the United States including Maryland and Virginia. They specialize in beef noodle soup with thick belt-like noodles and an intense spicy broth base. Pair it with a cold platter of marinated pig ears, seaweed, and bean curd. There's also dumplings and fried rice. It's carb-heavy -- the best kind of comfort food out there. 14805 Jeffrey Rd., Ste D, Irvine, CA 92618; (949) 786-3585.