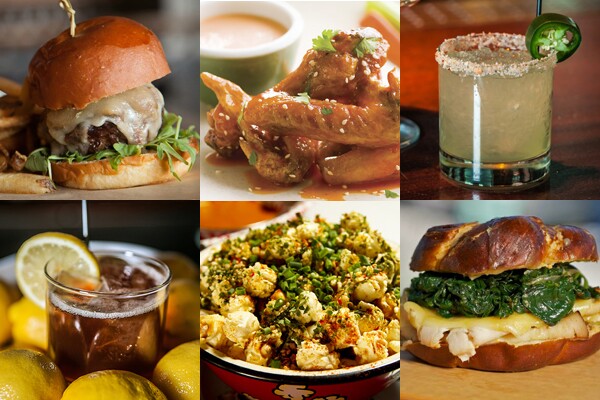 Hosting a Super Bowl party this year? As with any occasion that means gathering and eating, we encourage a different take on the usual menu. Whether you live here or not, these ideas from California restaurants and cooks are worth serving up.
Snacks
Furikake Kettle Corn: Roy Choi is known for his Kogi food trucks, his autobiography, and his growing restaurant empire. It's all for a good reason, which you will understand if you make this popcorn snack thrown together with chile flakes, Corn Pops, bacon, and more. Get the recipe.
Salsa de Aguacate: Southeast L.A. County doesn't get the buzz it deserves when it comes to eating, but thanks to Javier Cabral's guide, there's a good starting point for KCET Food readers to acquaint themselves. Among his picks is La Casita Mexicana, which shared its delicious not-quite-guacamole alternative. Get the recipe.
Sichuan Peppercorn Peanuts: This is not from a California chef, but in honor of our West Coast brethren cheering for the Seahawks, we recommend something that could just as easily pass as from here. Seattle local Michael Natkin's take on peanuts is a big step up from the spiced stuff at the chain stores. Get the recipe.
Beer Nuts: Alternatively, go for something slightly less spicy, a little more football-traditional. Get the recipe.
Roasted Sweet Potato and Harissa Dip: It's not a Super Bowl party without some sort of dip. But you can take an unexpected route with it. And it's a cool color! Get the recipe.
Roasted Olives with Citrus and Herbs: Continuing with the "unexpected" theme, how about roasting up some olives? Everyone will be amazed at your genius, but really you just mix them with some herbs and throw them in the oven. Get the recipe.
Beer Cheese Crackers with Beer Cheese Spread: Okay, another recipe not from California, but we couldn't resist. And, hey, why not use California-sourced beer and cheese? Kelly Jaggers of Texas last year shared with us her recipe for not just homemade beer crackers, but the cheese spread to top them with. Get the recipe.
Drinks
California Wine: KCET Food's wine writer, George Yatchisin, recommends a number of bottles that can handle being paired with the heavier fare traditionally found on Super Bowl Sunday. "One of the secrets is finding something big," he says. Get his list.
Cocktails: These two drinks -- a Jalapeno Popper Margarita and Bourbon Sweet Tea -- created by W Hotels really don't have a thematic relationship with the teams playing, but they're good ideas, nonetheless. Get the recipes.
Frozen Arnold Palmers: Go non-alcoholic (or add a tipple; you do you) with this frothy creation. Get the recipe.
Main Dishes
Honey-Sriracha Glazed Buffalo Wings: Headlines across the internet over the past few months have been in somewhat of a panic over the possible scarcity of Sriracha, which is made in Southern California. So we're sure you're stocked up for the winter. Good thing, because this recipe from "The Sriracha Cookbook" will likely be a hit. Get the recipe.
Spinach Enchiladas: This very simple, crowd-pleasing vegetarian dish from Valley institution Casa Vega is easy to make for a huge crowd. Get the recipe.
Cheeseburgers: For National Burger Month last year, KCET Food collected a number of signature cheeseburger recipes from Los Angeles restaurants. An added bonus is that these recipes will teach you how to made your own Thousand Island dressing, sweet onions, and a smoked jalapeno pineapple compote. Get the recipes.
Ground Beef and Pickle Tacos: Born out of hamburger ingredients on a rainy day in East L.A., this serendipitous taco has become a staple for the popular Malo and Màs Malo restaurants in Silver Lake and downtown L.A. And just like at the locations, you can make a vegetarian version of this, too, by adding a fake meat substitute. Get the recipe.
Turkey Melt Sandwich: For something that's not beef, you can't go wrong with this pretzel bread sandwich from Greenleaf Gourmet Chopshop. It's won industry accolades, so there's not reason it shouldn't at your party. Get the recipe.
Photos, starting top left, courtesy: The Churchill; Ten Speed Press, a division of Random House, Inc/photo by Leo Gong © 2011; W Hotels; A-Frame; Greenleaf Gourmet Chopshop.