Looking for some recipes that will add character to your Thanksgiving feast? Here are five unconventional side dishes inspired by countries around the world.
So, in celebration, I've come up with a persimmon relish that's sweet and vinegary, with a trace of spice. Like cranberry sauce, it wakes up the palate and provides a counterpoint to all the stuffing, potatoes, and other rich foods on the holiday table. Whether you serve this instead of or in addition to cranberries, you'll find it absolutely easy to make.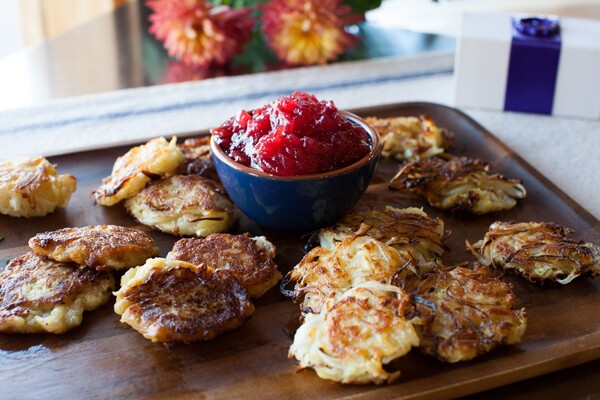 2. Sweet Potato Latkes With Cranberry-Apple Sauce
Laura Weinman, one of the Chef Instructors at New School of Cooking in Culver City, has devised a recipe that plays on some classic Hanukkah flavors by adding in some Thanksgiving elements.
3. Punjabi Sweet and Sour Spiced Pumpkin
It's pumpkin season and we have a special treat from Indian gastropub Badmaash -- this Punjabi pumpkin dish is the chef's family recipe going back five generations. And we all know family recipes are the most special! The chef notes that once the pumpkin is cooking, be sure to only lightly mix and saute the vegetable, as it's fragile and only gets softer as it cooks down. Serve it with rice or flat bread like paratha or naan.
4. Roasted Sweet Potato and Harissa Dip
Although Thanksgiving dinner is the main event, it's always nice to offer a little something for guests to nibble on as they arrive. Even better if it's simple -- there's plenty of food to come, and you don't want to stress yourself out preparing an elaborate hors d'oeuvre. This harissa-spiced sweet potato dip fits the bill. It's mostly hands-off, big on flavor and perfect for omnivores, vegans and gluten-free folks.
Save this recipe for the day after the Thanksgiving feast -- just make sure you've saved some leftovers for it. Chef Pawan Mahendro of Badmaash plays fast and loose with the quantities here -- you've just prepped and cooked all week, so just have fun making these laid-back samosas!