Los Angeles is full of people who care passionately about food, and there are plenty of restaurants happy to serve us. We don't all agree on what constitutes "good," but we do know we like our burgers, our froyo, our Korean BBQ, our pizza. (That's right, our pizza. We like it.)
The thing is, we don't have one iconic dish. Nothing that we can point to and say, "This. This is Los Angeles on a plate." So now we're going to find out. KCET Food came up with 16 contenders. You vote on your favorites. Here's the first bracket of round two:
VOTING CLOSED.
Carnitas Tacos at Taco Zone: The favorite taco truck of a whole generation of transplants, and the meat many folks get accustomed to street food on.
The History: We're not sure exactly when Taco Zone first appeared at Alvarado and Montana, but we do know it's had an extremely important part in the lives of recently-arrived-to-L.A. college grads since Echo Park first became a destination for such types ... so about 10 years, maybe a little longer. It's a beacon with horchata.
The Scene: Most nights after 7 p.m., but especially Fridays and Saturdays after midnight, this place approaches madhouse status. But a respectful madhouse: everyone's after the same thing, and they're patiently waiting their turn. There are usually a couple folding chairs on the sidewalk, but most choose to eat upright. I do hate to be cheesy, but the folks eating here at any given time represent a great cross-section of L.A. Nobody doesn't love tacos!
The Food: Suadero might be the meat insiders choose here (and that the perfect-for-dessert horchata is homemade is something more people need to know), but carnitas are the thing to get, at any taco truck across L.A. The little bits of pork are crispy and delicious, and Taco Zone makes a mean rendition. And it's best to avail yourself of the generous salsa bar.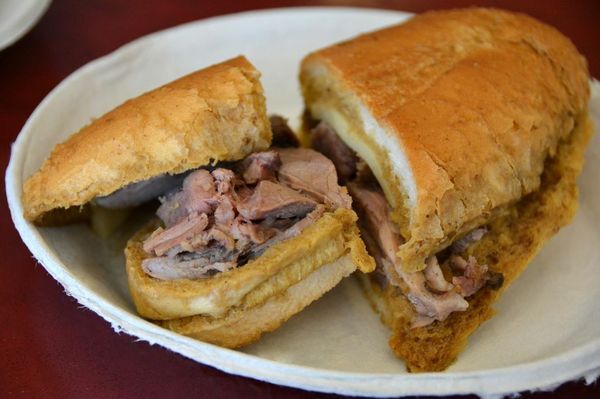 French dip at Philippe the Original: The French Dip champion.
The History: Philippe's opened in 1908, though not in its current location, which was opened in 1951 after the owners got the boot from their first spot, in order to make way for the 101. This restaurant claims to have made the first French dip, though they say it happened in 1918 and was probably just a case of bread-dropped-in-broth. (Their competitor Cole's lays claim to inventing in 10 years prior, and on purpose.)
The Scene: There are many tourists here. There are also many old-timers who come for the reliable food and cheap coffee and un-changing décor and ambiance. It's an order at the counter situation, which sometimes makes things a little bonkers.
The Food: The food here is good. And sometimes kind of funky, but in that good homespun way: pickled eggs are on the counter, for instance, and one of the more popular versions of the dip is lamb with blue cheese. It's "just" diner food, but a sense of adventure helps one enjoy it.
See All Face-Offs