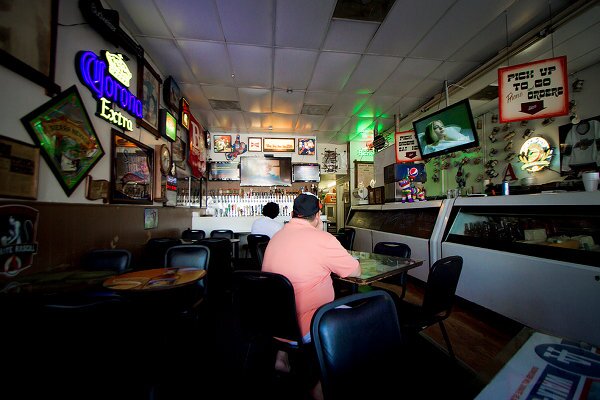 Despite the growing accessibility of great craft beers in Southern California and beyond, beer culture can be quite intimidating for the uninitiated. It's certainly not intentional; many of the best brewers working today are fun, approachable and seriously intelligent folks who just love to talk about their craft. But, because of the constant expansion and overwhelming array of choices often found in these dimly lit beer bars, where the staff takes their pours very seriously, it can be a difficult transition for non-beer lovers to ease into the craft beer world.
So where is a newbie to drink the best in local, regional and international craft brews, if not at one of these high falutin' establishments? The answer, apparently, is Downey. That's where you'll find Uncle Henry's Deli, a strip mall sandwich spot with well over fifty different taps full of great craft beer. It's got everything you want in a normal deli: the stocked meat case, hanging menu board, floating tub of pickles, and tchotchkes that hang from hooks all over the walls. There are no fancy plush seats, nor a wide run of tasteful bar stools; at Uncle Henry's Deli, your only choice of comfort comes from the same black stackable cafeteria chairs you've been sitting in since high school. But look to the back of the rectangular space and you'll see it: two long rows of craft taps, slightly squished together and completely unassuming. There's nothing to be afraid of here, newcomer.
Just on the other side of a pour from those taps, you'll find some of the best craft beer in America today. Not content with Allagash White, Uncle Henry's regularly has Grand Cru available on draft. Can't make it to Orange to check out Bootlegger's diminutive brew space? Just go as far as Downey for a taste of their Dr. Tongue or Old World Hefe. You'll find long-range delicacies from national breweries like Gread Divide, Deschutes and Oskar Blues, plus a run of international favorites like Chimay, Delirium Tremens, Kasteel Rouge, St. Bernardus and Petrus, to name but a few. Of course, the taps change often and Uncle Henry's has been known to host a tap takeover with breweries like Drake's or Stone, so if you've got your heart set on a particular pour, you may want to call ahead first to confirm that it's available.
But if you're just in the mood to drink your way through the craft beer scene with ease, head to the back of the room and pick up their draft guidebook. It's a rumpled plastic flip book with inserts for pages and pages of information on the beers available from behind the bar. Instead of stumbling your way through a conversation about flavor profile, aromas and two-row malted hops, flip through this golden tome to learn the basics about each beer, including their alcohol percentage by volume. There's a lot to work through and it's not exactly light reading, so it may take you a few trips to the taps to really start to digest all of the information. But when it comes to craft beer, drinking your way through an education is encouraged.
Of course, Uncle Henry's Deli wouldn't have stayed in business this long if they didn't also knock out some serious sandwiches. Having been in business since the late 1950s, the team behind the deli counter knows how to throw together a classic American deli sub. You can build your own towering beast, but at some point you're going to stare at the Italian Stallion sandwich that keeps passing under your nose and request one for yourself. Smart move. With warmed slices of salami, mortadella, ham, and provolone all under a split French roll and topped with pepperoncini, the Italian Stallion is the perfect solution to an afternoon of sampling from the bar. This is Downey, after all, which means at some point you've probably got to drive home.
Uncle Henry's Deli is a great reminder of how approachable craft beer can be. Like the easygoing and intelligent staff at Sunset Beer Co., Uncle Henry's doesn't try to be more than it is, and openly welcomes newcomers to the fold with some of the best craft beers you can buy. There's no pretense inside this strip mall sandwich shop, just great beers to complement their bulging deli sandwiches. Or maybe in these days of serious beer fandom, the sandwiches are there to complement the dozens of taps in the back. Either way, you can't go wrong at Uncle Henry's Deli.
Uncle Henry's Deli
7400 Florence Ave., Downey, CA 90240 (map)
562-927-0114