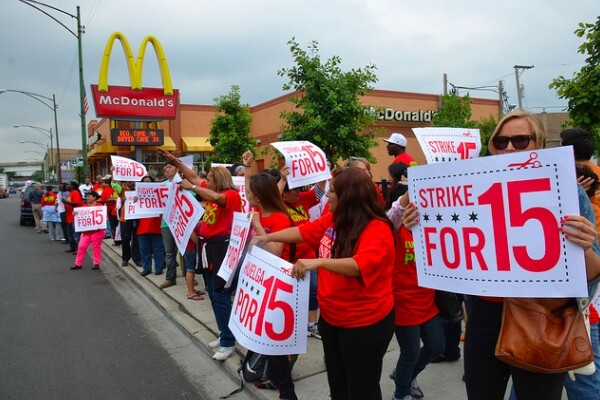 Thinking of heading to the nearest fast food spot and picking up a burger and fries next Thursday? Might want to reconsider that, as you may be left standing at an empty counter with no one on the other side. (Or, more accurately, every worker there, standing next to you, holding up protest signs, giving you glares that may have you using the "Oh, I think I left my wallet in the car" excuse before high-tailing it out of there.)
That's because August 29th has been deemed "National Fast Food Workers Strike Day" by the unionizing powers that be, an unofficial holiday that will be celebrated by workers tearing off their aprons and practicing their chants.
With that in mind: "What do they want?"
The workers are calling for a wage of $15 an hour and the right to form a union. Organizers of the walkout say cashiers, cooks and crew members at fast-food restaurants are paid a median wage of $8.94 an hour.
"When do they want it?"
Now. And that's more of a need than a want.
That $8.94 cited above is, as stated, a median wage. To refresh your math, that means if you take all of the wages for workers across the country and put them in a line that's ordered numerically, that will be the middle one. There will be people making above and below that number. But as far as average hourly income? That's a shockingly low $7.40. To give some sense of comparison, a "living wage" in L.A. County, according to MIT's calculator, for one adult and no other mouths to feed, is $11.37.
So, yes: Those striking certainly do want it now.
This upcoming bout of strikes are just the latest, if most dramatic, shots-across-the-bow to fast food CEOs. Last November, 200 fast food workers in New York went on strike. In April, Chicago joined the fun by staging their own co-protest with their fast food brethren in New York. Last July, hundreds of workers in St. Louis, Milwaukee, Kansas City, Detroit, and Flint, Michigan added their voices and walked off the job. (The above photo, by the way, was taken from said strike.) But this upcoming one will be the biggie, predicted to include thousands of workers in at least 35 cities.
(The date, August 29th, is also not without a substantial bit of symbolic flavor, seeing as it not only coincides with the 50th anniversary of the March on Washington, it's also right before that time of the year when families pack up their campers for the long Labor Day weekend, "labor" being the key word in that holiday.)
Unfortunately, suggesting that the strike will have that big of an impact in raising the wage or forming a union would be pure sugar-coated fantasy. So far, the fast food CEOs under attack haven't budged, other than McDonald's offering a "helpful" Sample Monthly Budget to their employees, telling them how they can easily live off the $1,105 a month that 35 hours a week at Mickey D's earns. (Spoilers: Live successfully by not spending any money on child care, clothing, gas, or food, and, oh, and while you're at it, get a second job at $955 a month.) Which means that if we, as consumers, truly want fast food workers to get that living wage they're demanding -- and if you have any question about whether or not this should be your opinion, please give my interview with Saru Jayaraman, author of "Behind the Kitchen Door" a read, particularly the points regarding your own health being affected by ill workers who can't afford to take sick days -- it will really come from our end. So, how do we help?
Not frequenting the offending restaurants is, obviously, number one. But if you do end up heading in, make it worth your while: Ask the managers what their employees make, drop a few complaints in their box, shoot off some emails. In fact, here's a few places to head over whenever you're in the mood to compose some caustic ultimatums:
McDonald's.
Burger King.
Wendy's.
Taco Bell.
Tell them a fair wage for workers is important to you, and you won't go back to them until they offer one. Fair or not, what this argument all comes down to for CEOs is their bottom line, and until they're harmed in that capacity, they won't care. So join the strike along with the rest of the workers next Thursday and beyond by using your most powerful weapon: your wallet.
Want recipes and food news emailed directly to you? Sign up for the new Food newsletter here!