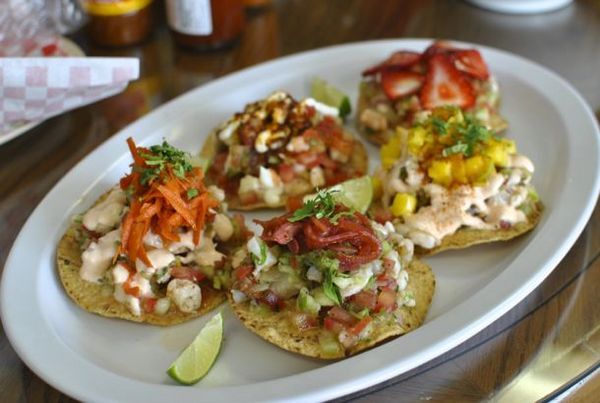 No matter how hip L.A.'s thriving upscale dining scene may be, it would not be anything without the legions of regional ethnic restaurants and holes in the wall found in its bordering neighborhoods. Most, like the southeast Los Angeles neighborhoods of Bell, Bell Gardens, and Downey, are just a 10-15 minute drive from downtown.
You won't find many double-digit-priced small plate establishments or cronut copycats at any of these Southeast communities; just straight up gimmick-free amazing dishes at prices that reflect the working class, first-generation Mexican residents with families nearby. Most remained largely untouched by any kind of mainstream restaurant fads and prices.
Here is a list of just a handful of the notable establishments to make a fun day trip out of everything. It includes amazing coffee, breakfast, lunch, snack, craft beer, dinner, cocktails and even a place to get the best corn masa in town (to make amazing Mexican-grandma-quality handmade tortillas at home later). In this overly glamorous food town of ours, this itinerary will keep you rooted.
Horchata Latte at Tierra Mia Coffee
Ulysses Romero was onto something really big when he decided to open up Tierra Mia Coffee in 2008: an independent coffee roaster in South Gate making precisely brewed cups of artisan coffee way before it was trendy to do so. This is his flagship coffee shop, with seven current locations around Los Angeles and one in San Francisco. He uses beans sourced from Latin America to make unpretentious drinks geared toward his Southeast clientele. Until Tierra Mia came around, most of his customers only had access to Starbucks if they craved any kind of local premium coffee experiences. But after they had a sip of Tierra Mia's creations like their Horchata Lattes and signature Tres Leches muffin, the rest was history. If not into sweetened coffee drinks, their espresso or drip coffee is good enough to stand on its own too. Tip: Tierra Mia makes an excellent pit stop if you're headed to Long Beach or coming back from a trip there.
Breakfast at La Casita Mexicana
The Chilaquiles Divorciados breakfast dish at La Casita Mexicana is capable of turning even the sleepiest of humans into a chirpy morning person. It's inspired something of a cult for those who are already in the know: once you taste it, you'll understand why. It's a comfort for breakfast concept: freshly fried tortilla chips half delicately folded in a peppery red chile salsa and the other half in a tart tomatillo salsa. They got the name "divorced" because they are separated by a delicious border of thick Mexican sour cream. They are traditionally served with refried beans, and La Casita makes an exceptional batch of this too, using milky "Peruano" (Canary beans) beans as the base instead of the more pasty usual pinto bean. La Casita also goes the extra mile and serves them with a cutesy quesadilla made with their fluffy handmade tortillas flavored with dried chile powder too.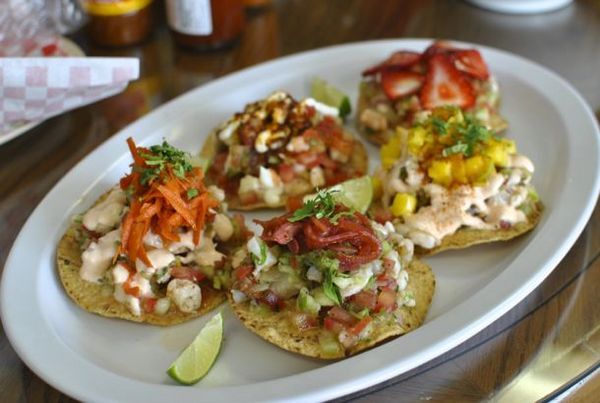 Ceviche at El Coraloense
You probably won't be too hungry after such a hearty and satisfying breakfast, which makes the pristine refreshing ceviches at El Coraloense all the more enjoyable. Mama Curie is from Sinaloa, while her husband Leo Curie is from Nayarit. Put these Mexican coast-raised individuals together and you get some of the best traditional Mexican ceviche in Los Angeles. Opt for their Ceviche Sampler, which includes a whopping five different ceviches made with tender shrimp and halibut and mixed with things like marinated shredded carrot, fruit, and house made aiolis for only $10.99. To wash it down, a tall cup filled with their naturally dairy-free coconut milk horchata will do the job. If you're still hungry, order a plate of their "Fish Wings," their coastal take on American chicken wings using swordfish in a cornmeal batter doused in a buffalo-style Mexican "a la Diabla" spicy sauce, and served with a Sriracha remoulade.
The Best Masa and Tortillas in Los Angeles at Amapola Market
At this point in your day trip, your appreciation for fine Mexican food should be at an all-time high and you'll probably want to recreate some of it at home later on. Like any other great cuisine, you'll have to start off with the basics first. Which in Mexican food means starting with a good tortilla. As you develop your Mexican food palate, you should start to be extra particular about your tortillas. You'll be surprised at how many crappy chemical-laden metallic corn pucks there are in this city. Luckily for you, you are within miles of the best masa and tortillas in town, hands down. The masa and pre-made tortillas at Amapola contain nothing more than corn, water and lime. Just the way it's been made for the last hundreds of years. The result is a buttery, delightful, slightly fermented sour taste. Take home a bag or four of tortillas; if you have a tortilla maker at home, take home a bag of their freshly ground warm masa and voila, you can have an unforgettable taco regardless of the filling every single day.
A Couple of Amazing Craft Beers on Tap at Uncle Henry's Deli
If you start to get thirsty while shopping for the best tortillas in town, walk over to the neighboring Uncle Henry's Deli right next to Amapola market in the same plaza. Their slogan, "put something exciting in your mouth," comes alive with their selection of 30 + rotating taps. All served without a side of beer snobbery, which is always appreciated.
Buzzed Munchies at Tortas Bravas
After having a few frosty pints of Uncle Henry's best local suds, you'll unfailingly get pretty buzzed and the beer munchies will come a knockin'. And when they come, you'll be ready with the convenience of a spicy Torta Ahogada de Carnitas at Tortas Bravas. It's stumbling distance, right across the same strip mall actually. Their signature torta stuffed with caramelized pork carnitas on the chewy crusty baguette-like bread is drowned in a fiery, tomato chile de arbol salsa. It's beer food, Mexican style, and it will sober you up just enough to realize: it's dinner time.
Cocktails and Light Dinner at Corazón y Miel
If you're a trooper, you'll stick around in the Southeast until dinner and check out Corazón y Miel while you're out here. You'll be greatly rewarded. It's undoubtedly the hottest Pan-Latin restaurant in town at the moment, spearheaded by 27-year-old chef and owner Eddie Ruiz (previously of Animal restaurant). Grab a seat at the bar and enjoy a "Paleta En Su Jugo" cocktail which is exactly what the title infers: a Mexican ice pop in a glass full of rum, coconut, tequila, lime and citrus zest. To accompany it, a Diver Scallop BLT with a whole seared scallop, saffron aioli, bacon, capers, and anchovy salsa on a brioche bun. If it's not on the menu the night you're there, you'll be set with his burrata salad -- served with a Mexican pulpy salsa de Molcajete -- and his slightly Asian take on octopus and shrimp ceviche, served with burnt peanuts, soy sauce and lots of homemade crunchy tostadas to scoop it up with. Mind you, these are just some of the many noteworthy dishes available at this unassuming Southeast L.A. restaurant: you'll end the day with a happy mouth.
Tierra Mia Coffee
4914 Firestone Blvd. South Gate, CA 90280
(Multiple locations)
La Casita Mexicana
4030 Gage Ave, Bell, CA 90201
El Coraloense
6600 Florence Ave, Bell Gardens, CA 90201
Amapola Deli and Market
7420 Florence Ave, Downey, CA 90240
Uncle Henry's Deli
7400 Florence Ave, Downey, CA 90240
Tortas Bravas
7414 Florence Ave, Downey, CA 90240
Corazón y Miel
6626 Atlantic Avenue, Bell, CA 90201
Want recipes and food news emailed directly to you? Sign up for the new Food newsletter here!