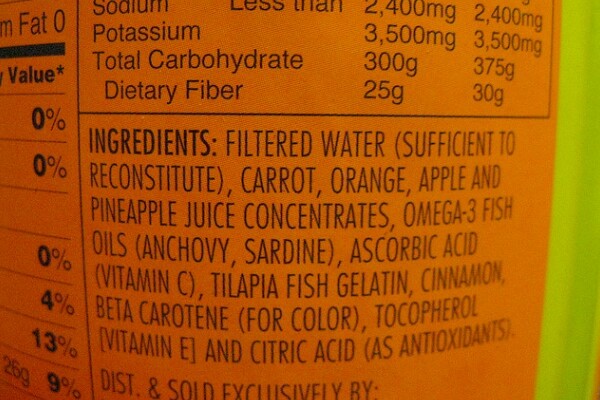 Photo:m kasahara/Flickr/Creative Commons License
It's an interesting time for the word "natural" when it comes to food. Seeing as there's no clear-cut definition for what the term means (as opposed to something like "USDA Organic," which is a label certification for two levels of organic food products), the word is used on food packaging willy-nilly. But that era is just about over.
Over the past few years, many class-action lawsuits have been filed against a wide range of companies regarding their usage of the word. In most cases, the companies either lost their case in court, or chose to settle, sometimes for millions of dollars.
At a conference in Anaheim a few weeks ago, food lawyer Michele Simon -- who I interviewed last year about these lawsuits -- detailed a long list of food additives that could soon be named in class-action lawsuits. While these ingredients are categorized as Generally Regarded As Safe (or, "GRAS") by the FDA, these ingredients may show up in foods that are promoted as "natural." It isn't to say they're bad (in a lot of cases, they're not), just inaccurate. It's still important to know just what these ingredients do.
Feel free to bookmark this list and head on back whenever an item on the back of your label is particularly confounding.
Ascorbic acid: A synthetic version of vitamin C.
Beta carotene: Synthetic version of the substance found in carrots, pumpkins, and sweet potatoes that give them their orange color and used often as food dye.
Biotin: Synthetic form of vitamin H, found naturally in leafy greens, peanuts, and Swiss chard.
Calcium pantothenate: Synthetic version of vitamin B5, which is naturally found in eggs, meat, veggies, and legumes.
Calcium phosphate: Synthetic form of the family of minerals that includes calcium ions, naturally occurring in bovine milk and blood.
Calcium sulfate: Synthetic version of calcium salt, used to "increase product quality."
Caramel color: An artificial coloring substance most commonly used to color sodas. In large doses, it is a possible carcinogen.
Citric acid: While it's found in natural citrus like oranges and lemons, the synthetic version is also used to add tart flavors to food.
Cochineal extract (color): Used as a red food coloring, and made of ground up tropical bugs.
Cyanocobalamin: A synthetic chemical form of vitamin B12, found naturally in meat, fish, poultry, and eggs.
d-alpha-tocopherol: Synthetic form of vitamin E found in fat-containing food, like vegetable oils.
D-calcium pantothenate: Synthetic form of vitamin B5, which is found in meat, vegetables, and cereal grains.
Disodium phosphate: Additive that combines phosphate, phosphorus and sodium. Used in foods to regulate acidity, as well as maintain the proper moisture level.
Fibersol-2: Essentially, fake fiber. In a lot of cases, it's added to foods that are promoted as sources of dietary fiber.
Fructooligosaccharides: Synthetic extract from the agave plant, used to sweeten diet or low-calorie foods and beverages.
Glycerin or vegetable glycerin: Colorless, odorless agent used to conserve preserved fruits and sweeten low-calorie foods.
Hexane: A solvent made from crude oil that's generally used in food to extract vegetable oil from plant seeds.
Inulin: Derived from chicory, and used to replace sugar, fat, and flour in foods.
Magnesium phosphate: A general term for synthetic salts, used mostly as an anti-caking agent in foods.
Monocalcium phosphate: Another synthetic salt used as a leavening agent in foods, but also present in a whole lot of fertilizers.
Niacinamide: Synthetic form of vitamin B3, which helps the body convert carbs into energy.
Phytonadione: Synthetic version of vitamin K, which is used to treat and prevent blood clotting issues. It is found naturally in green leafy vegetables, Brussels sprouts, fish, and eggs.
Potassium carbonate: Used most often in cooking to regulate the acidity and alkalinity, as well as to stabilize the dispersal of the ingredients. It is found in baked goods like cakes, as well as soft drinks as a fizzing agent.
Potassium citrate: Used as an additive in many soft drinks to act as a buffering agent, to maintain the acidity.
Potassium iodide: While it's naturally forming in kelp, the synthetic version is used to iodize regular table salt.
Pyridoxine hydrochloride: A synthetic version of vitamin B6 that's used to treat anemia, heart disease, high cholesterol, and morning sickness. However, long term use may result in certain brain and nervous system problems.
Sodium acid pyrophosphate: Synthetic salt used as a leavening agent and stabilizer.
Sodium benzoate: Synthetic salt used as a food preserver. Most often found in soft drinks.
Sodium citrate: Synthetic version of citric acid, used to add sour and salty flavors to food.
Sodium dioxide: Most often used in wine as a preservative, under the more commonly-used name "sulfites."
Sodium molybdate: Chemically altered form of sodium that's used most often in fertilizers. When it ends up in food, it's in trace amounts from these fertilizers.
Sodium selenite: Used more often in dog food, but occasionally used in human "health" items like supplement pills and shakes.
Soy ingredients (textured soy protein, soy grits, soy flour): One of the most ubiquitous additives, it has all of the worrying elements that comes with soy (i.e., estrogen mimicry, although even that is far from proven). Also, most of it's produced with GMOs.
Soy lecithin: See above.
Soy protein concentrate: Basically the same as above. Used in health foods and soy products.
Soy protein isolate: A refined version of the above concentrate.
Steviol glycoside: This is the synthetic sweetener found in Stevia.
Sucralose: Another artificial sweetener, used in diet sodas and low- or no-calorie sweet foods.
Synthetic fiber such as Fibersol-2: See: Fibersol-2 above.
Thiamine hydrochloride: Synthetic form of vitamin B1, which helps decrease the risk of metabolic disorders, glaucoma, and heart disease.
Vitamin A, palmitate: Synthetic salt used as a dietary supplement and a fortifying agent in dairy.
Vitamin D2: Also known as ergocalciferol, it is a supplement used to treat osteoporosis.
Xanthan gum: Another additive found in just about everything, this is used as a food thickening agent, most often found in salad dressings and sauces.
Zinc methionine sulfate: Used as an additive to raise the zinc levels of a supplement.
Zinc oxide: Also used to raise the levels of zinc, most often in breakfast cereals.
Want recipes and food news emailed directly to you? Sign up for the new Food newsletter here!