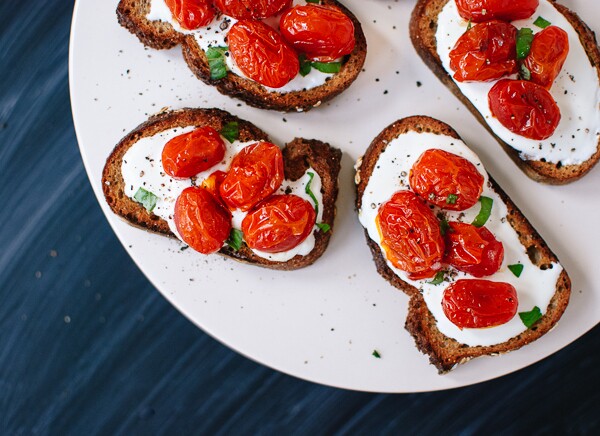 This twist on traditional bruschetta features creamy whipped feta cheese and sweet, roasted tomatoes.Top with a sprinkle of ground black pepper and fresh basil for a simple yet delightful appetizer or light meal. Note that this bruschetta is great at room temperature, so it's an ideal choice for entertaining.
Roasted Tomato and Whipped Feta Bruschetta
Makes 8 to 10 slices of bruschetta
2 pints grape tomatoes
1 small loaf of crusty whole grain bread, sliced into 8 to 10 thick slices
8 ounces quality feta cheese, drained and patted dry
1 tablespoon plain yogurt or cream cheese
1 tablespoon lemon juice
1 clove garlic
olive oil
sea salt
5 to 10 basil leaves, chopped
freshly ground black pepper
Preheat the oven to 400 degrees Fahrenheit with racks in the middle and top positions. Line a rimmed baking sheet with parchment paper for easy clean-up, then toss the tomatoes with 1 teaspoon olive oil and a light sprinkle of salt. Bake on the middle rack until the tomatoes are juicy and collapsing on themselves, tossing halfway, about 20 minutes.
Meanwhile, rub each slice of bread with the raw garlic clove on both sides. Brush each side with olive oil. Place the prepared slices on a baking sheet and bake on the top rack until golden, turning halfway, about 10 minutes (baking time will depend on the thickness and size of your slices, so keep an eye on them).
Use a fork to crumble the feta into the bowl of your food processor. Process the feta for a minute, then drizzle in the yogurt or cream cheese and lemon juice. Blend until super creamy. Top each slice of toasted bread with a thick spread of whipped feta and cover with roasted tomatoes. Sprinkle with chopped basil and black pepper.