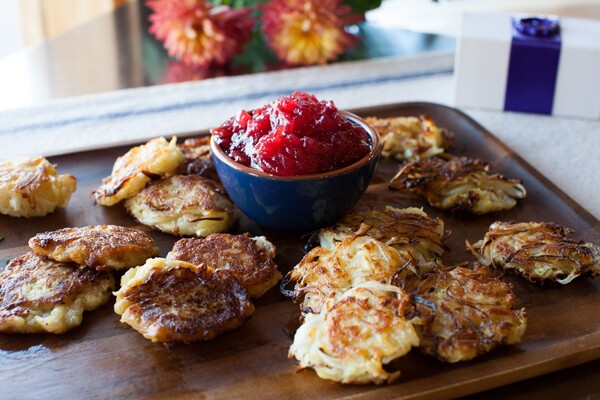 Laura Weinman, one of the Chef Instructors at New School of Cooking in Culver City, has devised a recipe that plays on some classic Hanukkah flavors by adding in some Thanksgiving elements -- which is perfect because 2013 is the extremely rare year where Thanksgiving and the first night of Hanukkah fall on the same night. The name for this night? Thanksgivukkah! And it's going to be very delicious, especially with these sweet potato latkes on the table.
Sweet Potato Latkes with Cranberry-Apple Sauce
These can be made large or small
2 lg. sweet potatoes, grated (not yams, latkes require starch!)
1 medium onion, white or yellow, grated along with sweet potato
2 egg whites, beaten with a fork
1/3 cup cornstarch
Salt, pepper
Vegetable oil for frying
Minced chives for topping
If using a Cuisinart, grate the sweet potatoes and onion together to prevent the potato from discoloring. Stir in the egg whites and cornstarch, salt and pepper. Use a teaspoon to form the pancakes as small mounds and set them on a couple of paper towels so they are 'on deck" for frying.
Heat about ¼" oil in a large skillet until a tester latke bit sizzles when dropped into the pan. Pan fry them in batches until golden brown on both sides. Drain on more paper towels before serving with cranberry-apple sauce. Sprinkle with chives.
Alternatively, you can also use your leftover mashed sweet or white mashed potatoes to make luscious latkes:
1 c. sweet or white mashed potatoes
2 egg whites
¼ c. cornstarch
Cranberry Apple Sauce
6 Honey crisp apples (or your favorites!)
1 bag cranberries
2 cups sugar
2 cups water
1 cinnamon stick
Peel and dice the apples and combine them with the cranberries in a saucepan with the sugar, water and cinnamon. Simmer, stirring occasionally until all of the fruit is soft, about 25 minutes.
Click here for a Brussels sprout latke recipe.
Click here for a chestnut hummus with spiced pita recipe.
See a recipe for cranberry sufganiyot here.
Want recipes and food news emailed directly to you? Sign up for the new Food newsletter here!