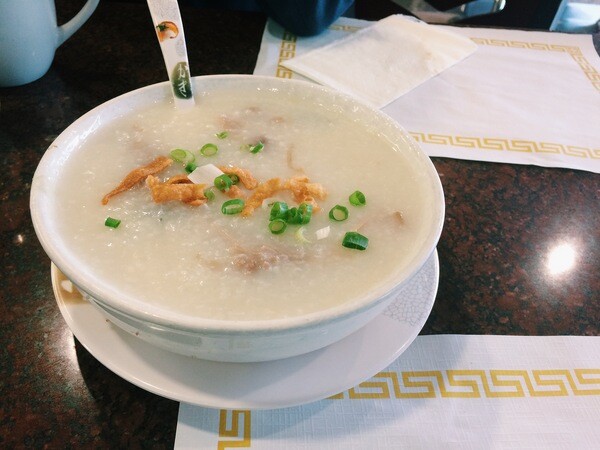 Rice porridge is an ancient staple that's synonymous with comfort food. Also known as congee, it's been eaten since 2500 BCE and is one of those ideal dishes during a cold or a gnarly hangover. In parts of southern China and throughout Taiwan, porridge is the breakfast option of choice instead of buns and other dough-based dishes. After all, rice is more popular than wheat in the south of Asia.
Porridge is also a special occasion dish in China and is celebrated on the eighth day of the 12th lunar month. The festivity is called the Laba Festival, and it's when folks whip up a specialty known as "laba congee." The congee is usually made up of at least eight ingredients which include grains (glutinous rice, oats, corn), beans (soy beans, mung beans, kidney beans), dried nuts (chestnuts, pine nuts, almonds, peanuts), bean curd, meat, seeds (melon or lotus), and preserved fruits. Ingredients, which are based on preferences, are said to represent people's prayers for harvest.
Daily congee isn't as elaborate, though. It's easy enough to make it yourself at home. Throw rice in the cooker and add more water than usual. To make it Taiwanese-style, set the table with a wide assortment of vegetables, dried meats, fish, and eggs -- not unlike Korean banchan. The concept is simple. You get your bowl of porridge and add whatever you want to it.
It is probably because of that simplicity that porridge specialists are hard to come by. After all, it's easy to make at home. But for those who have a hankering for this ancient comfort dish and don't have the know-how to make it, here are five places where you can get it in Los Angeles:
Delicious Food Corner: Hong Kong-style
Delicious is a Hong Kong breakfast place that's so popular among locals that in recent years they had to close down just to expand the dining room. They're known for their hot Chinese pineapple-shaped buns and oily crullers. They have over a dozen different variations of congee on their menu; during breakfast hours, if you order the congee, you get complimentary noodles and caffeine (coffee or tea). The congee selections are quite diverse: stay conservative with pork and chicken, or be a bit more adventurous with pork blood rice, served with tripe, kidney, or liver. We recommend the chicken and abalone. While it's a couple bucks more than the others, it's a classic that comes highly recommended. 2327 S Garfield Ave., Monterey Park, CA 91754;
(323) 726-0788.
Lu's Garden: Taiwan-style
Lu's Garden is a San Gabriel Valley establishment and their porridge is a do-it-yourself affair. You get a bowl of porridge with chunks of yam, and you choose whatever toppings you want on top. Pan-fried mackerel is a common ingredient -- a beloved fish adored by the Taiwanese. And then there's the gently-stewed bamboo shoots, mustard greens, and sweet Taiwanese sausage as other options. 534 E Valley Blvd., San Gabriel, CA 91776; (626) 280-5883.
Bon Juk: Korea-style
Bon Juk is a fancy Korean-based chain. Juk is the Korean term for porridge and it's much more focused on grains and beans than its Chinese counterpart. Located in the heart of Koreatown with a 7 a.m. opening time, Bon Juk is a great place to head over to if you're feeling the beginnings of a cold. The menu is divided into two sections: sweet or healthy. We recommend just choosing whatever sounds delicious. They're known for comforting bowls of sweet pumpkin porridge with rice dumplings. The beef mushroom juk is salty and earthy, the chicken ginseng is medicinal and comforting. And if you're a big fan of fish, consider the salmon juk, topped with big flaky chunks of fish. 3551 Wilshire Blvd., Los Angeles, CA 90010; (213) 380-2248.
Porridge and Puffs: Seasonally-Centered
Porridge and Puffs is a pop-up housed within Field Trip, which is inside the Farmers' Kitchen in Hollywood. They focus on two things: porridge and puffs. The latter is a rice-based beignet that can be dipped in your porridge or served with a choice of accoutrement. The former is the highlight and chef Minh Phan whips up marvelous permutations of rice and toppings. There are pickles and jam, mustard greens, and lemongrass chili. Crowds love the short ribs with pickled eggs, greens, and herbs. Seasonality is of course a focus. After all, the ingredients are sourced from the nearby farmers' market. There are plenty of options and luckily, they offer a porridge flight where you can diversify and choose three small porridges to try. 1555 Vine St., Suite 119, Los Angeles, CA 90028;
(323) 467-7600.
Sqirl: Sweet Rice Porridge
Sqirl is Silver Lake's brunch darling. Jessica Koslow does well with rice. Her Kokuho brown rice bowl with sorrel pesto is almost iconic. We also dig the sweet rice porridges. The brown rice porridge is made with the same Kokuho rice and drowned in Straus milk, toasted hazelnuts, and a choice of their signature jam. You can also get it vegan with almond milk. 720 N Virgil Ave., Los Angeles, CA 90029;
(213) 394-6526.