In the last two years, there's been an influx of quality-focused Sichuan restaurants around Los Angeles, coinciding with the rise of China's economy and a significant amount of mainland Chinese immigrants in the Southland.
It started last summer, when restaurants Hai Di Lao and Chengdu Taste opened up in Los Angeles.
From a business standpoint. the two restaurants couldn't be more different. Hai Di Lao is a state-of-the-art hot pot chain straight from Sichuan, complete with noodle dancers and very deep pockets. According to the Wall Street Journal, in 2012, Hai Di Lao's 75 outlets made more than a 10% profit on $510 million in revenue. On the other side of the spectrum is Chengdu Taste -- a small mom-and-pop eatery by a man named Tony Xu, who worked at Panda Restaurant Group before opening Chengdu. He never expected that his restaurant would attract the lines it does today.
"I want my restaurant to be representative of the Sichuan way of life," Xu told us last year. "It's not just about having good food. It's about having delicious, authentic food that properly reflects the culture and tastes of Chengdu."
Chengdu Taste quickly rose up the ranks and attracted both immigrant Chinese clientele and native Angelenos. Soon after, other entrepreneurs followed suit.
For the culinary-minded, this is great news. Sichuan cuisine is one of four great Chinese cooking traditions, and is known for being an incredibly difficult cuisine to cook. The capital of Sichuan, Chengdu, was also the first Asian city to be listed as a "City of Gastronomy" -- an honor only granted to places with both strong gastronomic and traditional culinary practices.
While neighboring provinces such as Hunan are also known for having a wide repertoire of fiery foods, Sichuan has a distinct ingredient: the Sichuan peppercorn. It's a small spice that will literally numb your tongue.
These new restaurants differ from the old Sichuanese eateries in Los Angeles in the following ways: there's a focus on quality of ingredients, cultural preservation, and service.
Here's a round-up of all of them:
Hai Di Lao
The phrase "Hai Di Lao" means to scoop treasure from the bottom of the sea. The massive chain boasts 75 locations across China, but had a humble beginning in 1994 as a small restaurant in the city of Jianyang, Sichuan. The Arcadia location is their first stab at U.S. expansion and they're known around town for two things: an iPad ordering system and noodle dancers. They take great pride in their service and attention to detail. Waiters are routinely flown to China for training and vegetables are pickled in-house. They are also one of the few restaurants in Los Angeles that serves baijiu -- a Chinese distilled spirit. 400 S Baldwin Ave, Arcadia, CA 91007; (626) 445-7232.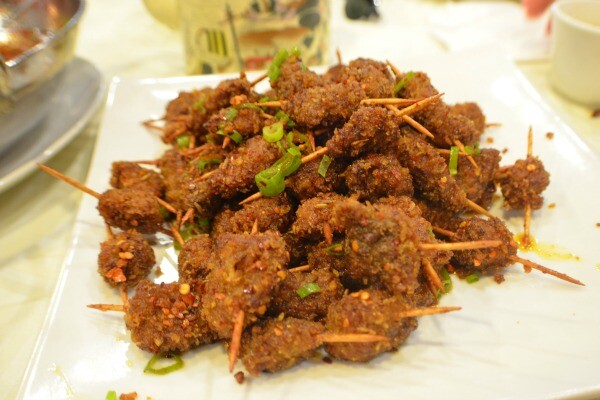 Chengdu Taste
Chengdu Taste opened its doors in June of 2013. Owner Tony Xu apprenticed under chefs back in Sichuan and owned a restaurant in China before he moved to Los Angeles in 2005. After various Chinese restaurant stints including one with Panda Restaurant Group, Xu partnered up with his friends and opened the doors to Chengdu Taste. Chengdu is a champion of old-style Sichuan dishes like water-boiled fish, toothpick beef, and garlic pork. The quality is top-notch and the restaurant is well-regarded among a wide swath of Angelenos. Xu currently has two locations: one in Alhambra, the other in Rosemead. 828 W Valley Blvd, Alhambra, CA 91803; (626) 588-2284.
Szechuan Impression
Owners Kelly Xiao and Lynn Liu of Szechuan Impression came from the Chengdu Taste family, but instead of focusing on traditional dishes, their menu revolves around dishes that are currently trending in Chengdu. They're not sticklers for tradition; they're more mindful of seasonal ingredients. Liu handpicks vegetables on the daily. We recommend the Leshan cross-legged beef soup and Cinderella pumpkin cake. The former is an herbal soup with offal and beef flanks. The latter is a mochi-like rice cake made with pumpkin. 1900 W Valley Blvd, Alhambra, CA 91803; (626) 283-4622.
Fang's Kitchen
Fang's is another Chengdu Taste spin-off. They opened in October 2014 and there's quite a focus on rabbit on the menu. You can get bunny meat in stir-fry form, or you can opt to eat just their heads: deep-fried, seasoned, and served to you whole on a platter. Like Chengdu Taste, the menu revolves around Sichuan classics. The waiter will most likely recommend the water-boiled fish and a mushroom stir-fry that is sautéed with leeks and peppers. 306 N Garfield Ave, Ste A-12, Monterey Park, CA 91754; (626) 288-4567.
Chuan's
Like Hai Di Lao, Chuan's comes from abroad. The owner is behind Ba Guo Bu Yi, an international restaurant chain with locations in China and Australia. The aesthetics in this place are gorgeous and the menu has a wide repertoire of both Sichuan classics and more innovative selections like purple yam cakes with sesame seeds. We recommend the five-spiced pork cutlets and, if you're into fish, try the tilapia served in a green peppercorn broth. It has a unique sour and acidic element to it. 5807 Rosemead Blvd, Temple City, CA 91780; (626) 677-6667.