At most Chinese restaurants, eating vegetarian is nearly impossible. Even the stir-fried vegetable dishes at most Chinese restaurants are often flavored with shredded pork or a couple handfuls of dried shrimp. Abstaining from meat isn't a common thing in China, unless you follow certain schools of Taoism or Buddhism. For those folks, vegetarianism is part of the religion and there are entire restaurants catered to their demographic. You won't find skimpy salads though. Chinese vegetarian restaurants are masters of the art of faux meat. You'll also be hard-pressed to find allium vegetables like garlic, onions, leeks, Chinese chives, and scallions at these places, too. It's believed that these vegetables stir up the passions and attract evil.
Vegetarian Chinese is not a cuisine for everyone, but if you're curious, or are vegetarian and have a strong hankering for Chinese food, here are five great places:
Bean Sprouts: Asian Fusion
Bean Sprouts is a Taiwanese vegetarian cafe with a bit of a Western flair. Noodles seem to be their specialty. Taiwanese beef noodle soup is the star dish here which is loaded with turnip, bok choy, pickled veggies, and beef-flavored seitan. Zha jiang mian is also available -- it's a dry noodle dish stir-fried with ground "pork" and flavored with fermented soy beans. You can barely tell it's vegetarian. Finish it all off with their signature rainbow roll, which is packed with lettuce, shredded carrots, and alfalfa sprouts. 103 E. Huntington Drive, Arcadia, (626) 254-8708.
Bodhi Veggie Cuisine: Best Value
Bodhi is perhaps the most popular vegetarian Chinese destination in the San Gabriel Valley. Lunch comes with soup and rice, which is ideal for a single diner or those who don't want an elaborate family-style affair. They're best known for their eggplant with tofu and the crispy fried "chicken" with basil. They're also a strictly no-MSG restaurant. 3643 Rosemead Blvd, Rosemead, CA 91770; (626) 569-9888.
Fine Garden Vegetarian: Dim Sum
Fine Garden is known for their impressive repertoire of vegetarian dim sum -- a rotating selection of 30-some items. All the classics are there: har gow, siu mai, BBQ "pork" bun. The meat is made with soy and while you can tell the difference, it's the closest to the real thing you'll get in Los Angeles. They also have a patio for those who enjoy dining outside. Best of all, dim sum is available all day long. 841 W Las Tunas Dr, San Gabriel, CA 91776;
(626) 282-2282.
Happy Family: Buffet
It's no secret that buffets are well-loved and welcome within the Chinese community. Happy Family fulfills that need in the vegetarian niche with their all-you-can-eat menu that clocks in at below $15. Give the crispy "fish" a try. It's made with beancurd and wrapped with seaweed, which is supposed to look like the skin of the fish. The dish is topped with fermented beans for flavor and a sprig of cilantro. 500 N. Atlantic Blvd., Suite 171, Monterey Park, (626) 282-8986.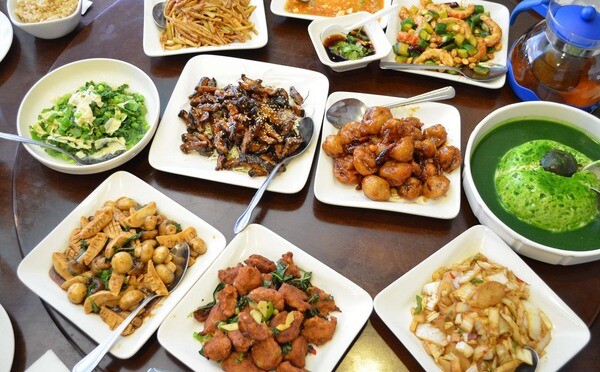 Vege Paradise: Family-Style
Vege Paradise is the place to go if you have a large group of vegetarian eaters and want a more formal affair. It's family-style here and recently, they launched a Japanese portion of the menu with vegetarian rolls and even "eel" teriyaki. Opened in the early 1990s, Vege Paradise was one of the first Chinese vegetarian restaurants in town. Give the kung pao "chicken" a try. It tastes and looks exactly like chicken. 140 W. Valley Blvd., Suite 222, San Gabriel, (626) 280-5998.