KCET Departures' exploration of Leimert Park extends into the literary realm this week in LA Letters. It is common knowledge by now that Leimert Park's World Stage has been one of the most important West Coast poetry venues since it opened in 1989. Hundreds, if not thousands, of poets have shared their work in Leimert for going on four decades now. This week L.A. Letters features eight literary lions of Leimert Park, chosen because they have each put in over 20-plus years of work in Leimert as a poet, writer, and community activist. At the end of the essay a few other writers will be mentioned as well as a few more book and film titles.
Before naming the writers, some background information is important to establish. Leimert Park's poetry scene traces back to the famed Watts Writers Workshop. World Stage co-founder and City Lights author, Kamau Daaood, was the youngest member of the Watts Writers Workshop. Founded after the 1965 Watts riots by movie producer Budd Schulberg, the Workshop was a creative incubator in the Watts community until an FBI informant burned it down in 1972. Daaood joined writers like Quincy Troupe, Ojenke, Cleveland Sims, k curtis lyle, Watts Prophets, Eric Priestley, Wanda Coleman, Jayne Cortez and many others. These writers came a decade before hip-hop and slam poetry. The Watts writers gradually migrated to Leimert Park through the Reagan years. Following the 1992 uprisings, the Leimert Park community emerged even more as a mecca for music and poetry.
Voices From Leimert Park
As noted before there have been hundreds of poets in the Leimert Park community of writers. The closest thing to any type of record of the movement is the 2007 anthology "Voices From Leimert Park," edited by Shonda Buchanan. At just over 200 pages it effectively captures the magic from close to two decades at the World Stage and other Leimert Park poetry venues. Forty-seven Poets are published in the book: writers like Kamau Daaood, Pam Ward, AK Toney, Regina Higgins, Ruth Forman, LeVan D. Hawkins, D Knowledge, k curtis lyle, Conney Williams, Imani Tolliver, E.J. Priestley, S. Pearl Sharp, Merilene Murphy, Michael Datcher, Peter J. Harris, Wanda Coleman, Paul Calderon, V. Kali Nurigan, Jervey Tervalon and many others. Like any anthology, it's just a drop in the bucket.
Anthologies and lists by nature are problematic. There are always other writers that are important or could have been included. There have been numerous excellent writers that have passed through Leimert Park to do important work along their journey. Buchanan, for example, was very active in the community before taking a professor job on the East Coast at Hampton University. She orchestrated and edited the anthology, splitting her time between coasts.
A.K. Toney
I first began attending poetry events in Leimert in the mid-1990s. Thanks to A.K. Toney, I was warmly welcomed into Leimert Park venues like the World Stage and Fifth Street Dick's after we became friends around 2002. Toney is a published poet, educator, and founder of the "Reading Is Poetry" youth writing workshop. Coming out of high school in the late 1980s in Inglewood, Toney gravitated to Leimert Park's community of coffeehouses and performance spaces.
Toney has been a part of the World Stage family since the early 1990s. Toney explains the evolution of Leimert and his own involvement: "Leimert Park Village exposed its secrets and origins that I would use as a reference in my development for poetry. The experiences I became part of were priceless," he says. There were several elders that nurtured his artistic, intellectual and spiritual growth. He fondly recalls listening to Billy Higgins and Horace Tapscott tell stories about Louis Armstrong, Coltrane and Central Avenue. Toney even briefly lived a few doors down from Tapscott on 11th Avenue. He also shared a connection with Fifth Street Dick's Coffeehouse owner, Richard Fulton.
"If there was anything that gave me the new golden years of Leimert Park Village during the time between 1989-2000, it was Richard Fulton," Toney says. "Fulton once said, 'I created this as a Sanctuary, a community space where people can express themselves. A place where creativity can flourish. Don't ever forget where you come from and what made you who you are.' He was the heartbeat of The Village." Toney inculcated the community spirit at an early age and ran with it.
He has numerous stories about the greats he learned from. "I met such greats, as Billy Higgins, the most recorded jazz drummer in the history of the world. He was also a founding Father of the World Stage, partnering with Kamau. Billy is famous for the recording 'Round Midnight' with Dexter Gordon." By the time Toney was 20 he had met Billy Higgins, Juno Lewis, Kamau Daaood, Horace Tapscott, and many other poets and musicians.
"I discovered how the rhythms of Africa transported from Louisiana to Los Angeles to help form jazz. I learned this from Baba Juno Lewis. He was a musician that hand crafted his own drums and horns. John Coltrane came to Los Angeles with one sole purpose at one time, and that was to find Juno Lewis to record the album known as 'Kule Se Mama.'"
Toney reminisces about nights when there'd be three or four venues in the village packed with people playing live music, poetry, and tables of chess players well into the a.m. It still can be that way from time to time these days, on days like the Leimert Park Book Fair or World Stage Jazz Festival. In recent years a few documentary films and a book have been released documenting the Leimert Park scene.
In the late '90s Toney traveled internationally, performing poetry with Keith Antar Mason and the Hititte Empire. He presently teaches poetry workshops throughout Southern California and is finishing both a book of poems and a Science Fiction Novella. Toney is a popular inspirational guest speaker around schools in Southern California and has also recorded two albums of his poetry accompanied by jazz.
Kamau Daaood
Kamau Daaood is a major poetic pioneer. I have written about him many times before in this column. He's shared the stage with legends like Gil Scott-Heron and Amiri Baraka. S. Pearl Sharp directed and produced a film about Kamau Daaood called "Word Musician" in 1985. Daaood has always been a poetic prodigy. In the late 1960s when he was only 18, he was asked to move to New York and join the Last Poets. Similar to his mentor Horace Tapscott before him, he chose to stay in Los Angeles and act locally.
Daaood's poetry album is titled "Leimert Park." It's a collection of twelve poems over a well-crafted musical soundscape, with pieces for Coltrane, Art Blakey, Billie Holiday, his wife and his family. Recorded in 1997, the album features legendary Leimert Park musicians like Billy Higgins, Horace Tapscott, pianist Nate Morgan, and vocalist Dwight Trible. Daaood's most recent recordings with Carlos Nino's project Ammon Contact are as powerful as ever. His City Lights book, "The Language of Saxophones," is one of the legendary publisher's best-selling poetry titles. Daaood also has an encyclopedic knowledge of vinyl records, poetry books and film.
S. Pearl Sharp
S. Pearl Sharp is a writer/actress/filmmaker well known for projects like the aforementioned film on Kamau Daaood, her nonfiction book, "Black Women For Beginners," her five books of poetry, several poetry recordings, and another documentary, "The Healing Passage/Voices From the Water." Over the years she has published in numerous anthologies and journals, like Eugene Redmond's "Drum Voices." Sharp's work reflects a wise woman that has seen the world and combines love, wit and sarcasm into well-crafted poetry. Her poem "When Billy Died," about the night Billy Higgins died, is the first one of hers I heard at the World Stage. The powerful short poem was very memorable as was her sincere delivery. "They heard him/when he put down/his sticks/they came/when Billy died." She lists the instruments that showed up and ends the poem noting that they came, "and didn't need no email, they came." The mix of wisdom and humor in her work always uplifts a room full of listeners. Her voice translates well on the page as well. She has also mentored numerous younger authors.
Peter J. Harris
Peter J. Harris has published poetry, personal essays, and journalism since the 1970s. His book, "Hand Me My Griot's Clothes," won the Josephine Miles Award. An editor, broadcaster and arts educator, Harris won the Pen Oakland Award for Multicultural Literature in 1993. He worked in the California Poets in the Schools program in the 1980s, published his own magazine geared towards uplifting Black fathers, and created countless workshops for both youth and elders. I first heard his work on both KPFK Radio and Carlos Nino's first "Build An Ark" record in 2003. One of his best known poems is the recording of "Love is Our Nationality," in which his voice and the music blend seamlessly. "Put down your gun, pick up your baby." There are many memorable lines in the piece. His work, like S. Pearl Sharp's, translates well on both the page and the stage. Harris has participated in international writing conferences and poetry festivals and shared the stage with many jazz greats. He's recently done a series of events at California Plaza downtown.
Michael Datcher
Michael Datcher is a poet, novelist and professor, known for both his time at the World Stage and now as an LMU instructor. Datcher's novel "Raising Fences" is one of the best known novels to take place in Leimert Park, where he was living at the time while a UCLA grad student. Datcher had spent much of his youth in Southern California but had gone to UC Berkeley, where he studied with the legendary Professor June Jordan. Datcher moved to Leimert when he came back home to L.A. for grad school. Eventually he became a central figure at the World Stage. His description in "Raising Fences," about the first time he met Kamau Daaood in Daaood's former Leimert Park record store sometime in the very early 1990s, is a historic episode very important in Leimert Park literary history. The conversation shows Datcher, an earnest young poet in his mid-20s, as he begins to tell Daaood about his graduate studies in Poetry and previous experience at Berkeley. The older Daaood slows him down a bit and then tells Datcher about the World Stage. The rest, as they say, is history -- shortly after his first visits to the World Stage, Datcher dove in head first and ended up becoming the World Stage's Workshop Director for over a decade. Datcher's inventive energy combined magically with the wisdom of older writers like Daaood, Harris and Sharp along with contemporaries like A.K. Toney, Pam Ward, Imani Tolliver, Conney Williams and many other writers to create a formidable nucleus of writers at the World Stage.
Imani Tolliver
Poet, visual artist, educator, and community worker, Imani Tolliver is another longtime Leimert stalwart. After studying English Literature and African-American Studies at Howard University, she's had a very successful writing career and served as a consultant to community organizations, museums and educators. Besides her many years at the World Stage, she has done work throughout Southern California at Cal State L.A., Cal State Long Beach, USC, and in 2007/2008 she was selected the Poet Laureate for the Watts Towers Arts Center. She was a Graduate Fellow with Cave Canem in the late 1990s and has published several books of her poetry. In 2007 the city of Los Angeles awarded her a Certificate of Appreciation for her work as a promoter, host and publicist in support of the literary arts in Los Angeles.
Pam Ward
Pam Ward is a writer and graphic designer who has been very active in literary Los Angeles since the 1980s. A UCLA graduate and recipient of a "California Arts Council Fellow in Literature" and "New Letters Literary Award," Ward grew up in the Crenshaw District. She is equally adept at both poetry and fiction. Like each of the other greats in this article, she is also a longtime stalwart of the World Stage. Her prose poem "Los Angeles," is a relentless parade of vivid images. It begins:
Because I inhale L.A, like the smoke from a Skid Row bum. Because I used the slick white sheet inside a pantyhose pack, to write. Because I grew up at 54th and Crenshaw, a million miles from O-Jay's glove but a stone's throw from Ray Charles' View Park door. Because Mom washed and sang 'Rainy Night in Georgia,' off-key, turning our porch into a bleach and Ajax concert. Because Daddy drove a Porsche, tooling the 110 with ease, passing men who eyed his kinky wild hair with suspicion and would have lynched him, if they could get away clean. Because my uncle's a cop. Because my cousin sold weed. Because my Aunt is a poker playin' fiend.
Ward knows the city well and extolls all of its virtues in her work. Her two novels, "Want Some, Get Some" and "Bad Girls Burn Slow," are set in contemporary Los Angeles. She has also published several books with her imprint, Short Dress Press. Ward is a mother of two recent college graduates and is well loved throughout the city for her warm personality and great writing.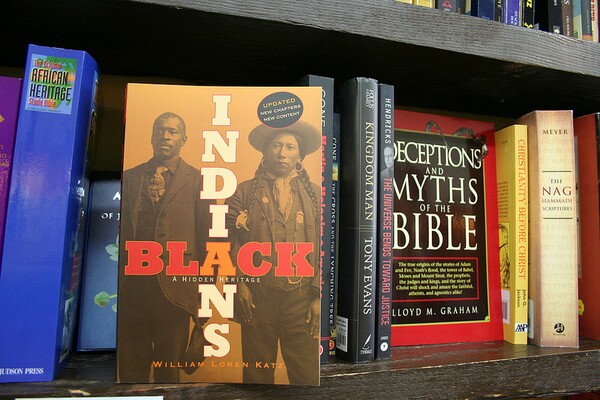 Conney Williams
Conney Williams is a poet, community activist, and father active around Leimert Park and literary Los Angeles for over 25 years now. He is the Artistic Director at the World Stage, an organizer of the Leimert Park Book Festival, and has published two poetry collections: "Leaves of Spilled Spirit from an Untamed Poet," and his newest book is titled, "Blues Red Soul Falsetto." Originally from Shreveport, Louisiana, where he worked as a radio personality, Williams came to Los Angeles in the early 1980s. Aside from his years of service in Leimert Park, he has also hosted numerous events in Downtown L.A., Venice, and Highland Park. He has recently featured for the Los Angeles Poets Society and can be seen throughout the city. Williams is known for his supportive spirit and potent poems like "Ballad For Gwendolyn Brooks."
There are many other great poets and writers that have been active in Leimert Park over the years. K Curtis lyle, another contemporary of Daaood and an early member of the Watts Writers Workshop, has split his time between L.A. and St. Louis. Will Alexander, another great Los Angeles poet published by City Lights, grew up with both Lyle and Daaood, but Alexander has never been one for being too associated with one school or geographic location. He is more known as a Surrealist poet, and though he has undoubtedly shared his work in Leimert, it's not a point of identification for him and his work. Billy Burgos is another very active Leimert poet; I wrote about him and the Leimert Park Book Festival last year. Burgos, along with emerging writers like Nikki Black, Hannibal Tabu, Tamara Blue, and the young poets I met a few years ago at View Park High School, like Monique Mitchell and Philip Williams, are preparing to continue Leimert's literary legacy.
Nina Revoyr's book, "Southland," is an excellent book that takes place near Leimert Park over three generations. An interracial romance between a Japanese man and African-American woman during the Post War period, the novel offers an insightful window into the history of the Crenshaw District. The Crenshaw District was once equally African-American, Japanese, and Jewish. The Japanese influence can still be seen near 39th and Norton Street. Jazz musical icon David Axelrod went to Dorsey High School, and grew up near Jefferson and Crenshaw. George Takei from Star Trek also went to Dorsey and grew up in the Crenshaw area.
The recent documentary "This is the Life" tells the story about the famed hip hop open mic held at the Good Life Café, which operated on Crenshaw from 1989 to 1994. The Good Life, along with the Project Blowed hip hop open mic held at KAOS Network in Leimert Park since 1994, have been as important to the underground Hip Hop community as the World Stage has been to poetry. In a future article that will also be covered.
The writers and artists mentioned here are only the beginning; there are dozens of other writers worthy of attention. Eso Won Books in Leimert Park is one of the best places to begin further research. Salute to A.K. Toney, Kamau Daaood, S. Pearl Sharp, Peter J. Harris, Michael Datcher, Imani Tolliver, Pam Ward and Conney Williams for their tireless years of service to Leimert Park and Southern California. These illustrious authors are leviathans of L.A. Letters.
Top: Inside The World Stage. Photo: A. Smith.