For such a high-profile metropolis, Los Angeles has a curious relationship with the word "city." Its detractors have, for the better part of a century, argued that the term doesn't apply: witness the longevity of the quip calling Los Angeles six, twelve, nineteen, or (somehow, most often) 72 suburbs in search of a city, variously attributed to a gallery of wits including Aldous Huxley, H.L. Mencken, Robert Benchley, Alexander Woollcott, and (somehow, most often) Dorothy Parker. Sometimes even its defenders say close to the same thing, agreeing that Los Angeles has nothing to do with, and thus admits no judgment by, the standards, traditions, and expectations implied by the word "city." According to either framing, the more you think about Los Angeles in terms of a city, the less satisfactory the place feels. Any part referring explicitly to itself as city thus automatically raises alarms of suspicion.
The residentless Universal City, a 415-acre area of the suburban San Fernando Valley wholly owned by Universal Studios, bends most anyone's definition of "city" to or beyond the breaking point. A small piece of of it lays within the boundaries of Los Angeles proper, but the rest of it — the part visitors see — has, as an unincorporated area, given rise to such attractions as the Universal Studios Hollywood theme park; before that, the actual, functioning production facilities from which that park draws its theme; and most recently Universal CityWalk, essentially a shopping mall, but one that requires some explanation. In his essay "Considering CityWalk: A Brief History of the Mall and Artificial Neighborhoods", Oliver Wang describes it as "an amusement park concept" which grounds its fantasy "in a longing for a particular kind of real city space: dense, busy, and vibrant." That longing comes through loud and clear in the branding: CityWalk features an upper deck called CityLoft, which itself contains a cluster of eateries called CityFood. Back on the ground level, at least one kiosk sells "City Caps."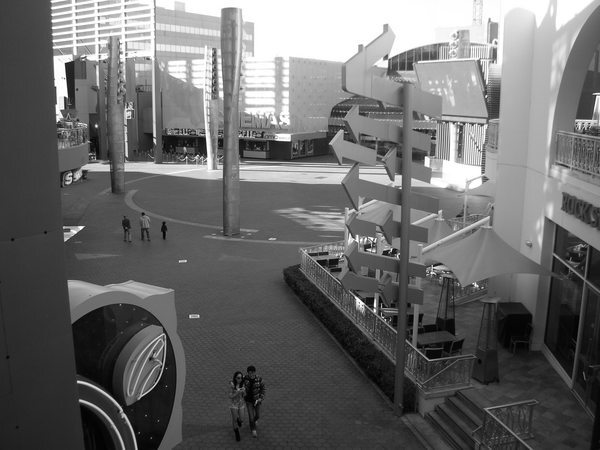 Though you can find other instantiations of the CityWalk concept in Orlando, Florida and Osaka, Japan, the original Universal City perfectly reflects a curious tendency in Los Angeles place-making, one many a visitor will no doubt have heard ridiculed well before they arrive. Here we have an unusually high number of (or, in any case, a surprisingly high number of successful) urbanesque spaces built whole or in large chunks at a time, designed with great deliberacy and controlled firmly thereafter, and placed at no small geographical remove from almost everything else. In creating their own, Universal CityWalk's developers took the intriguing step of not just evoking the built environment of the generic Big City, but of evoking the built environment of the big city of Los Angeles, simplified-then-intensified interpretations of its signature farrago of architectural styles carefully compressed into its three "blocks." Sprouting up through the open roof, you see vintage-looking commercial signs that refer to nothing; up at CityFood, you even find replicas of such bastions of Los Angeles eating as Pink's hot dogs and Original Tommy's hamburgers.
Given that Universal CityWalk opened in the 1990s — the year after the 1992 riots, a time when few would have accepted urban disorder in any of its manifestations — I feel the temptation to class its look and feel with the postmodern architectural movements then in vogue. (Admittedly, the sports cars and spacecraft designed to look as if they've just crashed into or out of the walls do more to take me back to my childhood in that era.) You could also, as Wang does, place it on the continuum of Southern California's once all-important shopping malls, as the arguably compromised link between "golden age of indoor complexes" from the 1950s through the '80s, to the "open-air" designs favored both in the 1940s and today. But unlike most malls, and unlike the majority of Los Angeles locales that travel writer Jan Morris would have called "virtual places," you can actually get there on that most urban means of conveyance, the subway.
Or rather, you almost can: the train lets you out not under CityWalk's atrium, but almost a mile away, a distance crossable by either a shuttle ride or a fifteen-minute walk up a hill, across a bridge, and past several comically large parking garages — one of them, lest you forget exactly which studio built the place and exactly when they built it, called "Jurassic Parking." Located under its patch of incorporated land, Universal City's Metro Red Line station gives its emerging passengers a view of its only notable close neighbor, the 36-story rhombic skyscraper 10 Universal City Plaza, the tallest building in the San Fernando Valley, and one whose frankness seems especially striking if you approach it from the other direction, after having spent a few hours at CityWalk. A Los Angeles detractor might solemnly contrast the all-business 10 Universal City Plaza (not to mention the ziggurat of its own parking garage, which permits even less nonsense) and the unabashed falseness of CityWalk above, premised on the debatable notion that density, busyness, and vibrancy can come into existence through commercial will.
In so doing, they fall into a trap. Universal City, and even more so its CityWalk, obviously defy the established tenets of proper urban taste, forcing even those approaching with goodwill to take pains to describe them without an implicit sneer. But Universal City does it actively, whereas much of the rest of greater Los Angeles does it inadvertently. In damning it, depending on where they stand, either its desolate corporate placelessness or its artificially induced, consumption-driven over-placedness, critics come off less as incisive than as humorless and stodgy. Still, they have a sound point, in that the numerous thinly if elaborately veiled retail environments like CityWalk offer precisely two facets of the human experience: you can buy something, or you can buy something else. On the most recent of my rare visits there, I chose to buy a cappuccino, of sorts, and I as I sipped it while watching the touristic passers by, I wondered what would need to change to bring me in more often. This line of thinking could lead more than a few of Los Angeles' enthusiasts of place to a frustrated echo of Oliver Cromwell: "I know what I would not have, but I do not know what I would have." And they would not have Universal City.
Photos by Colin Marshall.