University of California Press recently published "A People's Guide to Los Angeles," containing over 300 pages of sites, stories and maps "where struggles related to class, race, gender, sexuality and the environment have occurred." Naming 115 places across the basin, the book includes a few familiar stories like the L.A. Black Panthers, Chavez Ravine, and Self-Help Graphics; but the work's true magic is its celebration of more unknown sites like Biddy Mason Park, Kashu Realty, Mark Twain Library, Cambodiatown, the Southern California Research Library, and the Studio for Southern California History.
The masterfully executed book subverts the typical Los Angeles guidebook. Three authors appear on the byline: LAura Pulido, LAura Barraclough and Wendy Cheng. A trio of university professors, their diligent research and professionalism reflects in the informative and eye-catching text. It's an invaluable source of little known or forgotten but very necessary L.A. history.
In the introduction the authors address popular perceptions of Los Angeles:
Mainstream guidebooks typically describe and interpret their sites through the story of one person -- almost always a man, and usually the capitalist who invested in a place, or architect or designer. In doing so, they reinforce an individualized and masculinist way of thinking about history. Meanwhile the collectives of people who actually created, built or used the space remain nameless. The Bradbury Building in Downtown Los Angeles is an excellent example. Most mainstream guidebooks credit the architect, George Wyman. We agree that the Bradbury Building is significant, but most accounts of it are incomplete. Who were the workers that constructed the edifice?
Rather than focusing on the Bradbury Building, "A People's Guide" highlights sites like Biddy Mason Park, located less than 50 yards south of the Bradbury. Urban historian and artist Dolores Hayden created the sculpture-mural dedicated to the life of Biddy Mason. Born a slave in Georgia in 1818, Mason walked to San Bernardino in 1851 with Robert and Rebecca Smith. California was a free state, and a judge declared Mason set free. She moved to Los Angeles and worked as a midwife, delivered hundreds of babies, started a church, fed the homeless and eventually owned land. She owned the land and built her home at 331 Spring Street. Though you wouldn't know it because of all the concrete and the big parking structure, Biddy Mason Park is actually very close to where her home once stood. Hayden's exhibit includes photos, documents and engraved images in the long mural.
As impressive as the architecture of the Bradbury is, I've seen many individuals cry after seeing the mural and hearing the life-story of Biddy Mason. Mason's heroic journey speaks of overcoming the odds and making your dreams come true in spite of obstacles. I first learned of Biddy Mason's Park two decades ago shortly after it was built when I was taken there by my UCLA Urban Planning Professor Brian Taylor. The story blew me away then and it still does to this day.
"A People's Guide to Los Angeles," is filled with heroic sites like Biddy Mason Park. Kashu Realty is another powerful story. Born in 1922 in Los Angeles, Kazuo Inouye was the son of Japanese immigrants who grew up in Boyle Heights. After going to both the Manzanar Internment Camp and serving in the 442nd Battalion, Inouye returned to Los Angeles after the war and begin working as a realtor. The authors write, "propelled by his personal experiences with discrimination, Inouye made it his business to open up all-white neighborhoods to people of color. He worked with Japanese Americans and African Americans to purchase homes, often from Jewish homeowners or others sympathetic to racial integration."
Inouye singlehandedly helped change the face of several Los Angeles neighborhoods, as described in "A People's Guide":
When he found a Japanese American buyer, a rival white real estate agent broke all the windows in the home. Inouye confronted him directly, calling himself a 'kamikaze' and threatened to shoot the white real estate agent if he set foot on the property again. Through such tactic, Inouye sold a record number of homes in the Crenshaw District during the 1950s and 1960s. He advertised regularly in the Black press and facilitated the area's demographic shift from an all-white to a multiethnic African American, Japanese, and Latino/a place. Kashu Realty opened branches on Wilshire Boulevard and in Los Feliz and Monterey Park, where his firm performed similar feats.
Their Crenshaw branch remained open well into the 21st Century and the Kashu Realty sign can still be seen on Jefferson Boulevard.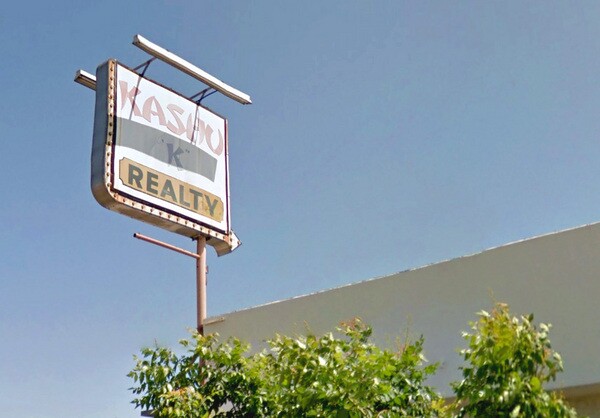 Another important location they celebrate is the Southern California Library for Social Studies and Research on Vermont, just south of Slauson. Known for their extensive collection of books, posters, political pamphlets and other memorabilia related to struggle in Los Angeles. Located in the same building since 1969, the library's roots date back to 1929 when its original founder Emil Freed began collecting political materials. There's an extensive collection of our city's radical past in the building, especially from the McCarthy era.
If you turn to almost any page in the book you will find an illuminating site or anecdote, whether it's the story of the Wat Thai Buddhist Temple in North Hollywood or the progressive social research being done by The Studio for Southern California History. The narrative also discusses sites where toxic waste are, and other places you wish weren't a part of the landscape -- the El Monte Sweatshop or the AMVAC Chemical Corporation in Commerce.
The last section of the book features what they call "Thematic Tours." With options like "First Peoples Tour", "Radical People-of-Color Movements of the 1960s and 1970s Tour", "Queer Politics and Culture Tour", "Environmental Justice Tour," and a few other alternative tours, the book offers a plethora of options aside from what they call "mainstream tours." This part of the book is particularly close to my heart because I have been giving alternative themed tours for 15 years now. Though I have also worked a few times for mainstream tour companies, I always included unexpected history on those tours too, whether it was going to Biddy Mason Park after the Bradbury, telling people interested in the movie star homes about the flammable chaparral in the expensive hills, or how Biggie was shot a half block from LACMA.
Over the years I have given tours for 10 different museums and companies. The tours I do with the Museum of Neon Art and Museum of Architecture and Design are more specific and similar to the tours they propose in the book. The Los Angeles Literary History tours I do for high school and college courses share the ethos of the tours they describe. I've been telling tourists and L.A. aficionados for years now, that our social and environmental history is far more fascinating than the Hollywood lore. "A People's Guide" demonstrates this in over 300 pages.
One final excellent feature of the book are the sidebars and quotes from important Los Angeles authors. Stellar Los Angeles crime writer Gary Phillips is quoted in the introduction: "There is a Los Angeles of gloss and career angst and virtual whiteness, as depicted in the cable show 'Entourage' and books like 'The Informers'; that is not your L.A. It is not an L.A. of Korean barbeque taco trucks after medianoche in Pico Union, old heads playing dominoes and reminiscing about catching the Chi-Lites at Mavericks Flat back when, or the struggle by organizers and agitators to make this a sustainable city for all its residents, fighting for decent conditions and a say. This is the substrata informing my genre fiction... and I wouldn't have it any other way."
Phillips is a Los Angeles native, author of over a dozen books and Winner of the Chester Himes Award. His fiction masterfully uses geography to discuss race, class and the social fabric of Los Angeles. His 2010 book "The Underbelly" on PM Press is a well-crafted contemporary novella about a homeless Vietnam vet in Skid Row. He knows his city well and sums it up with humor and accuracy. He mixes the story with bits of information for a narrative that reads like a literary Tarantino.
Phillips touches on Downtown gentrification, Japanese in the Crenshaw District, the Library Tower and more. Phillips' L.A. knowledge is obvious and his descriptions are impeccable: "They were in the small kitchen of her apartment in a 1920s-era building, replete with Zig-Zag Moderne touches on the facade. It was situated on Catalina in a blended area of Koreatown and Pico-Union. Where one could spot carnicerias with life-sized plastic bulls on their roofs next door to Korean wedding gown shops."
It's because of insightful quotes like this that I'm really looking forward to reading Gary Phillips new book. Including Phillip's quote in "A People's Guide" is very appropriate -- he has the pulse on the city more than most. As the book's authors and Gary Phillips knows, Los Angeles has a rich cultural history only starting to be uncovered.
Here's to the authors of "A People's Guide to Los Angeles" and Gary Phillips, true ambassadors and scholars of L.A. Letters.