This Sunday millions of Americans will no doubt be glued to their giant television screens to catch the Super Bowl. Whether in your living room or restaurants and bars across town, in addition to the web (this year marks the first legal streaming in the U.S.) and even your phone, it's ensured that no one will miss the madness of it all, whether it be sports fans or big eaters.
With so much media coverage of the big game these days (there's even a commercial for a commercial) it's hard to believe that during the first-ever Super Bowl in 1967 - held in our very own neighborhood at the Los Angeles Coliseum - there was no television broadcast for Angelenos wishing to enjoy the game from the comfort of their mid-century couch.
Not long after the first NFL championship game was seen on TV in 1948, a policy was placed which required broadcasts within a 75-mile radius of the game to be blacked out - designed to protect attendance at the actual game. In 1972 it was modified to allow a game to be broadcast only if it had sold out by 72-hours before kickoff. This policy remains to this day, though not without controversy.
So what did Angelenos do when they couldn't afford the pricey tickets?
One option was to steal television signals. One enterprising electronics company placed an ad for a powerful antenna that could supposedly receive TV signals from San Diego, well outside of the 75-mile radius outside of L.A.
Another option was to leave town. Or at least that's what was hoped for by hotels across the Southland - from San Diego and Orange Country to Palm Springs and Bakersfield. Ads were placed in the L.A. Times, hoping to allure frustrated sports fans to enjoy the game "and get a winter suntan too."
What would you do on Sunday if you couldn't watch the game in your city?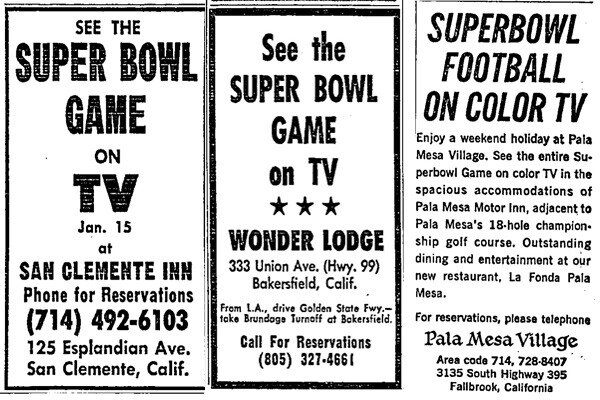 All images from the Los Angeles Times, courtesy of the Los Angeles Public Library