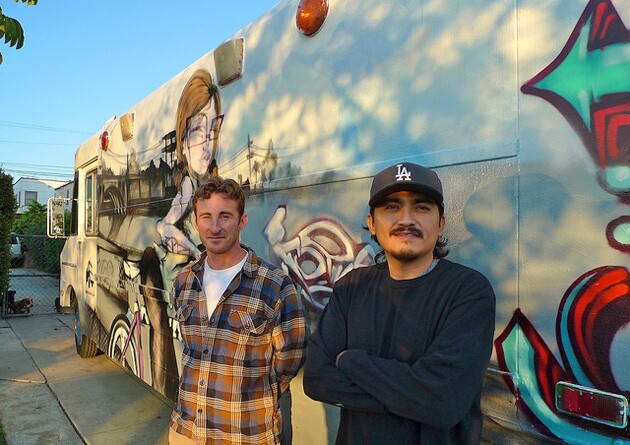 "It is the outside that I feel most alive; I can affect and interact with many people...much like my murals do"-- Roberto Del Hoyo
Maybe by now you know of the many unique artists in Los Angeles. But none is as unique as Roberto Del Hoyo and co-collaborator David Russell and their brainchild, the Mobile Mural Lab (MML). Their mission is to use the medium of public art to foster dialogue and educate the community about issues that affect them. How did Roberto how get this idea? "I met David in my second year of graduate school at Otis College of Art and Design in 2009, in the Public Practice Program. I was facilitating community murals and experimenting with temporary mobile murals via the Tarp Project, which was my master thesis project. The MML grew from conversations David and I were having about politically charged mural landscape in Los Angeles. We wanted to address city issues revolving around public space, and combine our love for murals and education." They have collaborated ever since.
When Roberto described to me his process of moving on from one piece to the next, I asked, "You mean to tell me you paint over the murals you just painted to start the next one?" "YES!" How many artists can feel comfortable creating works of art just to have them erased the next day? What a unique way of spreading art to the people -- MML comes to the community. I had the good fortune of working with both Roberto and David on the restoration of the "Great Wall of Los Angeles."
Roberto was born and raised in Los Angeles. At eleven years old, he discovered an oil pastel drawing of Jesus Christ in his mother's bedroom, carefully stored between her mattresses. His mother had a habit of stashing important documents between her mattress, such as birth certificates, bills, and pictures. The portrait looked authentic -- it represented real art to him, and this was in his house, in his hands. The portrait was very different than the Degas print his mother had hanging on the living room wall. When Roberto held it, he could see and feel the human touch as his fingers ran atop the oil texture. Even as a naïve sixth grader, he could recognize that the artist who had created it had some skill. He asked his mother about the drawing, and she confessed to him that it was his father who had created it.
Roberto's father and mother divorced when he was two years old, leaving him with no recollection of his father. The drawing gave him a glimpse into who his father was: an artist. He thought it was pretty cool to have an artist as a father, while at the same time realizing he wasn't around. That feeling turned into rage as he began to reproduce with a vengeance that same drawing -- but Roberto wanted to draw one that was better than his father could ever create. In retrospect, he was giving himself a drawing lesson by creating a "better Jesus" -- channeling a negative feeling and expressing it through art.
Feeling uneasy with his art being viewed inside galleries, during his exhibitions Roberto would often wander outside and view his art through hallways and windows. "[But] in fact, it was quite comforting to feel in those instances that I was caught between two cultures, neither of which quite accepted me," he said. "This was comforting because it was familiar. As an outsider, in every sense of the word, I felt free. I didn't like the perimeters that gallery owners and curators built around me."
Roberto travels on the existential pathway of a street muralist. He helps communities see and feel what is important to them in their lives through the public works of art that the Mobil Mural Lab leaves behind after each project is completed.
During those moments of questioning how art is limited to official display spaces, he finds himself recalling, reliving and deeply appreciating those feelings he had when we restored sections of the "Great Wall" mural with the incomparable Judy F. Baca.
Roberto was interviewed at the unveiling of the restoration of The Great Wall of Los Angeles:
Sonya Fe is a painter and muralist long affiliated with the Chicano Art Movement. She directed the screen printing workshop at Mechicano Arts Center and contributed to The Great Wall of Los Angeles. See her profile page for videos of interviews conducted for Departures: Highland Park.