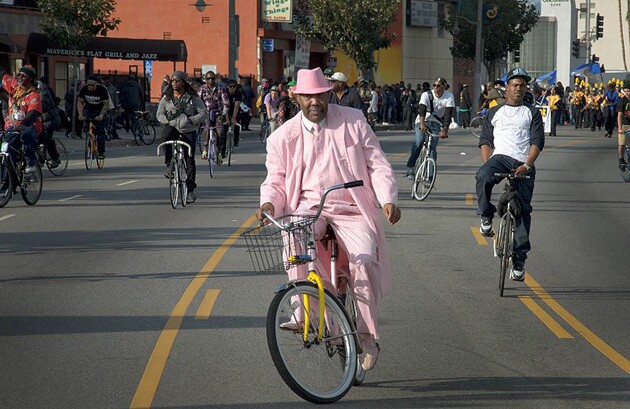 If Martin Luther King Jr. were alive today, there's no question he would have continued to champion the movement towards equal rights in America. In fact the world would be a far more peaceful place. The man not only led the charge on domestic civil rights, he spoke on matters of international importance, including a condemnation of militarism around the world.
Maybe it's a stretch, but I truly believe that if Martin Luther King Jr. were still with us, he would bless his vision even unto the lowly bicycle rider fighting for their right to safe passage on the streets of cities everywhere.
Last week I got the chance to celebrate Martin Luther King Jr. day in the most joyous way I could ever have. Not by watching, but by participating IN the MLK Jr. day parade. The idea to add a bicycle ride to the parade was hatched by Jeremy "JSwift" Swift, organizer of Black Kids on Bikes, together with Rick Johnson, organizer of Treats and Beats, who raised the money for the entrance fee. Genius.
Being in a parade was definitely a childhood "bucket list" item of mine, and there I was finally living the dream. Families and kids on the sidelines cheered, marching bands and floats were bumping music. The parade organizers had set a limit of 30 participants per group; naturally our group got bigger as people and their kids grabbed bikes to join in the fun. And no one seemed to mind.
I have to give a hat tip to a particularly energetic senior in the group just ahead of us. She walked the entire route, pausing every block or so to seriously shake that... ummmm... uhhh... to the roaring approval of onlookers. I almost fell off my bicycle. Definitely the toast of the parade.
Good times for the celebration of a great man. Did I mention a BBQ after party? Yes. Yes and more Yes. Rick and JSwift plan to make this a yearly event, so mark it on your calendars for next year.
Here are more photos from the event:
Jeremy Swift of Black Kids on Bikes organizes Freedom Rides on every 4th Sunday at the corner of Wilshire and Western.
Rick Johnson organizes Treats and Beats every 1st and 3rd Saturdays at Griffith Park Blvd. and Sunset Blvd in Silver Lake, 12:30pm.

Roadblock is a native of Los Angeles, a graphic artist, musician, community activist... and a bicycle rider. He is one of the founders of Midnight Ridazz. One Ride at a Time is a column dedicated to bringing bike love to Angelenos everywhere.

All photos by Roadblock