As the temperature slowly begins to drop, the city's cultural, literary, and natural community remains hot. New developments are unfolding at a rapid clip. Among the cavalcade of good news the city council just celebrated Latinas in the Arts, Luis Rodriguez was just named the new Poet Laureate, LA2050 organized an epic party celebrating the city in Grand Park, the San Gabriel Mountains were just declared a National Monument, and a new sculpture and interactive website is being unveiled at Los Angeles State Historic Park. This week L.A. Letters spotlights each of these people and events to reveal the rising spirit across Los Angeles in October 2014.
On Thursday October 9, Luis J. Rodriguez was named the new Los Angeles Poet Laureate. I have written about Rodriguez several times in this column, most recently about his use of Poetry as Social Practice and the Poetry Locomotive. See the column for an extensive account of his writing career. As one of the most prolific writers and activists, in not only Los Angeles but nationally over the last 30-plus years, Mayor Eric Garcetti made a wise choice in selecting Rodriguez as our city poet.
Rodriguez has mentored hundreds of youth and read his work to thousands of people around the world, dating back to the late 1970s. He has always had the ability to reach the common man, and has never forgotten how he started from humble beginnings in South San Gabriel attending Mark Keppel High School, and then East Los Angeles College before transferring to Cal State L.A. More than just a prolific writer, he is also a publisher, political activist and bookstore owner. He details his extensive journey in the companion books, "Always Running," and "It Calls You Back." In his book, "The Republic of East L.A.," he writes, "I had taken writing courses at East Los Angeles College. In high school, my English teachers said I was good at writing. And, like all writers, I read all the time. So I figured, I could do this." His many books and great success prove that he was right.
Rodriguez is truly a man of the people and an authentic hero. His Tia Chuchas Café Cultural and Bookstore is a mecca for literature and the arts. Rodriguez is the perfect person to follow the first Poet Laureate, Eloise Klein Healy; they both have spent decades giving back to the city. On a personal note, I first met Rodriguez in 2002 after reading his work for several years before that. His sincerity and warmth in person matched the verisimilitude of his writing. Los Angeles is lucky to have him.
In more good news, the Los Angeles City Council honored 15 important women for Hispanic Heritage Month on Tuesday, October 7. Each council district selected an honoree for the ceremony "Latinas in the Arts." The honorees and their respective districts are Kathy Gallegos from Council District 1; Andrea DoPaso from Council District 2; Addy Gonzalez from Council District 3; Isabel Rojas-Williams from Council District 4; Karen Gutierrez from Council District 5; Kristy Sandoval Art from Council District 7; Allegra Padilla from Council District 8; Edith Sanchez from Council District 9; Mujer de Barro-Mujeres de Hierro from Council District 10; Debra J.T. Padilla from Council District 11; Maria Rosales from Council District 12; Patssi Valdez from Council District 13; Glenna Avila from Council District 14; and Karla Diaz from Council District 15.
Isabel Rojas-Williams is the Executive Director of the Mural Conservancy of Los Angeles, and she was selected by council man Tom LaBonge for her contribution to preserving historic murals. The Chilean born Rojas-Williams came to Los Angeles in 1973 following political upheaval in her home country. During her youth in Chile she even knew the great poet Pablo Neruda. Last year KCET contributor Ed Fuentes profiled her in "Writing on the Wall," in which he noted that she has been one of the most important advocates for murals and public art in the city over the last decade. When she first came to Los Angeles she lived in Highland Park and also operated a small retail space in Boyle Heights on Whittier Boulevard before becoming immersed in the city's art community.
Years later her M.A. thesis at Cal State L.A. was called, "Walls of Passion: The Murals of Los Angeles." In her thesis she connected the dots between the early 20th Century Mexican muralists with the contemporary muralists and graffiti artists of Los Angeles. Along with her mentor Dr. Manuel Aguilar-Moreno, Rojas-Williams is responsible for the placement of a large canvas that hangs over the stairs in Martin Luther King Jr. Hall at Cal State L.A. The piece, titled "Homage to the Mexican Masters" and created by John "Zender" Estrada, Nuke, Chose, Siner, Zuco Shandu, and Duce, is dedicated to the great Mexican muralists who influenced the Chicano mural movement in Los Angeles.
Following her success at Cal State L.A. she has curated dozens of major art exhibits and also taught Art History at Cal State L.A before becoming the Executive Director of the Mural Conservancy. Rojas-Williams recently told me she sees herself as "a liaison between the generations." Most recently Rojas-Williams has played a key role in the restoration of the Olympic Murals from 1984.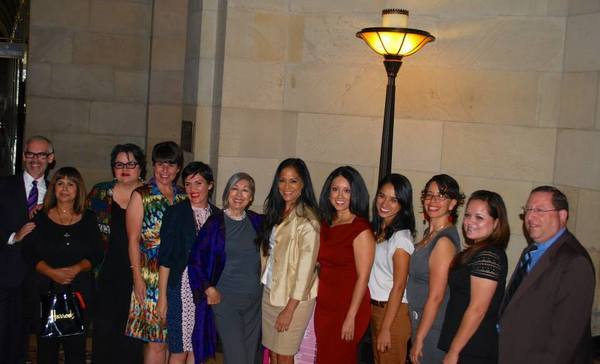 On Wednesday October 8 LA2050 organized a large party in Grand Park called "Celebrate L.A." LA2050 is "an initiative to create a shared vision for the future of Los Angeles, and to drive and track progress toward that vision. We achieve this through research and reporting, online and offline events, and capital development." Their party "Celebrate L.A." demonstrated their vision in flying colors.
The event brought together a myriad of arts, educational, and nonprofit organizations that are working together to improve the city for the future. There was a euphoric spirit in the air as hundreds of dedicated citizens gathered together in the shadow of city hall. Shauna Nep, LA2050's Director of Community and Innovation, waxed poetic about the event. "L.A., you really brought it on Wednesday night. You made it so easy to celebrate and honor you. Your backdrop, Downtown Los Angeles lit up in the twilight. You have a presence that is undeniable. Your energy, infectious. But really, it's the people -- the Angelenos -- that make you shine so bright."
KCRW DJ Anthony Valadez was on the wheels of steel playing a soundtrack that matched the crowd's energy. Food trucks like Kogi were on hand as well. Among the dozens of participants were the Friends of the Los Angeles River, Los Angeles Walks, 826LA, The Incubator School, Open Air Photo Booth, architect Daveed Kapoor, Silverlake Wine, and the Melrose Poetry Bureau.
The Melrose Poetry Bureau was a group of eight poets sitting together, each with their own typewriter composing spontaneous poetry. Focusing on writing place-based poetry around L.A., their collective includes Linda Ravenswood, Brian Sonia Wallace, Nayeli Knudsen, Bobby Gordon, Jessie Payo, Ary Katz, Rafael Casal, and Lakhiyia Hicks. Several attendees of the event approached the poets to get their own on-the-spot poem written right before their eyes. In addition to the LA2050 event, they have also appeared at the Hollywood Fringe Fest and the Bootleg Theatre.
Another victory to celebrate this week involves the San Gabriel Mountains. On Friday October 10, the San Gabriels are being declared the nation's newest National Monument. Over 350,000 acres of forests and mountains will now be protected and preserved for future generations to enjoy. A coalition of community activists like the Wilderness Society and several county officials have been working together for several years to make this dream a reality. George Sanchez-Tello from the Wilderness Society recently said, "After years of being underfunded and underserviced, the door will now be open for the San Gabriel's to receive the protection, recognition, and support they deserve." A celebration will be taking place to honor this at Madrid Middle School in El Monte, beginning at 3 p.m. on October 10.
And the final piece of good news concerns the Los Angeles State Historic Park, located just north of Downtown between Chinatown and Lincoln Heights. A new experimental mobile website exploring both the trails of the park and the local neighborhoods is being launched this week. The forthcoming public launch of the site, "LASHP Trails" is in conjunction with a new digitally interactive sculpture that will serve as the trailhead. The sculpture is called "Wellspring," and it was created by artists Michael Parker and Troy Rounseville. Both the website and sculpture emerged from a partnership between UCLA REMAP, California State Parks, the National Park Service, the California Endowment and the City of Los Angeles.
On Thursday October 16 the Los Angeles State Historic Park will be hosting a public demonstration of the park and new website at the Viaduct underneath the North Broadway Bridge. Beginning at 5:30 p.m. there will be a demonstration walk showing the connection between the website and different places throughout the park. Rangers in uniform will be using mobile devices to guide the demonstration walk. All Angelenos are welcome to attend. A reception will follow with speakers, live performances and then a film screening under the North Broadway Bridge. A key figure in this project is Professor Fabian Wagmister, the director of UCLA REMAP's Interpretive Media Laboratory and a longtime neighborhood historian and activist. High school students from Franklin High have also contributed greatly to the project.
In spite of political upheaval around the country and the world, Angelenos are using the arts and the natural landscape to improve the city and uplift the spirit of local citizens. Individuals like Luis Rodriguez, Isabel Rojas-Williams and groups like LA2050, the Wilderness Society, the Los Angeles State Park and UCLA REMAP are devoted to our civic future. Salute to these local heroes, they are truly alchemists in the landscape of L.A. Letters.