This week on "Writing On the Wall" guest editorial series, Carlyn Aguilar offers her take on street art in Beijing, China, as a first-generation Mexican-American who grew up on the east side of Los Angeles. After living abroad for 10 years in London, Paris, Madrid, Rio de Janeiro and Mexico City, Aguilar realized that L.A. was where she wanted to be more than anywhere else.
She is currently a correspondent on Geoff Tuck's blog Notes On Looking. Carlyn received her BA in English from UCLA and her MA in Postmodernism: Literature and Contemporary Culture from the University of London. She also holds a postgraduate diploma from the London School of Journalism.
By Carlyn Aguilar
Right before leaving for China, several things were in my mind. First, the hearing of the mural ordinance had been postponed, so I witnessed the frustration of Los Angeles artists. Second, I went on a walking tour of the Arts District with the MCLA, led by Isabel Rojas-Williams, and couldn't believe that all of those incredible murals were made illegally. I also didn't realize how many international artists had come to L.A. to make murals here. That discovery made me realize how important L.A. is, not just in the world of contemporary art we find in galleries and museums, but also in the street.
I had seen Chinese artist Ma Yongfeng's work years ago at The Museum of Contemporary Art, Los Angeles, and so I was excited to meet him and learn more about his work in Beijing. Fortunately, I was able to attend the opening of a group show he was in at the Iberia Center for Contemporary Art in Asia's biggest art district, 798 Art Zone.
Yongfeng first came to international attention with his video "The Swirl" in 2002, in which six koi fish are literally swirled around a washing machine for an entire 15-minute wash cycle. And when the water begins to drain, I can't help but hold my breath. It's a tense and powerful piece, which makes a strong statement about China and the Chinese.
However, Yongfeng told me that his work has completely changed since then. For example, in 2009 Yongfeng started Forget Art, an independent organization of ongoing projects that radically play with institutions and events (such as exhibitions, art fairs, and street performances) and become social interventions in daily life. His work now deals with the social realities that surround him in China.
His piece in the exhibition "Bernard Controls Project" (2012) is a large spray painted stenciled graffiti on recycled cardboard that reads "SENSIBILITY IS UNDER CONTROL". The piece comes from a project that Beijing-based Italian artist Alessandro Rolandi started, in which he invites artists to "stage interventions" for a two month period at Bernard Controls Asia.
Yongfeng's statement was randomly generated from talks between the artist and employees. The signs are meant to be a reflection of the working environment and the strict procedures the workers abide by. The stenciled messages seem to act as a reinterpretation of Mao's propaganda from industrial and revolutionary times that would be painted on factory walls for workers to see.
But rather than brain washing, Yongfeng's subtle graffiti raises questions and creates creative thinking about the environment the employees are in. "People should start with low-level resistance by doing minor things that engage people around them," explained Yongfeng.
When we walked around Caochangdi, Beijing's up-and-coming art district nearby 798 Art Zone, Yongfeng took me to where he had tagged the walls in the area: "Sensibility is Under Control", "Action is Thinking" and "No Compromise". All three had already been painted over, yet the messages were still clear -- if not clearer.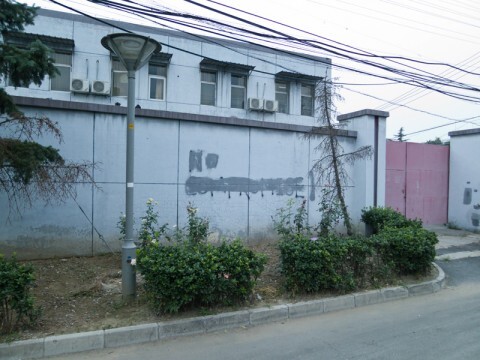 Yongfeng admires the work of China's most famous dissident artist Ai Weiwei, who also lives in Caochangdi. As we walked down the street to Ai Weiwei's house and studio, surveillance cameras filmed our every move. This didn't bother Yongfeng, as he has learned to push the limit and fight against the rules and regulations that hold back citizens from freedom of expression.
Unfortunately, what I found in Yongfeng's work I could not find elsewhere in China's art scene. I noticed that most of the artworks were not challenging and hardly oppositional. But I also understood that the artists who dare speak their minds against the government are also putting themselves at risk.
We can all remember that in 2011 Ai Weiwei was taken by the police and detained for three months. Nobody knew where he was or what was happening to him. Earlier that year the international community also saw him beaten and threatened after he created "Name List of Student Earthquake Victims Found by the Citizen Investigation" in 2008. Just by creating a list of the names of children who had died in the Sichuan earthquake and making it into public artworks and installations, the Chinese government decided to crackdown on his every action.
As I walked around looking for street art, I couldn't really find it, unless it was something commissioned. The walls near 798 Art Zone seemed artificial and an imitation of the West.
But as I hiked the Great Wall I did find some graffiti that spoke out against the government. I asked my Chinese friend why someone hadn't painted over it. She said that because we were in such a remote part of the Wall the officials probably hadn't even seen it.
When I got back to L.A. I couldn't help but think about the effects the mural moratorium had on our city. But I also noticed that artists were taking huge risks and still making murals illegally in the last ten years. I can't help but reflect back to the 1930s when David Alfaro Siqueiros, exiled from Mexico, dared to paint his opposition to Western imperialism on a wall in Olvera Street. In the center, there is an image of an indigenous man hanging from a cross with an American eagle peering down. In the corner, two revolutionaries aim their rifles at the national bird. City authorities immediately covered the mural and within a year whitewashed the infamous mural "América Tropical: Oppressed and Destroyed by Imperialism." In Jesus Treviño's documentary from 1971, Siqueiros explained, "América Tropical was a land of natives, of Indians, Creoles, of African-American men, all of the invariably persecuted and harassed by their respective governments."
Now we see the tables have turned, and Siqueiros' mural has been unveiled after conservation funded by the Getty and the City. A few days later the end of the mural moratorium began. Let's hope that the same will happen in China and that works by these dissident artists will also one day be resurrected. The Chicana in me is optimistic.
--Carlyn Aguilar