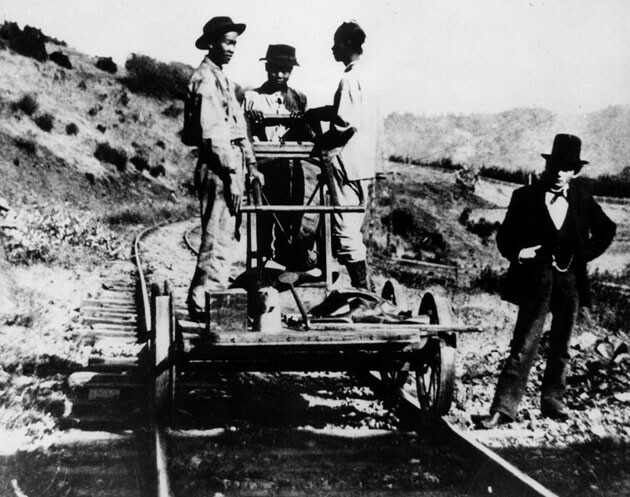 As we celebrate the Chinese New Year in L.A., thousands of Angelenos are expected to attend celebrations at the Chinatown Plaza, featuring dancing lions, a parade, traditional incense burning and a 500,000 firecracker display. The grandiose and anticipated turnout of this event is an example of the Chinese-American community's influential presence in Los Angeles. Yet, while this weekend commemorates a cultural tradition extended throughout the Chinese diaspora, celebrations are in order today for the more heart-wrenching contributions of Chinese-Americans.
164 years ago today, on January 24, 1848, James Marshall found gold at Sutter's Mill in Coloma, California. That discovery triggered one of the largest human migrations in history, pulling people from around the world and coining California's legacy as "The Golden State." Among the primary sojourners were Chinese laborers from Canton, a province engaged in civil war, drought and other natural disasters at the time. With nothing to lose, approximately 25,000 Chinese immigrated to "Gam Saan," translated as "Gold Mountain" in Cantonese, by 1850.
California owes much to the laborers of these Chinese immigrants, as they built most of the nation's entryway into the state - The Transcontinental Railroad. Chinese miners endured personal injury in dangerous conditions, racism from white competitors resentful of their hard-work ethic for low pay, and hostility from the California legislature that adopted a foreigner miner's tax in 1850 and the Chinese Exclusion Act of 1882, among other discriminatory pieces of legislation.
Apart from mining, Chinese migration during the gold rush played an integral role in developing California's agricultural environment, while those in the cities found work largely in laundry and other domestic services. In the video below, Suellen Cheng, Museum Director and Curator of El Pueblo de Los Angeles Historical Monument, describes the lifestyles and opportunities available for Chinese migrants moving to Los Angeles in the 1850s.
Suellen Cheng tells us about the two earliest Chinese residents in Los Angeles during the early 1850's.
Suellen Cheng - The Gold Mountain
Today, according to the 2010 Census Bureau, the Greater Los Angeles metropolis is home to the third largest Chinese-American population in the country. To learn more on the legacy of Chinese-Americans in Chinatown, Los Angeles, check out the Departures: Chinatown installment featuring a slide show of historic images from the Gold Rush in our chapter, "From Canton to L.A."
Related Videos:

Family Roots - Writer Lisa See talks about her family's migration from China to "Gold Mountain"
Chinese Migration, Gold & Railroads - William Estrada breaks down the demographics of the men who migrated to California during the Gold Rush.