LA's Early Moderns explores the works and intertwined relationships of Los Angeles' early visionaries of the modernist movement in architecture, art, and photography. Written by Victoria Dailey, Natalie Shivers, Michael Dawson, with an introduction from William Deverell, the book examines the works of Galka Scheyer, Richard Neutra, Rudolph Schindler, WIll Connell, Frank Lloyd Wright, Edward Weston, John Cage, Anais Nin, Jake Zeitlin, Merle Armitage, and Harriet and Sam Freeman.
Excerpt from the book:
"This book is about a Los Angeles filled with optimism about a different kind of "city of the future." The reader will enter a rarified social realm where client, artist, architect, lover, patron, and publisher merged in a creative ferment that magically occurs only at rare moments in a city's life."
Lummis House
After purchasing two adjacent lots next to the Arroyo Seco, Charles Lummis began the construction of El Alisal--"Place of the Sycamore Trees." Built over a twelve year period ending in 1910, the structure was constructed by Lummis using stones gathered from the Arroyo Seco with the assistance of a few Native American laborers he had trained in carpentry.
The house was built one room at a time, to allow his family to live there during its construction. Over the course of the 12 year span, he built a two level structure with a tower that housed artifacts Lummis collected on his journeys throughout the Southwest. In its completion, El Alisal was a patchwork, each window a different size, each door a different design, but a home custom-built to fit Lummis' eccentricities and accomplishments.
After Lummis' death in 1928, his children struggled to maintain the property before donating it to the Southwest Museum, which in turn struggled to keep the property open to the public. It is currently the headquarters of the Historical Society of Southern California, and open for tours Friday through Sunday between 12pm and 5pm.
Gamble House
The Gamble House was designed by architectural firm Greene and Greene for David B. Gamble (of Proctor & Gamble) and the home was constructed between 1908 and 1909. Brothers Charles Sumner Greene and Henry Mather Greene established their firm, January 1894 in Pasadena. The majority of their projects were produced between 1903 and 1909, completing nearly 150 projects, all within California (except for one), ingrained in the American Arts and Crafts style. They primarily designed residential structures, with custom-built furnishings to match.
The Gamble House, a prime example of an "ultimate bungalow" due to its large size and depth of detail, is located at 4 Westmoreland Place, Pasadena. In 1966, the house was deeded to the city of Pasadena with a partnership with the University of Southern California School of Architecture. The property is now cared for by two full time live-in USC fifth-year graduate architectural students, which are rotated on a yearly basis. Tours are available Thursday through Sunday between 12pm and 3pm. In the original garage structure is a bookstore open Tuesday through Saturday from 10am to 5pm and Sunday from 11:30am to 5pm.
Hollyhock House
Designed by Frank Lloyd Wright and built between 1919 and 1921, the Hollyhock House was home to oil heiress Aline Barnsdall. The house was named after Aline Barnsdall's favorite flower, the hollyhock, which influenced the symmetrical design elements throughout the structure, including the leaded glass art windows. Characteristic of the Mayan Revival Style, the house was designed with a flat roof and slightly tilted walls accented by decorative bas reliefs. Wright continued designing in this style with four more homes in Los Angeles including the Ennis House and Storer House.
This is the second house Frank Lloyd Wright designed in California, and the construction was supervised by his son, Lloyd Wright, and associate, Rudolph Schindler. The house overlooks the city of Los Angeles sitting on top of Olive Hill in Barnsdall Art Park and located at 4800 Hollywood Blvd., Hollywood. Tours are available Friday through Sunday between 12:30pm and 3:30pm.
Schindler House
Known as the Kings Road House or the Schindler Chase house, it was designed by Rudolf Schindler and built between 1921 and 1922. It was designed as a live-work space for two couples. The single level structure consisted of two "interlinking" L-shaped sections connected through a common kitchen, where the couples could share the duties of cooking as well as socialize. Each section consisted of two studio spaces, with an outdoor rooftop sleeping area, which was contingent on regular mild Southern California weather.
The walls were constructed with a series of poured concrete slabs connected with slim, 3-inch, glass windows. The walls were left untreated and exposed, highlighting the simplicity and common materials used for the structure.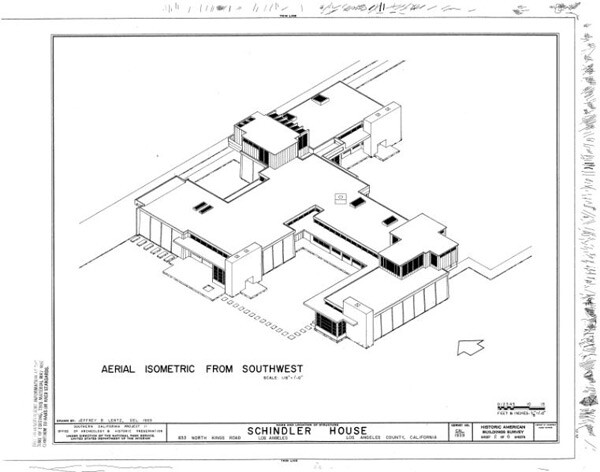 Schindler and wife, Pauline, and Richard Neutra and his wife lived together on the property, having worked with each other through Frank Lloyd Wright. Schindler and Neutra formed their architectural firm, AGIC (Architectural Group for Industry and Commerce), working together until Neutra was commissioned to build Philip Lovell's (one of Schindler's best clients) second homes. Neutra moved out shortly after.
It is located at 835 North Kings Road, West Hollywood, California, and currently the home of the MAK Center for Art and Architecture. The house is open to the public Wednesday through Sunday between 11am and 6pm.
Lovell House
The Lovell House (or Lovell Health House) was designed and built by Richard Neutra between 1927 and 1929. Dr. Philip Lovell wrote "Care of the Body", a weekly column for the Los Angeles Times, through which he advocated holistic health practices including nude sunbathing and body building. After building the Lovell Beach House in Newport Beach (designed by Rudolph Schindler), Neutra was approached to build the Lovell Health House in Los Feliz.
Built off of the face of a cliff via tension cables, visitors enter the top floor, which houses the living quarters, from the street via a concrete walkway. A staircase leads to the living room and pool on the bottom floor. It has been described as being the first house to use steel framing, similar to that of skyscrapers, in the United States and is a primary example of the International Style. The home is located at 4616 Dundee Drive in Los Angeles, California.