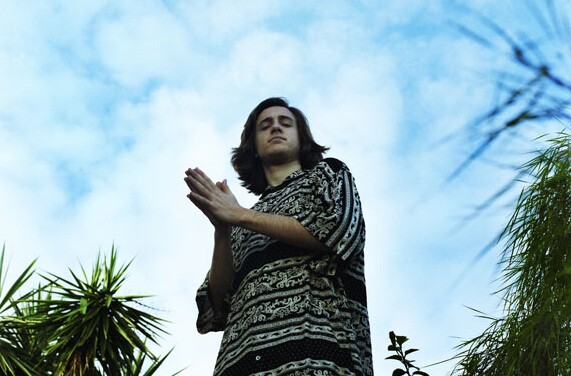 This week's song/poem is in honor of the late prodigy pianist from Venice, Austin Peralta. Peralta was only 22 when he passed in late November 2012. His 2010 album "Endless Planets" is a 7-song tour de force of nu jazz that harkens back to Archie Shepp, Herbie Hancock, Weather Report, Miles Davis' "Bitches Brew" and other free jazz records, while still pushing a new sound from his own era. Peralta was only getting started and had so much promise ahead. His second album on Flying Lotus's Brainfeeder label was almost done and being prepped for release. He played his last gig at the Blue Whale in Little Tokyo.
This track pays homage to the verisimilitude of Peralta's music. I wrote the poem shortly after hearing the tragic news. The inspiration is from his album and the song titles; "Endless Planets" is spelled acrostically down the margin of the two stanzas. The tone of the recording is set by the tenor saxophone stylings of Kamasi Washington, with production handled by DJ Dave Wittman, a highly versatile musician/producer with three decades of jazz roots dating back to Berkeley High and the UCLA jazz band.
Dave knew the celebrated saxophonist Kamasi Washington from working together on a jazz project in Venice a decade ago. Dave remembers first meeting Washington when he was no more than 20: "He's always been a great-hearted guy with this monstrous sound that we realized we were lucky enough to be involved with early on in his career. I've always loved his playing and his company, he's one of those cool examples of an emerging staple, somebody you can almost look back at as they're still growing before your eyes."
Born in 1981, Washington is one of the most active tenor saxophonists in West Coast Jazz. For years he's been affiliated with a group of jazz players known as "The Young Jazz Giants." In high school Washington won first place in the John Coltrane Saxophone competition. Like Peralta, he's been on big stages from his early years, playing with legends like Wayne Shorter, Herbie Hancock, Horace Tapscott, and Gerald Wilson. More recently he toured as the saxophonist for Snoop Dogg's live band and has backed up the up-and-coming vocalist Jaz James. He has played countless gigs with Peralta; they first jammed when the pianist was in his early teens and he was in his late teens.
DJ Dave contacted Washington a few weeks ago about a track honoring Peralta to accompany my poem. Washington recorded several takes, sent them to Dave and then I went to Dave's studio to record the poem over the finished track. His contribution to the piece makes it extra meaningful. Sing forevermore for Austin Peralta.
Endless Planets for Austin Peralta
Endless Planets encapsulate Austin Peralta
Nobles odes to love unleashed
Delirious fits of keys transform
Lotus-minded light sound science
Everlasting underwater mountain odyssey
Sequences synthesize chords & riffs
Supernatural epilogue of eternal greatness
Prodigy pianist Peralta peaked early
Learned eternal language of harmony
Art Blakey's Renaissance bubbles
Never-ending prestidigitation meditations
Endless Planets into the infinite
Timeless sonic landscapes of music
Sing forevermore for Austin Peralta.