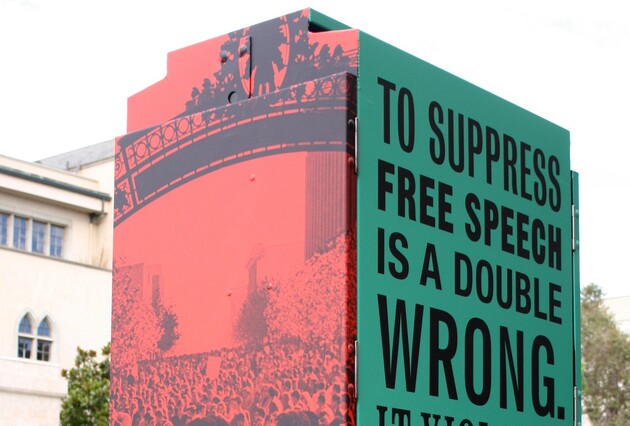 Utility boxes are becoming a favorite medium for civic public art, and Pasadena has its own well-crafted series by artist Susan Silton along Colorado Boulevard. The visual language is not unlike street posters promoting rock concerts that once dotted Los Angeles, and this set has a theme of noting American figures who supported Freedom of Speech, using quotes from outspoken icons such as Benjamin Franklin and Frederick Douglass. It's a small touch of rebellion in stoic Pasadena.
It's a subtle way for Silton to use her method of finding accessibility of public space, as she said in an interview at Art Pulse. "It can expand the audience for a given work and provides a viable art platform beyond the commodity-based value structure of the institutional white cube."
It's one of the public art pieces you can see during Pasadena's ARTWalk this Saturday October 13, in the Playhouse District. The event is part of the Pasadena Art Weekend, being held from Friday, October 12, to Sunday, October 14.
"In the past two years we have added the crosswalk and utility vinyl free speech wrappings," said Josefina Mora of the Playhouse District Association, adding that a map will mark where Silton's speaking utility boxes are located. "The free speech quotes are so refreshing."
The public art program for the city is looking to be more active. Currently on the City Of Pasadena website there is a survey to participate in the city's Public Art Master Plan until October 20. It is a part of outreach to locals to shape Public Art policy for Pasadena under the guidance of Public Art Planners Barbara Goldstein, who is working with Pasadena Cultural Affairs division and the Arts & Culture Commission, according to the website.

Pasadena ARTWalk programming includes ArtStroll, a mix of galleries and art installations in "pop-up galleries" and a self-guided architectural walking tour of the district; Hands-on Activity Village with interactive stations so you can jump into projects like canvas painting or assembling paper sculptures, and a series of ArtChats panel discussions. The Pasadena Museum of California Art and Pacific Asia Museum will offer free admission to ARTWalk attendees. With 40 participating visual artists, more than 3,000 works of featured original art, and an estimated 6,000 attendees, Pasadena ARTWalk is billed as San Gabriel Valley's largest urban art fair.
The 7th annual ARTWalk is Saturday, October 13, on El Molino Avenue between Colorado and Green Streets, from 11 a.m. to 5 p.m.