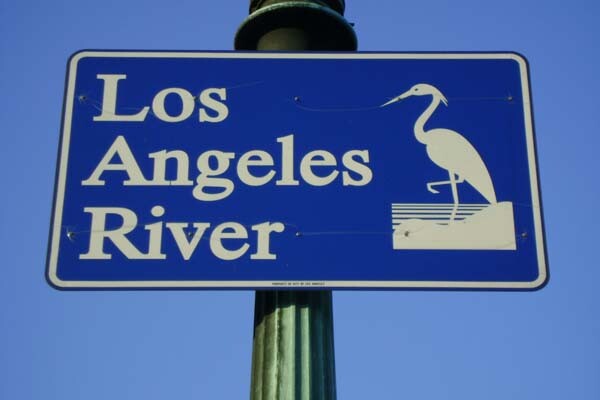 The Full Dollar Collection of Contemporary Art--a collaboration between KCET Departures, Occidental College, and Outpost for Contemporary Art** that "aims to reconsider the tradition of public art"--ain't the only sign-related story Departures offers up.
Let's start with Departures: LA River.
One of the (low-) key milestones in the mighty rio's slow drip towards revitalization came when City Councilmember Tom LaBonge--he of the effusive tongue, words ever-pouring from him like winter rain run-off down a concreted flood control channel--and the visionary performance artist, poet, author, raconteur and non-profit and planning hero Lewis MacAdams arranged in 2004 to have the simple blue and white signs with the heron silhouette installed above and around the river.
This act of announcing the river was intended--and has succeeded--at revivifying Angelenos' and visitors' understanding that the storm channel / trash gutter once known, far more epically, as El Río de Nuestra Señora La Reina de Los Ángeles de Porciúncula, is indeed a River.*
Here's LaBonge telling the story - and much more, from our StoryShare event at the L.A. River.

The Councilmember says he was driving along Glendale Boulevard, saw a small sign reading, "Los Angeles River undercrossing." LaBonge says he thought, there needs to be a sign on top of the bridge, not just below. And a prominent sign at that.
Depending on who tells the story, LaBonge then either gave the fellahs working in the city sign-making shop some booze (see Joe Linton's book--and here's Linton on Departures) or (in LaBonge's Departures' telling) some of the signature nun-baked pumpkin bread the Councilmember is known for carrying and distributing.
Either way, the signs were made, and they work.
Not all that far from the Glendale Narrows, over in Echo Park, Shepard Fairey of "Obey Giant" fame maintains his headquarters. Fairey lectured years ago at a Boston area music club known for its falafel as well as its shows, about the philosopher Heidegger and phenomenology. Here, via the one-click magic of the Internet, is* the Heidegger rap from the "manifesto" section of the "about" page of the obeygiant website:
"The OBEY sticker campaign can be explained as an experiment in Phenomenology. Heidegger describes Phenomenology as 'the process of letting things manifest themselves.' Phenomenology attempts to enable people to see clearly something that is right before their eyes but obscured; things that are so taken for granted that they are muted by abstract observation."
And also: "The FIRST AIM OF PHENOMENOLOGY is to reawaken a sense of wonder about one's environment."
It's hard to spend a few hours in any urban setting in the U.S.--and long since beyond--and not encounter an Andre sticker, wheat paste mural or some variant. Departures is no different. See this page for a pair of works by Fairey, in a "Roaming the 'Street' Art District" story by Ed Fuentes.
The power of signage to engage a population is a well-accepted concept here in Los Angeles. That's in no small part thanks to that nine-letter construct--down from an original thirteen*--that reads, "Hollywood."
A now-gone but still-standing take on that real estate tease was found in art gallery-era Chinatown.
This Departures: Chinatown introductory page features a Flickr shot of the "Chinatownland" sign that mimicked, though smaller and more accessibly, its Mt. Lee forebear, "Hollywoodland."
The sign also called to mind this "New Chinatown" elevated sign that helped debut the city's second such area; the original Chinatown was wrecked for the most part in order to build Union Station.
In the way that form follows function--for those "Bela Lugosi's Dead" fans among you--sometimes a sign doesn't need to be transformational.
The signage, for instance, at the Compton Jr. Posse, isn't as extraordinary as the real signs that you've arrived--the plethora of horses and other animals, along with neighborhood kids tending to the animals and excelling at competing with them, too.
And finally, also from Departures: Richland Farms, is a straightforward full-service sign that while print-shop made and not created Full Dollar one-of-a-kind style, still says just about everything a hungry passerby might need to know. The sign, for the eponymous eatery owned by Cliff Williams, reads, "Cliff's Five Dollar Ground Beef Only Burrito Special. (Includes Fries & Drink.)"

Photos: Chinatownland image was taken by flickr user 7-how-7. It was used under the Creative Commons license. New Chinatown image via Departures. Los Angeles River sign image by Jeremy Rosenberg.
**Jeremy Rosenberg is a past member of the board of directors of Outpost for Contemporary Art, including during the period while the Full Dollar project was conceived.
*updated