I am very focused on what I can do to help my students bring more diversity to the technology industry. The major Tech companies released their diversity reports recently, and it is clear that a change needs to happen:
Men make up 62% to 70% of the staffs of Twitter, Google, Facebook, Yahoo and LinkedIn, while whites and Asians comprise 88% to 91%, according to company data released in the past two months. Their dominance is highest in computer programming and other tech jobs that tend to pay the most.
First, I must equip my students with the skills, savvy, and hustle necessary to get the jobs. Second, I am trying to be as loud as I know how to be to let the companies know that these students exist, and maybe they need to do a bit more to look outside the box to find potential employees that break the white male mode.
At the Technology Academy at Foshay Learning Center in South Los Angeles, the majority of the students are low income and first generation. My students are 50% female, 87% Hispanic, and 10% African American. They have a high interest in computer science and tech related jobs, but not many of these jobs are offered in the vicinity of our school and my students don't have an internal group of family members helping them network.
So this is what I am doing:
STAGE 1: GET THE STUDENTS PREPARED
A reporter asked me why as a high school teacher am I so focused on jobs and careers with my students. She noted that for the most part they are too young to work and too busy with school commitments. My reply was that this is when I have my students. I don't have the luxury of meeting with them when they are juniors and seniors in college or recent graduates -- so I teach them now. My philosophy is that shouldn't they be able to connect what they learn in high school to jobs in the world?
I am a computer science teacher, but a significant portion of my curriculum is not just focused on coding and app and web development. I am trying to teach my students hustle. I am trying to teach my students perseverance. I am trying to teach my students to smile and hold themselves with confidence; to write cover letters, emails, and resumes professionally.
I am trying to teach my students how to get a job.
Not all of this is covered in the content standards of my curriculum, but I also know that my alumni are struggling to get jobs, even my graduates from UC and USC. My students are often soft spoken, modest, and shy. They think following up on a request is being pushy and annoying. They think sharing their accomplishments will be seen as bragging, especially if they were not asked a direct question in the first place. They are reluctant to write a cover letter to set up an informational interview with someone they don't know.
Therefore in my program they learn web design, graphic design, and programming. But that is not all. Starting in the 10th grade my students write resumes. They go on mock interviews. In the 11th grade we go on field trips to companies where they conduct informational interviews on the spot and bring copies of their resumes for review. This month alone the 11th graders are presenting the game ideas that they have designed and playtested through three iterations to a panel of game developers. The seniors pitched app ideas to a panel of software developers, and are now in production in business teams of five that consist of a production manager, programmer, art director, writer, and documentarian. They video chat every week or so with a mentor, and will enter their complete production to the Verizon App Challenge.
STAGE 2: GET COMPANIES TO NOTICE MY STUDENTS AND ALUMNI
I have a closed Facebook group for my alumni where I post opportunities for them that don't apply to my high school students. Based on the responses I know that my alumni are hungry for jobs. Yes, there are many success stories of students in lucrative and successful happy careers. My former students are educators, programmers, game designers, and advertising executives. Still, there are many recent graduates still looking for a full-time job. Some may be struggling just from the curse of being in their early twenties, but maybe there is something more.
So now I actively work with my business partners to help bring about change for my students. This past summer we were able to successfully get ten of my students internships and jobs through the internship fair we held and L.A. Fund's The Intern Project (TIP). The students have all come back glowing with confidence, armored with skills from the experience, and a powerful item on their resume. I asked them what was the most challenging part of their experience. The answer: getting there. One boy took three buses that took over 90 minutes to get to his job in Brentwood. Another student had summer school, then took the train to his job in Culver City, and took him two hours to get home to Compton at the end of the day.
The logistics is a very hard obstacle to overcome. I recently encouraged my business partners to think about how they could help support my students. One CEO generously offered a QA testing position at her game company to one of my seniors. The students were thrilled, but after doing the research decided it was just too far away. It would take close to two hours by train and most don't have cars. That is okay, we will keep trying.
I mentioned to my professional social media network on Twitter and LinkedIn that my alumni are ready for jobs. One contact reached out to say he is always hiring at his well known social gaming company, but the sad fact was that virtually no females and very few people of color are applying for the jobs.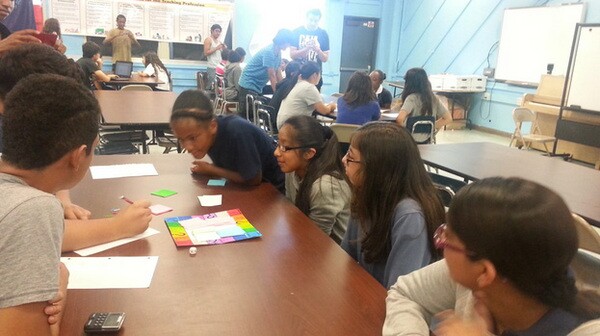 I asked my alumni about this as many of them stop by to say hello when they are in town and ask if I know about jobs. I keep telling them to reach out on their own for informational interviews. Call or email the mentors they met while they were in class with me. Many have confirmed that networking has proven to be the key for them. However, they also admit that they are still clinging to their shyness. The truth is that they often self-sabotage and decide that they don't meet all the qualifications, so they won't bother to apply. Or they think there is a logistics issue. The most common thing they say is that they do apply to jobs they find but will not follow up as they think that is too pushy or rude.
In August, I was thrilled to be asked to speak at Apple in Cupertino with one of my students as the kick off to their Inclusion and Diversity week. The topic was "Inspiring the Next Generation of Tech Talent." The people in the audience seemed to agree with my perspective and teaching philosophy in getting my students career ready. Someone in the audience asked about my alumni, which led to Apple sending me information about scholarships and internships to pass on to them. My former students jumped on the opportunity, but I still had to explain to them that I was not handing out jobs. They needed to apply like everyone else, but that I would help with their applications. I saw that while many of my alumni are excited they still need to improve the quality and professionalism of their writing. They still are hungry for someone to help pave the way for them. I hope that colleges will pick up this slack and offer more than a career board.
In the meantime, I constantly ask around for opportunities to post to my students and other scholarships and jobs to promote to my alumni. I continue to work on the technical skills and the soft skills of communication, teamwork, problem solving, and leadership with my current students. Why else are students enrolled in school if not to learn skills that will one day help them get a job? My students are low income and not born into a world of adults who can network and advise them. Therefore, I take the initiative upon myself to help these students navigate college and career. I have high hopes that soon more of them will break through and change the ethnic makeup up of the technology industry.