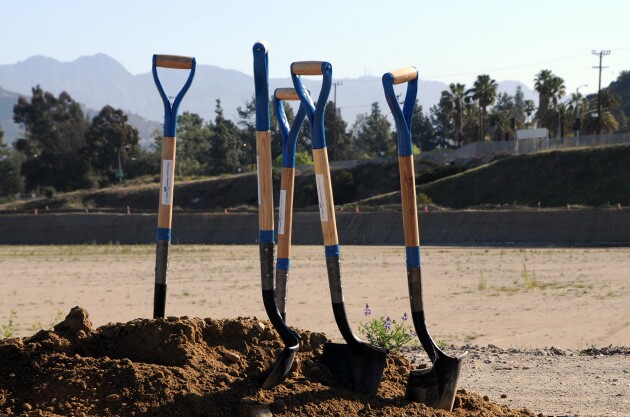 Lately, you may have noticed as you drive along the 134 Freeway towards downtown Los Angeles, a mass of construction vehicles rigorously moving dirt from one end of a field to another. Or you've been inconvenienced by the street construction in Silver Lake that seems to be never-ending.
Yesterday Councilman Tom LaBonge along with Ron Nichols of the Department of Water and Power, formally broke ground on the Headworks Reservoir in Burbank. Across from the Forest Lawn cemetery, and adjacent to the Los Angeles River, a 43-acre area will have two underground concrete reservoirs built to eventually replace the Silver Lake and Ivanhoe reservoirs, providing 110 million gallons of drinking water to Los Angeles.
The Headworks Reservoir is estimated to cost $230 million, resulting in "a modest increase," according to DWP manager Ron Nichols. "Just under $2 a month for the average customer." But by no means is this an average project.
A new pipeline, a mile-long, 66-inches in diameter, will carry water from the new reservoirs to a regulating station below the Silver Lake reservoir before being distributed. A 4-megawatt power plant will be built next to the reservoirs in the Los Angeles River. A partnership with the U.S. Army Corps of Engineers will eventually develop the area into a park with wetlands, and pathways for equestrians, cyclists, and pedestrians. Completion of the east reservoir will be in 2014, followed by the power plant and the west reservoir in 2017.
In 2007 a DWP press release reported that it found "unusually high levels in Silver Lake and Elysian reservoirs... if allowed to continue and be served to our customers, could result in the Department exceeding the acceptable drinking water standard." This set in motion an attempt to save the reservoirs. Furthermore, the EPA mandated limits on open reservoirs, setting forth measures to bring the reservoirs up to regulation.
In 2008 the reservoirs were drained and refilled. 400,000 black plastic balls were dumped into the Ivanhoe reservoir to block sunlight, an attempt to reduce the occurrence of bromate. The Silver Lake reservoir was taken off-line. Below, a photo of Tom Labonge with baseball mitt tossing a black ball into the reservoir:
Los Angeles' thirst for water has pushed us to do extraordinary things. In 1908 Los Angeles enlisted William Mulholland, chief engineer of the Los Angeles Water Department, to build the Los Angeles Aqueduct, a 233-mile pipeline to deliver water from the Owens River, a feat of engineering at the time. At its inauguration Mulholland in five words said, "There it is. Take it."
Councilman LaBonge eagerly opened the ceremony by saying, "This is a good day for Los Angeles. And for the great history of the Department of Water and Power which founded this city. Here water is so important." And so it seems we will go great lengths to engineer whatever it takes to get our water.
Do you think a "whatever-it-takes" method to water acquisition the best way to quench Los Angeles' needs? Tell us in the comments.