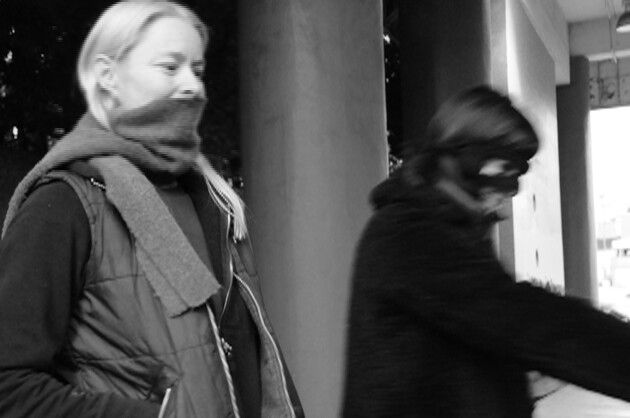 Last Saturday a group of knitters known as KnitRiot took to the streets, honing in on PATH, a homeless shelter on the cusp of Silver Lake and Hollywood. Just before dusk, the anonymous group threw a blank tarp against a wall, tied up strands of rope, and hung knitted beanies, scarves, and blankets with clothes pins. As soon they created the installation, they vanished without a trace, except the note "For You! Warmly, KnitRiot" at the base of the wall.
I was, however, lucky enough to come across two of members just as they were leaving the scene. Nancy--an alias--hid behind a knitted face mask, while Shel covered hers with a scarf. They remained vague as I tried to learn more about who they were, providing broad answers such as citing Northeast Los Angeles for their residence, and were unwilling to disclose their next target. Nancy would only say their intentions were to "[knit]bomb the world!"
Their first target--the homeless shelter was the second--was Aldama Elementary School in Highland Park. There they wrapped a tree in yarn and hung supplies from the branches for students to take.
We learned in a previous interview that the members are primarily mothers, teaching their children the value of craft and intervention. And while some members are professional knitters, some are just beginning. Membership to the group is by invitation only, but those that are interested can contact them through their website.
A couple of hours later, I returned to the wall. Just as KnitRiot had vanished, so did the gifts. Only a few articles still remained. Somewhere on the streets these men and women are cherishing these gifts. Their hands, heads and bodies are kept warm, while elsewhere KnitRiot is plotting their next move. Be vigilant Angeleños. If you see any suspicious knitting or yarn where it shouldn't be, contact us immediately by leaving a comment below. Stay warm, and Happy Holidays!
Photos By: Justin Cram
Related links for KnitRiot: