Over the last four months I have co-taught a class at Woodbury University called "L.A. Stories."
The course curriculum is a comprehensive, interdisciplinary mix of Los Angeles history and literature. A core component of the class are field trips to neighborhoods like Downtown, Boyle Heights, Koreatown and Leimert Park. The course is designed to "introduce students to a wide variety of L.A. fiction, film and historiography, and in addition, to expose them to new neighborhoods through extensive site visits," writes Professor Megan Kendrick, my partner in this endeavor. For the course, students wrote short essays and poems as well as a more extensive research paper on what we called "urban types."
Megan Kendrick earned her PhD in history at USC and worked closely with the great California historian Kevin Starr during her graduate studies. Aside from also being a native Angeleno, she is one of the few people in Southern California that love and know the terrain as much as me. We had an excellent semester and an outstanding group of engaged students. This week L.A. Letters highlights the spirit of the class and shares some of the observations, insights, and research generated by our students.
For those that do not know, Woodbury University is in Burbank. Though Woodbury has been around since 1884, it has grown and become much more known in the last few decades. Architecture, Graphic Design, and Fashion Design are three very popular subjects at the school and several of the students enrolled in L.A. Stories came from these majors. There were close to 20 students enrolled and they were a mix of international students, a few from across America, and quite a few locals representing hometowns from Silver Lake to Santa Clarita, Whittier to Glendale.
Before sharing their thoughtful revelations, a few words must be said about how the class came into existence. Professor Kendrick explains that "The 'L.A. Stories' course is the creation of Elisabeth Sandberg, PhD (Professor of English in the College of Transdisciplinarity) and Emily Bills, PhD (Coordinator of the Urban Studies Program and Managing Director of the Julius Shulman Institute)." The class has been offered several times since it began in 2010 as "Layered Landscapes of Los Angeles." Each new version of the class has added new texture and focus.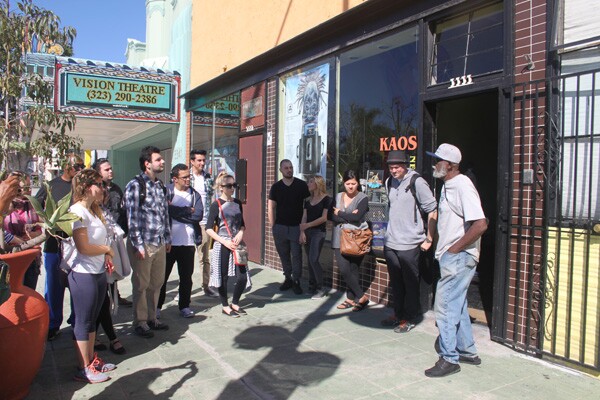 The class offers a great wide-angle snapshot of the city and in many ways, some would call it, "Los Angeles 101." One student told us that the class "would be useful as a required course for incoming out-of-state freshmen as means of enhancing the transition into the university." The interdisciplinary nature of the course provided the perfect platform to equally examine the physical, historical and literary landscapes of Los Angeles. As someone who has been giving professional city tours around Los Angeles since 1997, there's nothing I love to do more than simplify the sprawling complexity of Los Angeles.
In addition to the assigned readings and site visits, students were asked to choose a research topic that connected to their own interests within the city. Professor Kendrick's own deep interest in the history of cities and the built environment date back to her childhood, and she encouraged students to find something in the city that they felt passionate about. During my own undergraduate career two decades ago, I took a similar class at UCLA and the research in the course helped me come into my own as a writer and scholar. I learned about civic engagement from this experience and have remained engaged ever since.
Our students adhered to this spirit and chose a kaleidoscope of local places and issues in their quest to tell their own L.A. Stories. Professor Kendrick says, "Through research that included oral history and site analysis, students were to analyze 'how these urban spaces contain narratives of the city that have either been unheard or are out of plain view.' In this way, students explored how spaces became places: how the literal boundaries and physical forms of, for example, a nightclub, an ethnic enclave, or a church, contained stories of transformation, rupture or continuity."
It was very satisfying to observe the various places they selected and how the research came together. We will feature a few short excerpts from their work here.
Polina Zeynalian is a graduating senior in Fashion Design. Drawing on her experience with L.A.'s garment manufacturers, her essay critiqued the excesses and injustice of the global fashion industry. Zeynalian interviewed locally-based manufacturers, including a textile print and dye studio in Boyle Heights, a denim wash house near Compton, and a high-quality leather manufacturer in Vernon, and demonstrated that their contributions to Los Angeles have wide-reaching implications for quality of product, for labor and for the environment.
Christian Hidalgo is an Architecture major from Whittier. His research centered on three nature sites around Whittier: Whittier Narrows, Murphy Ranch, and Turnbull Canyon. His paper began by saying how for most of his life he took Whittier for granted, but as he got older, when he discovered the hiking trails of Turnbull Canyon and the sprawling wetlands at Whittier Narrows, he realized that his hometown had the perfect mix of the great outdoors and city life. His essay highlighted each of these sites and demonstrated his own evolution and personal development. In many ways, he painted a vivid picture of someone coming to a new understanding to where they are from. This excerpt from his paper reveals more:
As my life started to make a transition, I realized Whittier became more sacred to me than I ever thought it was. This dawned on me when my wife and I got married and moved out. As we were looking for a place to live and with our high demands we found that Whittier was what we were looking for all along. Whittier is a close walk to the mountain side to hike and mountain bike, a ten minute drive to some of the biggest lakes and parks around, and a close walk away to some hidden jewels of shops and bars, on top of warm nostalgic memories.
Maria Deroyan is a Graphic Design major who loves to write about and research the Los Angeles art scene. Her project examined the history of art museums in the greater Los Angeles area, and how institutions such as LACMA, Norton Simon, and the Getty Center "emerge as iconic and engaged agents that reflect the history and culture of the city." She looked at how the physical space of each museum embodied the tensions within L.A.'s art community. Deroyan just graduated, and intends to carry this work on as both a freelance writer and in her future graduate studies.
Alan Mera is another Architecture major, and his project studied the range of Los Angeles houses. In addition to covering well known Los Angeles housing types like the California Ranch House, Streamline Moderne, and Craftsmen Bungalow, Mera discussed the often overlooked "Storybook Houses," that were popular around Southern California in the 1920s and 30s. Some have called these whimsical homes, "a blurring of art and architecture," or "the architecture of fantasy." Mera's well researched project revealed his own love of California homes and his passion for architecture and design. He plans to design homes once he graduates and his project was a perfect fusion of his personal and professional interests.
Interdisciplinary Studies student Lori Boghigian analyzed the role that community centers play in the heavily Armenian American populated neighborhoods of Montebello, East Hollywood, and Glendale. Her project explored how these centers provide a physical space where the language, literature, music and dance of L.A.'s Armenian cultures can be practiced and preserved. Her study demonstrated that scholarship on the Armenian influence in Los Angeles is lacking, and that efforts of her generation to tell their own stories will be crucial. Boghigian is also a graduating senior and she also intends to carry on her research.
Graduating senior Aram Hacobian was greatly inspired by the London's Museum of History after he visited the city in 2014. His project noted that Los Angeles has a number of great museums, like the Museum of National History, the Getty, LACMA, MOCA, Japanese-American National Museum, African-American History Museum, but that there is not one standalone museum dedicated entirely to the History of Los Angeles. His essay proposed a Museum of Los Angeles History to be built on the grounds of Exposition Park where the Los Angeles Memorial Sports Arena now stands. Hacobian's project displayed his Los Angeles patriotism with flying colors. Undoubtedly he is not the first to consider this idea, and it's only a matter of time before it happens; nonetheless, his vision and enthusiasm is a hopeful sign.
There were a number of other great projects. Graduating senior Victoria Harris compared and contrasted the onsite residential programs and single room occupancies (SRO) in Skid Row. Harris is a Los Angeles native that split her childhood years between Boyle Heights and Silver Lake. She became interested in helping people on Skid Row after interning a few years ago at an emergency shelter. Her research also gave a brief history of Skid Row and noted that the district began at the end of the 19th century because it was the last train stop in the entire country. Architecture major Julian Hernandez examined the eateries of Boyle Heights, Hollywood, and Koreatown. Marine Guyujyan analyzed three different libraries across the city -- she compared and contrasted Downtown Central Library, the Vermont Square Library, and the branch in Palms/Rancho Park.
Guyujyan also shared with me an extended essay she wrote about the greening of Los Angeles. Her 2,000 word essay offered a survey of the efforts across the city to create more parks. The hopeful, yet thoughtful tone in her writing epitomizes the emerging spirit of the city's next generation. Her vision corroborates with many others when she writes:
The role of parks and other green spaces in making communities attractive and livable is unquestionable. Their significance becomes even more apparent in cities with high urbanization level and population density, where people suffer from poor air quality and excessive noise pollution that creates stress and increases anxiety. Hence, creating access to public parks in Los Angeles is a problem that demands solution from political and business leaders. The good news is that, new projects for green public spaces are becoming to appear more frequently on the Los Angeles political and environmental agenda.
Professor Kendrick and I were both deeply impressed with the student's observations and research. They demonstrated civic engagement and a passionate concern for the future of Los Angeles. We had an excellent experience learning about each of their own L.A. Stories. Salute to these students from Woodbury University for being the next generation of game-changers in the geography of L.A. Letters.