On Tuesday January 10th, The Goethe Institute in conjunction with Pacific Standard Time presents Here and There: Artistic Excange between Germany and California in the 1960s and 70s. The symposium will examine the influence of Californian artists in Germany and vice versa during the Cold War-era.
Today, in the ever-changing cities of Berlin, Germany's cultural capital, and Los Angeles, California's cultural capital, there exists an artistic and cultural relationship that may explain (at least partially) the cities' official designation as Sister Cities.
I had the opportunity to visit Berlin during the holidays. Walking around the city, I noticed definite similarities to the City of Angels. Here are some of my observations about the city during a cold and grey winter, from the perspective of a life-long Californian.
Mural Capital:
As Councilmember Tom LaBonge has noted, Berlin and Los Angeles are mural capitals of the world. Walking around Berlin, you can't help but notice the number of murals and street art on buildings, some commissioned, some unofficial, and many unmerited tags. As Los Angeles attempts to redefine its mural policy, Berlin still struggles to find a balance between its graffiti legacy and tagging-as-vandalism.
East Side Gallery:
Since 1990, the longest remaining piece of the Berlin Wall (0.8 mi) has been used as an outdoor gallery for 105 artists to display their murals, many of them dealing with the political and cultural implication of the wall and its fall. Walking along the seemingly never-ending series of artworks, I was reminded of the Great Wall of Los Angeles, a half-mile long mural along the banks of the L.A. River painted by Judy Baca and SPARC that tells the history of California, through depictions of civil rights and other human struggles.
The restoration of the East Side Gallery walls, parts of which had been damaged by vandalism, was met with a fair amount of controversy. When many of the murals were repainted in 2009 by artists appointed by the city, few of the original artists sued for destruction and copying of their original works. In Los Angeles, when Caltrans replicated several iconic murals as one-third scale "mobile murals," it caused a public outcry. The restoration of David Alfaro Siqueiros' America Tropical remains a struggle to this day.
Currently in Los Angeles a piece of the Berlin Wall stands on Wilshire Blvd in front of Wende Museum. Its panels were painted in 2009 by artists including Kent Twitchell and Thierry Noir, whose works adorned the original walls in Berlin. This past November, the "East Side" of the wall was painted by German artist duo Herakut - one from West, another from East - and unveiled in an exhibition called "Behind the Berlin Wall."
Neighborhood Pride:
Berlin, like Los Angeles, seems to thrive on the individuality of neighborhoods that make up the city. In Kreuzberg, a fast-gentrifying neighborhood analogous to areas like Echo Park and Highland Park, it's not uncommon to see a t-shirt emblazened with the neighborhood's name, similar to shirts sold at Y-Que in Los Feliz.
Films:
German émigrés had tremendous impact in the shaping of Hollywood film history. It's not difficult to see the influence of German Expressionism on film noir, with its shadowy angles and hard-boiled atmosphere. Many of the top directors of the genre (Billy Wilder, Fritz Lang) originally made their mark in Berlin. The Filmmuseum Berlin offers a very stylish look at the history of German cinema, and it even has its own Walk of Fame and an American style diner named after its most famous export.
Pop Culture Icon:
A city's famous landmark, i.e. Chinese Theater or the Brandenburg Gate, wouldn't be complete without the presence of the darkest of pop icons to snap photos with.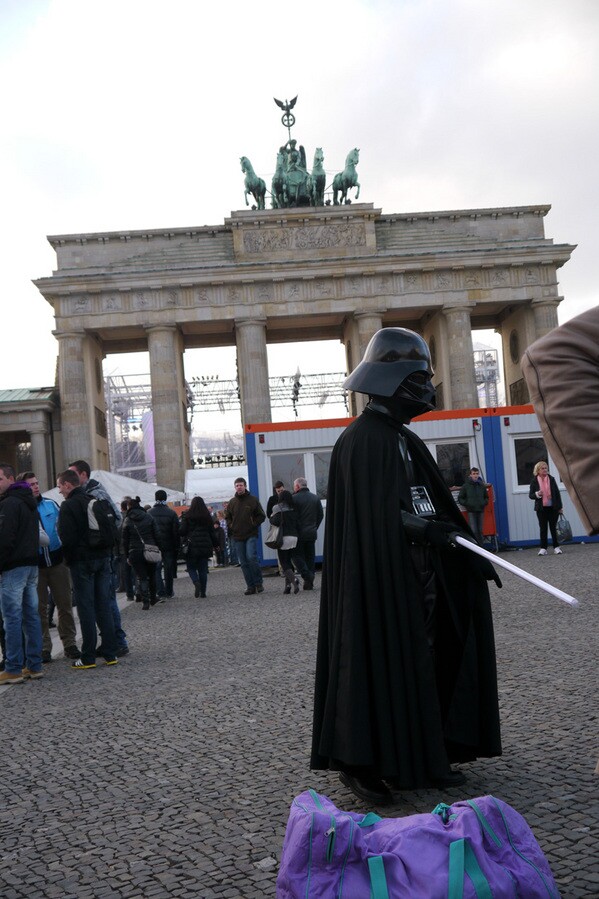 Photos by Yosuke Kitazawa