In the last month, we heard stories of bad boys and dogs having a say, lost murals discovered and restored, and a street artist who wanted to honor Latino maids during the Oscars -- since they tend to be forgotten -- becoming the prophesy of a telecast. Here are some newsworthy items about murals and street art in Los Angeles for February 2013.
OSCAR: Ramiro Gomez installed a cardboard maid and worker facing an Oscar statue on Wilshire Boulevard, "in honor of those who will not be thanked during Sunday's big award show."
Later, Gomez saw the Oscar statue was gone and wondered on Facebook, "Maybe somebody needed one for a viewing party?"
His installation can be interpreted one step further. Gomez foretold the Sunday Oscar telecast. Late actress Lupe Ontiveros, who often played a maid in a long prolific film career, was omitted from the "In Memoriam" segment of the telecast.
Artist Ramiro Gomez's Oscar Instalation in Beverly
BAD BOYS BACK: In Downtown Los Angeles, you were briefly able to navigate to Skid Row and gentrification, thanks to the bad boy of downtown installations Wild Life. This time there was no charm of giraffes looking over the concrete jungle; rather the signs rebranded districts. The stray finders reverted back to way finders within 24 hours.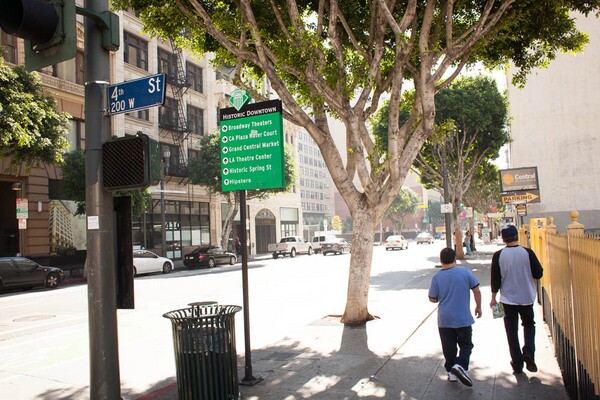 A BRUIN RUIN: A mural under a UCLA wall was painted in 1970 by students responding to the aftermath of campus-wide protests to Kent State. UCLA student Jason Smith remembers reading about the mural that reflected the black student experience in the Daily Bruin archives. When he enrolled in the world arts and cultures course "Beyond Mexican Mural: Beginning Muralism and Community Development," he was inspired to find it, wrote Estefani Herrera in The Daily Bruin. The director of the Student Union told the campus paper that the mural at UCLA's Ackerman Union wasn't painted over; it's been looked at, and the "Black Experience" is considered in fair condition and The Associated Students of UCLA are looking into relocating and restoring it with help from the Getty and UCLA's Fowler Museum of Cultural History, reports CBS2
ADD BRUIN: In 2010, the founding of UCLA's four ethnic studies centers was celebrated, and brought attention to another mural, which was stored away and had no information on the artists. When Richard Wyatt Jr. read about it in a Fowler newsletter, he recognized the mural as one he worked on in 1970 with Guillermo Anderson. Wyatt was 14 at the time.
MORE WYATT: Richard Wyatt Jr.'s 1990 mural at Capitol Records, "Jazz in Hollywood, 1945-1972," was recently restored as 2,288 pieces of tile replacing the painted 22 feet high by 88 feet long piece that depicts jazz greats. First commissioned by the Los Angeles Jazz Society, and funded by the Los Angeles Endowment for the Arts, the mural's shelf life was to be five years. It quickly became a Hollywood marker in film, television and commercials. The original mural took nine months to paint. The restoration, paid by Capitol Records "as a tribute to jazz and a symbol of Capitol's ongoing commitment to the Hollywood community," according to a label spokeswoman, took 15 months, reported the Los Angeles Times. By the way, the mural has a twitter account.
MORE JAZZ MURALS: Los Angeles-based Sandow Birk and Oakland-based Elyse Pignolet have three new tiled murals in The SFJAZZ Center, a new venue designed specifically for jazz in San Francisco. The upstairs lobby has "Jazz and the City" and "Jazz and the Nation," and The Lester Young Green Room has "Jazz and the Afterlife." In an extensive interview at ArtInfo, Birk said "We wanted to remind people of all the small clubs where jazz was born and thrived."
REDCAR LOVE: Already called "Red Car Mural" by locals, muralist Brian Kenyo's homage to San Marino's Pacific Electric Railway trolley system made its official debut in February. Painted on a 18-by-52-foot wall in the 2200 block of Huntington Drive, it marks the centennial anniversary of the city, reports the Los Angeles Times.
HEMET FRESCO REVISITED: A 71 year old fresco mural by Milford Zornes, painted for the Ramona Bowl with students from Otis Art Institute, has seen its importance rediscovered. The 16-by-18-foot piece, painted in six weeks in 1942, was the subject of recent lecture, "The Hidden Treasure at Ramona Bowl." A bottom portion of the mural has been painted over, and proceeds from the seminar will go toward a restoration. "We recently had a Milford Zornes retrospective and this style is a departure from what we are used to seeing from him," said Drew Oberjuerge, executive director of the Riverside Art Museum, to the Press-Enterprise. "It's quite a discovery." Zornes became known as a major watercolorist from the California Scene Painters, a school led by Millard Sheets. Zornes passed away in 2008 at the age of 100.
TWITCHELL'S HOPE: You can keep up with Kent Twitchell's progress on his mural "Free Assembly" for the lobby of Bob Hope Patriotic Hall on his Facebook page. While friends and art enablers become subjects in his pieces, Twitchell also goes through detailed preparation for segments with period narrative. In the video, Twitchell selects costumes before taking source photography. He's hoping to have latest segments of installed by the end of March.
Bob Hope Patriotic Hall Mural by Kent Twitchell -
LOCALS: Wall murals by late surf artist Rick Griffin, painted more than 50 years ago at age 15 in a friend's bedroom, were recovered when the house was torn down, reports the OC Register. Griffin's fans were able to preserve the murals, which are now under the guardianship of the Surfing Heritage Foundation. The murals will be unveiled 7 p.m., March 14 at 110 Calle Iglesia, San Clemente.
BAD DOG: The street art pet of the month may be the temporary 28-foot puppy marking its turf with yellow paint in the name of radical exhibition. "Bad Dog" is a site specific installation for "Richard Jackson: Ain't Painting a Pain," the first retrospective devoted to the 74-year-old outsider artist. "Bad Dog" is a "surrogate for the artist himself, if not a true self-portrait," wrote Jori Finkel at the Los Angeles Times. Jackson is also the subject of an article at Art Bound, which notes that it is the first time Orange County Museum of Art has dedicated all its galleries to a solo show for a living artist. That is marking turf.
Highland Park Patch reports on utility boxes becoming public art by artist Carlso Callejo.