It's catch-up time. Here are some newsworthy items about murals and street art in Los Angeles since the last few weeks of 2012.
DRIVE-BY: This street art hit was just captured by Glassell Park resident Brian Frobisher. It is reminiscent of installation artist Richard Ankrom's well-crafted addition to a state freeway sign that gave commuters a better route to the I-5 North. This alternative directional is not as practical as Ankrom's commentary, but you must admire how it blends with Caltrans signage. "I passed by this sign all the time, but my friend noticed it." Said Frobisher, who made a special trip to take the photo.
CYCLE-LIE: The cyclist who fell to earth after his confession of taking performance enhancing drugs, Lance Armstrong, is subject of this street art stencil series by Plastic Jesus. Armstrong speeding on his bike wearing the iconic Tour de France yellow jersey. He's connected to an intravenous drip.
The art is dope.
Melrose & Fairfax broke the news, leading a pack of coverage that included CNN, L.A. Times, and Huffington Post.
Downtown Los Angeles artist and photographer Alyse Emdur collected and curated an impactful set of photographed murals, where inmates in front of art painted on prison walls. Jail as place is disguised and the subjects are able to send photos of themselves to friends and family, or have a snapshot taken with family during visiting days.
The image of an inmate briefly escapes incarceration.
Emdur recovered a childhood photo of herself in front of an inmate painted mural, when she was visiting an older brother. She first wanted to visit the prisons and photograph the landscapes, inmates, and the artists. "She soon discovered that the inmates' own photos, taken by fellow inmates, were much more powerful than anything she could produce," wrote The NYTimes. At Venue, Emdur said "I see these paintings as a way for people in prison to temporarily escape the architecture and culture of confinement, and that's what makes them so important for me." The collection of photos are now in the just-released book "Prison Landscapes." Additional coverage can be found on Artbound.
In late December, Eastsider L.A. updated mural-nistas on "La Nuestra Reina de Las Iguanas," the Silver Lake mural by Annie Sperling that is constantly covered for commercial use. Sperling has filed a lawsuit in federal court over a 20-year old public mural being painted over with a beer ad.
Eastsider L.A. has been covering the mural's vulnerability to advertising since April 2011.
A mural on a 30-by-12 wall, headed by artist Kristy Sandoval, was recently completed, reports iamsanfernando. The piece is an homage to African-American activist Assata Shakur and sits at 13161 Van Nuys Boulevard in Pacoima.
A San Francisco Chronicle travel article lists five places that capture Olympic Glory. Number two is the final section of The Great Wall of Los Angeles.
Eric Brightwell from KCET.org tours the course of the future Crenshaw Line and finds "a long mural depicting millennia of black history." Locals call it the "The Great Wall of Crenshaw."
Another city looks back to the late Huell Howser. This time, Howser's return to Twentynine Palms in November 1996 to film segments on the city's murals is what gave yet another warm memory of the KCET personality
Kathy Gallegos of Avenue 50 Studio is featured here at KCET.org. "When I first got here my main goal was to create a strong market for Chicano/Latino art," said Gallegos. "I wanted to raise awareness of the beauty and depth of Chicano/Latino Art. At that time, it just was not being taken seriously. I wanted to show everyone that the work of Chicano/Latino artists stands right next to some of the strongest contemporary art that is coming out of the city today."
At Western Wilshire Boulevard, a new giant Buddha mural by Eric Skotnes caught the eye of The Daily Trojan. "Skotnes began doing graffiti at the age of 16 and often rode his bicycle to the Los Angeles River to gaze at murals. Eventually, his bus rides to work became a means to meeting the artists behind these works, and they invited him to come along to paint walls with them
ArtInfo reports on "The Legacy of the Golden State Mutual Life Insurance Company: More Than a Business" at the California African-American Museum. The exhibition features the history of the brilliant murals by Charles Alston and Hale Woodruff, and how artist William "Bill" Pajaud was assigned to curate what became the largest U.S. collection of corporate-owned African American art in the nation. A presentation and lecture on the murals will held Sunday, February 3, and the following Sunday, February 10.
A mural that marks the 25th anniversary of John McTiernan's "Die Hard" is being painted outside of Stage 8 on the 20th Century Fox lot, reports USA Today. It will be revealed on January 31, just in time for the fifth element/outing of the franchise that stars Bruce Willis.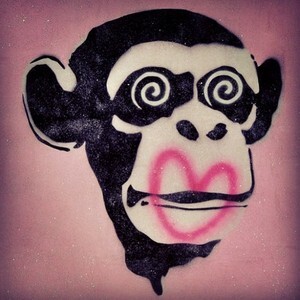 Random celebrity deconstruction by street artist XVAL became an exhibition dedicated to the late programmer and internet activist, Aaron Swartz, who committed suicide January 11, 2013. "Aaron's legacy has had a huge influence on my art," said XVALA in a statement promoting "The Tonight Show with Celebrity Chimp," which opened at LAB ART Gallery January 26.
Street art gets glossy when ELLE interviews Thank You X. It does lean toward the commercial pull of street art, with questions like "How did you transition from doing street art to nabbing brand collaborations?" Thank You replies with "I will always be an artist who does work in the streets. Now, I sometimes team up with brands that are the right fit and that I actually like . . . Ideally I'd like to do more fashion collaborations, so maybe that's next."
INSA's 'gif-iti' piece below was made of evolving designs on the indie label XL Recordings' exterior, repainted with the intent of being animated. It makes street art site-specific to two locations; the source wall, and then later on the web. A collaboration with artist Stanley Donwood, the animated work of Los Angeles being destroyed is a monochrome warning of an impending end that hypes the February 24 launch of "Amok" by the Thom Yorke-led experimental band Atoms For Peace. "I love the fact [that the Internet] enables me to see new work that is being painted all over the world," later said INSA to The Atlantic.
Top Photo: California Sky by Brian Frobisher.