As lawmakers seek to add another chapter to the ongoing saga of the mural ordinance, the world of street art keeps turning. Here's our mural wrap for May.
* * * *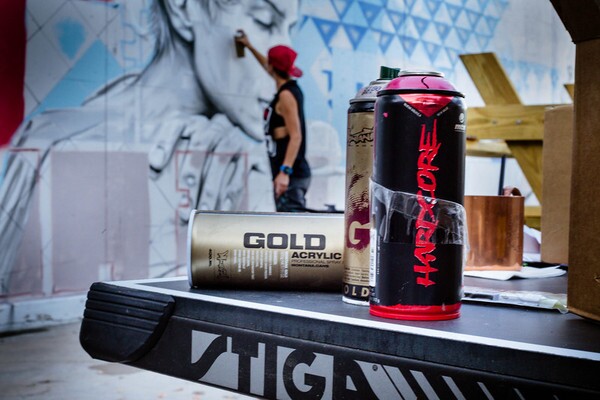 Palm Springs City Council approved the legal production of murals, provided they go through a multi-step process including public feedback and a sign-off by the city, reports The Desert Sun. Councilman Paul Lewin was the lone no vote, though it wasn't an objection to murals; rather he wanted more limitations written into the ordinance, such as limit the visibility of works from Palm Canyon and Indian Canyon drives to five. He also opposed murals painted on a wall, preferring they be painted on a separate surface so they can be installed, and be removed, according to The Desert Sun. The room was at capacity, reported CV Independent, and existing street art murals are not grandfathered in, and have to go through the approval process to stay up.
"Hopefully things should be in place by the next meeting in June to begin the process," said mural instigator Debra Ann Mumm. "There's all kinds of new hoops to jump through. Fortunately our project has already met one of the approval processes, and has attention from the council."
Working with the city's art commission, Mumm's mural project was about to start until it was halted by Palm Springs City Manager David Ready.
* * * *
The sun never sets on Pacific Standard Time. Only a few weeks after the landmark 2011-2012 Getty art initiative completed their international tours, the next undertaking was announced: "Pacific Standard Time: Los Angeles/Latin America." On May 6 over 40 Southern California cultural institutions were introduced as grant recipients, and they've been charged with development and exploration of the complex cultural connections in Latin American and Latino art. The exhibits will reach Los Angeles and beyond. The selected institutions will curate their own project and the $5 million dollars in grants goes toward funding that arts research, said Deborah Marrow, Director of the Getty Foundation.
Dubbed "The Cultural Olympics" by Mark Siegel, Chair of the Getty Board of Trustees, "Pacific Standard Time: LA/LA" will span Southern California from San Diego to Santa Barbara in September 2017. The City of Los Angeles is supporting "PST: LA/LA" as part of the strategy to bring more jobs and opportunities to the city, according to Los Angeles Mayor Eric Garcetti. "Global events like Pacific Standard Time are why we set a new record last year with 42 million visitors," said the mayor. "But we're going to shatter that record bringing 50 million visitors to Los Angeles by 2020."
* * * *
One project for "Pacific Standard Time: LA/LA" is "Prometheus: 1930/2017," a look at how José Clemente Orozco's fresco at Pomona College, the first mural painted in the U.S. by a member of Los Tres Grandes, moved Latino art forward. Pomona College will examine the politics of "Orozco's mural through the lens of contemporary Mexican artists who are producing a variety of socially-engaged and politically activist artworks, including forms of public intervention and social practice," according to The Getty. It will also look at socially-engaged art has been positioned in public space since the 1920s, the impact of conceptual post-minimalist art of the 1990s, to the current "emergence of trans-disciplinary actions."
* * * *
Previous Writing on the Wall subject "The World Atlas of Street Art and Graffiti" and its author, Rafael Schacter, was the winner in the Photography/Art Category at the 2014 Los Angeles Book Festival.
* * * *
You can't stop street artist Allison "Hueman" Torneros. Her new solo show "[Between the Lines]" opens June 5 at Project Gallery in Hollywood. The exhibition is a play off Hueman finding faces out from her abstraction freestyle, a theme of her new collection of work. It will feature over twelve new pieces on canvas and wood. "When people look at art, sometimes they look for things that may or may not be there. With [Between the Lines] I want to talk about human behavior and the tendency to place meaning and significance in what we see," said the artist in her statement. "I want to examine the not-so obvious: subtexts, innuendos, and the things that go unsaid. I want viewers to literally read between the lines." It runs until July 20 at Project Gallery, 1553 N. Cahuenga Blvd. Also, Hueman is featured in LA Weekly's People 2014 issue in an article authored by Shana Nys Dambrot.
* * * *
Mexican artist Frida Kahlo is subject of a photography exhibit at the Museum of Latin American Art in Long Beach, on display through June 8. "Frida Kahlo, Her Photos" reveals 200 images from the personal archive of Kahlo and her husband, Diego Rivera -- kept private for 50 years. The museum also screens the short documentary "Frida Kahlo, Wounded Nature: Living Memory of Certain Days." "Frida Kahlo, Her Photos" runs through June 8.
* * * *
A UCLA Summer courses on murals are being held at SPARC, home to the UCLA Digital Mural Lab, and uses Los Angeles as a lab. The "theoretical course taught from the perspective of an artist examining sites of public memory, murals and sacred sites in the City of Los Angeles as a basis for cultural insight, memorialization and historical perspective."
* * * *
Man One started summer by curating events for Brit Week, including live painting in Santa Monica, plus led 20 highs school students "and a few teachers" from Denver, Colorado's Jeffco Open School on a tour downtown L.A. murals and street art.
* * * *
NELA Mural Ride, organized by The Eastside Bike Club, Multicultural Communities for Mobility, Bikesan@s del Valle, and Ovarian Psyco-Cycles , will celebrate "the city's rebirth as mural capital of the world" with a series of bike rides. It's more like cruising. The slow-paced ride will highlight murals in different parts of L.A. County. The first ride -- about 10 miles -- stops at seven murals while rolling through Lincoln Heights, Cypress Park, and Highland Park. The tour meets up May 24, 9:30, at Heritage Square Gold Line Station.
* * * *
Los Angeles Times reported on a newly filed lawsuit for a mural taken down. Victor Henderson, who with L.A. Fine Arts Squad, painted the 1969 work "Brooks Avenue Painting." He's suing the owner of the building that housed the mural at Brooks and Pacific Avenues.
* * * *
From Metro's Website: "Following a recent maintenance effort, the artwork 'LA: City of Angels', a mural by Los Angeles based artist Cynthia Carlson, has returned to its original heavenly splendor." It's a piece from the infant years of the Metro Art program. "Metro's art program is now in its 25th year and many of our artworks from the early years require cleaning, restoration and other maintenance," explained Creative Services Manager Angelene Campuzano. "It's gratifying to be able to maintain the integrity of the artwork that artists have so thoughtfully contributed to our system and make it look as vibrant as when it was first installed-in this case, 1993."
* * * *
Brazilian design and illustration collective Bicicleta Sem Freio completed their mural on the exterior of a large building in Downtown Los Angeles, with help from The DoArt Foundation and the Los Angeles City Council. The collective, made of graphic designers Douglas Castro, Victor Rocha, and Renato Reno, spent eleven days wrapping the building in the graphic arts style they use for their illustration work. Organizers suggest the mural is the largest in the city, but will have to measure up to The Great Wall of Los Angeles, or Frank Stella's 1991 "Dusk," tucked away at 555 W. Fifth Street in downtown L.A., measuring around 35,000 square feet. Still, the use of the building is smartly done. Looking at the building at different vantage points changes the mood of the mural.