A mural was painted over. Street artists are outraged. It's a wake-up call that proves the delayed mural ordinance need to be passed through City Hall quickly.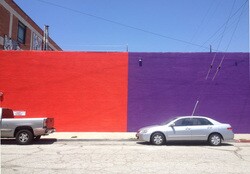 Yes. It's almost the same story as last week, to be sure. Yet, there is an interesting twist.
The owner of the wall gave the O.K. for this mural, and many works on other walls are in his charge. He also gave the O.K. for it to be taken down for a production shoot.
This past April, UGLARworks' artists Zes, Push, Chris Brand, and Evan Skrederstu collaborated on a new piece for LALA Gallery to mark the opening of Daniel Lahoda's "L.A. Freewalls: Inside" at LALA Gallery.
The street art style mural, at Willow Street and S. Santa Fe Avenue, used to be on the wall belonging to a cluster of buildings owned by Gideon Kotzer.
Kotzer is best known as "Crazy Gideon," the former pitchman who took to the airwaves to sell T.V.s with the late night mantra: "We stack 'em deep, and sell 'em cheap."
He no longer uses the warehouse on Traction for retail, and moved on to new ventures, including converting his Willow and S. Sante Fe property into Willow Studios, facilities that serves the film and television industry.
Two weeks ago, a production company wanted to use the wall that had the mural. Despite Gideon and Lahoda scouting other locations, the production team wanted to use that particular site.
Both Gideon and Lahoda stated the artists were informed of the decision.
The wall remains in the colors used for the shoot.
"I have given many walls for free to the artists. It is very important to the neighborhood," said Gideon late Monday. "I am, though, trying to pay a mortgage on those walls."
"I'm devastated," said Lahoda. "And it is another clear example why we need clear [mural] policy."
Street artist and activist Saber saw the walls a few days ago, and with the mural gone, he took to Twitter with the same advocacy he has become known for since his air tag "Art Is Not A Crime" over City Hall in Sept. 2011.
As reported before, the ordinance was first drafted to enable artists to produce works, and property owners to commission them, providing sorely needed policy that keeps artists, property owners, local government, law enforcement and the community-at-large on a shared set of guidelines.
One can only speculate how the upcoming mural ordinance, still delayed from being approved by the various departments in City Hall, would have prevented this particular mural from being painted over.
It is not clear if the mural ordinance will make a distinction between street art / graff-style murals, which are referred to as an rotating use of wall space, or the traditional mural designed to be part of a community as long as possible.
It appears each mural has its own set of circumstances. To recap:
Some graf artists are still mumbling and bemoaning how a Oct. 2011 wheat-paste job covered a set of graff murals in the Arts District, despite the building manager allowing it, and becoming less tolerant of street artists demanding he follow their politics of wall "ownership."
Theresa Powers 1996 "Quinceañera" was saved, even after building owners contacted her, the artist surrendered the piece, then changed her mind. That mural is less street art and falls in the tradition of community murals. The mural was repaired, and now the restaurant is set to open, reported The Eastsider L.A.
"Story of our Struggle" is a 1974 tiled mural that is threatened with removal, though considered a landmark work. It is still up in the air if it will kept, relocated, or become part of the exterior of a new charter school, reports EGP News.
Last week, a graff-style piece was painted over before the building owner, who gave the artists permission, could stop it. The uncompleted mural would have been located next to the LAPD garage and motor pool. There still has been no statement coming from Downtown Center BID, but discussions about the incident are underway. In what may be similar cases, L.A.P.D. have allegedly accused property owners of supporting illegal gang tagging, or refer to murals as illegal, even as the ban on murals has been suspended since ordinance draft and approval process began.
As for this current coverup, street artists and advocates, who did not work on the project, were in an uproar and took it to Twitter. Saber named a production company, but by the end of Monday the accusation was refuted by the producer.
Once the final mural ordinance is approved, it remains to be seen how street artist's insistence that their work be allowed to be an evolving set of temporary images, versus how murals designed to last as long as possible and traditionally goes through a community process, will be handled.
Just as a property owner, or manager speaking for an owner, can and should have a say when LAPD or a BID can take down a street art piece, it would be reasonable to expect they have a say in how long it stays up -- more so if the work is defined by a subculture that defines itself as temporary aesthetic, and the work is a verbal agreement with no paperwork, contract, or community survey.
While Los Angeles waits to see the outcome of those subtle twists, artists and property owners are eager to be part of the mural revival. That has to be credited to the caretakers of the walls, like Gideon, who are at times stuck in between the politics of art and business, while trying to help make them both happen.
"This could be the largest area for street art," says the man whose Traction Avenue warehouse was once filled with TV's deep and cheap. It's now covered with large-scale art.
"We do what we can. It helps downtown, and it's my way to help the area." Then taking on his late-night TV commercial voice, Gideon adds one last thought about the direction Los Angeles murals can take: "We'll stack them high, and let them fly."
Mural by UGLARworks -- Zes, Push, Chris Brand, and Evan Skrederstu -- a new piece for LALA Gallery I Courtesy of Daniel Lahoda