Levi Fonz Ponce doesn't want to change the world. He just wants to change his street.
Since December 2011, Ponce has been the self-funded artistic anchor for a mural movement in the eastern San Fernando Valley. It's a task he assigned himself while he was sitting at home during a slow time of year. An independent contract artist who works in animation and as a commercial sign painter, when business was quiet, he became restless.
"I was bored watching Jerry Springer," said the 25-year-old muralist. So Ponce thought of applying some of his professional skills for the sake of the street.
Ponce sought out a wall, and once he received permission, armed with acrylic house paints, his first mural went up. It's the looming menacing monochrome Danny Trejo, an actor with a Pacoima connection, and based on a photograph by Estvan Oriol. The stare was thrown up against a background splitting greens from blues. A low-rider and bike are ornamental symbolisms, while actual fence pipe poles become part of the installation. One half becomes a light standard lit at night. The other is a way-finder that says "Pacoima," with a a hint of graffiti calligraphy, but placed on a blue field with white lettering, suggesting the city's use of street sign colors.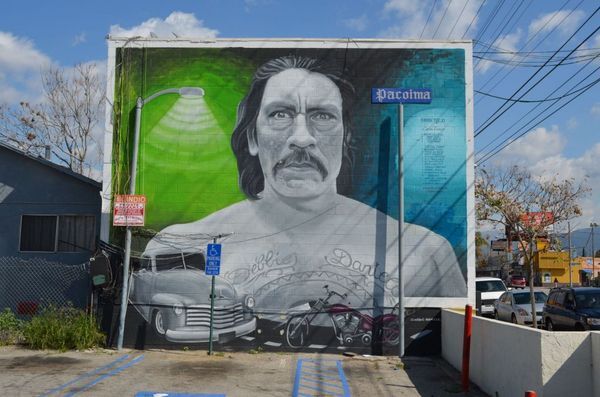 That was just the beginning. Ponce now has a full portfolio of murals along Van Nuys Boulevard designed to bring attention to his community. He starts by asking the community what they would like to see. "My big thing is getting murals they can relate to," he said. "I try and find these things that unite us and get them on the walls. I don't go into a neighborhood with my ideas. It reflects the neighborhood that raised me."
"All my work is in Pacoima; it's the part of the Valley that's ignored," said Ponce. "I could go into Hollywood to paint and be another straw in the bunch. This brings something that hasn't been seen enough before." It's a throwback to the days of mural production during the 1980s. Find a location, check with the owners of the buildings, and keep painting.
"It is quickly becoming Mural Mile," wrote April Aguirre for KCET last July. "Walls are popping with colors from young artists connecting the streets with paint." And like Ponce's mural of two women lounging in a painted field of national flowers from the U.S., Mexico, Guatemala, El Salvador, Nicaragua, and Honduras, this Pacoima Murals Arts Movement is designed to be a provocative come-hither to Van Nuys Boulevard.
This past weekend, he was working on final touches for his current work "Girl with the Hoop Earring." The work was to be completed with a ceremonial final brush stroke for a live broadcast this week. It's another piece in his portfolio, which includes homages to Mona Lisa, Cheech Marin, and Frida Kahlo. Taking the celebrity cache of Latinos to explore a culture public commodity, Ponce can credit the neighborhood for the shaping of his mural content, which presents the Latino/a as pop-art.
During the years between David Alfaro Siqueiros' "America Tropical" reappearing in the early 1970s and the current run of mural production dodging a mural moratorium, social messages became the identity of neighborhood public art. Often, they have been burdened to carry the advocacy of pushing forward social change, health, education, civil rights, or protests against censorship. Chicano counterculture became a practice, and sometimes a forced sentiment of the Latino/a artist. Ponce steps aside from that. "I'm not Chicano, per se. I just don't relate. I don't do Aztec figures and gods. That stuff has been done," said Ponce.
But he knows the power of scale and location when it comes to murals. Kent Twichell's "Steve McQueen" was a constant experience for Ponce when passing by it as a child. It gave him a sense of knowing that public art could me more just stone figures or local landmarks; it gave him the experience of the site and its surroundings with repeated viewings. (Later, he met Kent and helped on the restoration of the mural that gave him the impressions of public art).
Ponce still judges his work by that piece, he said. "Once a mural is up, I say to myself 'it's good, but it's not like Kent'."
His father, Hector, also is an influence, even as the son wanted to get away from the shadow of the muralist that gave Los Angeles multi-story "The Beatles" in Hollywood and Edward James Olmos as educator James Escantle -- standing next to James Escantle -- in MacArthur Park.
"He always tells me he's the master," said the son with a laugh, then talked about his father helping him on the Van Nuys Boulevard series.
Working as a hired brush for commercial sign companies gives Ponce a sense that his medium is temporary visage. He even looks at the ongoing wave of mural restoration, and wonders why. "I think putting up the same murals again was a mistake. How about new things, even if by the same artists?" He asked. "I feel sorry for those who think it will be up forever. I'm not in love with my work. Once it's down, it's done."
But his quick answer pauses when asked: what if a business wants to keep his mural up? There is already an attachment to what he has created. And, as he recounts, once an off duty LAPD officer came by to drop off cans of red paint because he knew the artist was running short. There is a commitment from that community to enable the work; they may not let it go as easily as the muralist.
Ponce is in an ideal position for a muralist who identifies with a specific community. He has carefully studied the practice of illustration as craft, and understands scale. He has a connection to a neighborhood. As his work matures, it can become a document that uses his centered figures in tableaux, even if moving beyond the celebrity character of Latino pop iconography. And his goal that the community is active in the process stands as its own kind of activism.
"Homeless, opposing gangs, taggers, police, children, high school and college students, teens, addicts, prostitutes, artists, moms and dads, seniors, photographers, businessmen -- they have all come together at one time to create something positive in their neighborhood," Ponce said. "I've never seen the full spectrum of society together like this. I'm so proud of that."
Picture: Lady of the Valley (14015 Van Nuys Boulevard)