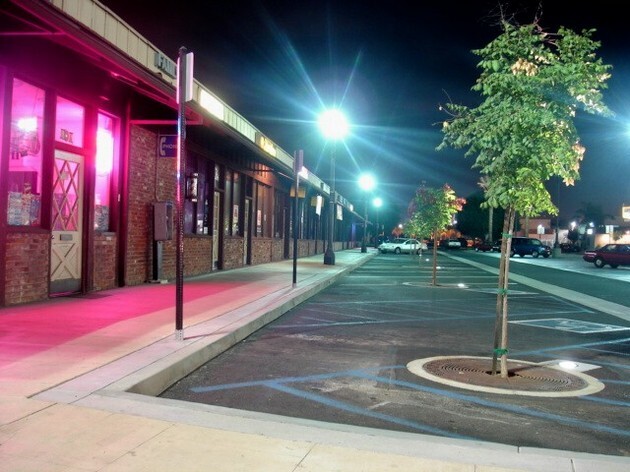 In the landscape of Los Angeles suburbs, Montebello is among the most historic. The city's population is especially known for its Chicano, Armenian, and Japanese communities. Furthermore, there are three historic sites in Montebello that date back to the early 19th Century. This week L.A. Letters celebrates the past, present and future of Montebello.
Montebello's Early History
Montebello's local history is so deep that it actually predates the founding of Los Angeles in 1781. In 1771, when the Spanish Franciscans set out to build the second Mission in Alta California, they built it near the present intersection of San Gabriel Boulevard and Lincoln, just east of the Montebello Town Center, south of the Pomona Freeway, and just west of the Whittier Narrows Dam. This area, in our time, is where Montebello and Rosemead meet. The Mission was washed out in a flood from the nearby Rio Hondo and San Gabriel Rivers in 1775. Following the flood, the Mission was moved a few miles north onto higher ground to its present location of San Gabriel. A historic plaque on the southwest corner at San Gabriel and Lincoln demarcates this early history.
About a mile southwest from this site, lies the Sanchez Adobe. Originally constructed in 1845, this is the oldest building in Montebello, built as a part of the Rancho La Merced, a land grant assigned by Governor Micheltorena to Casilda Soto de Lobo, a widow of a soldier from the San Gabriel Mission. The home belonged to a number of different residents over the next century and was eventually given to the city of Montebello in 1972. The adobe is open a few days a week, and much more about the Spanish and Mexican history of the area in the 19th Century can be learned from a visit.
On the southeastern edge of Montebello, at Washington and Bluff Road, adjacent to the Pico Rivera border, is the site of the Battle of the Rio San Gabriel. This battle occurred in 1847 and was pivotal moment in the Mexican-American War. Two cannons, a plaque and a United States flag mark the historic location on the eastside of Bluff Road, just north of Washington. Immediately east is the Rio Hondo River, where the battle was actually fought, but it is named for the San Gabriel because it once flowed along Rio Hondo's path. Similar to the Los Angeles River, the San Gabriel River's path changed its course following a flood in the 19th Century. In 1867, the San Gabriel's path changed to its present location.
The Rio Hondo is a 16-mile river that runs parallel to the San Gabriel and has sometimes been described as the San Gabriel's second channel. It connects the San Gabriel River to the Los Angeles River as it flows in South Gate into the Los Angeles River. The Rio Hondo's influence in Montebello is so significant that when the city's library was built in 1966, it was originally named for the Rio Hondo.
Similar to so many cities in Southern California, Montebello's boundaries are partially demarcated by the rivers and freeways. Much of Montebello's eastern border is the Rio Hondo, particularly the southern part of the city. Less than a mile north of the battle site on Bluff Road are horse stables, near the intersection at Roosevelt. There's also a ranch along the block, and the homes along Bluff all have large lots. The agrarian roots of Montebello and Southern California are evident in this area.
Much of the northern border of Montebello is marked by the 60 Freeway, with the exception of a northeastern section of the city where the Resurrection Cemetery, a few small tracts of homes, and the Oak Hills condominiums are. This portion of the city is north of the 60. The city's boundaries were designated a half century before the freeway was built, but the freeway engineers across Southern California often used these borders as their thoroughfare. Another example of this practice is in Monterey Park, just north of Montebello. Almost all of Monterey Park is situated between the 10 to the north and the 60 to the south, with the exception of a small land parcel with a waste treatment center located south of the 60.
Though Montebello was first incorporated as a city in 1920, the town's development dates back to the late 19th Century. Montebello's original name was Newmark, from the early Los Angeles businessman and author Harris Newmark, one of the original developers of the city in 1899. During this time, William Mulholland helped build and draft the city's water system and Mulholland suggested the city be named Montebello, which in Italian means "beautiful mountain."
The Standard Oil Company found oil in the Montebello Hills in 1917. Over the last century, it has been estimated that close to 1/8th of the crude oil gathered in California came from the Montebello Hills. There are still oil wells in the Montebello Hills. A large parcel of undeveloped land in northcentral Montebello remains an oil field. The discovery of all this oil a century ago, derailed much of the city's early agricultural fields. More on the Montebello Hills and the future of the city's open green space will be discussed at the end of this article.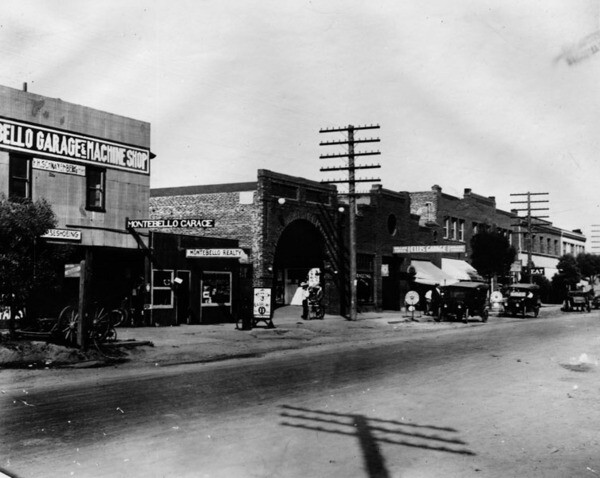 Mexican Beverly Hills
Los Angeles Poet Laureate Luis Rodriguez grew up very close to Montebello in South San Gabriel. He told me that in late 1960s and early '70s, Montebello was one of the first Los Angeles suburbs to have a Mexican majority. Tomas Benitez, the Chicano author, activist, and former director of Self Help Graphics, told me, "Montebello was mythic when I was growing up in the 1970s. It was the place where middle class Mexican Americans lived and came from. It had that quality, if you could get out of East L.A., Montebello was Nirvana, the promised-land and Beverly Hills East all rolled into one location."
The great Eastside poet Marisela Norte also grew up in Montebello. She attended Montebello High and was later "exiled to Schurr High School where I met one of my most important teachers, Clark Barrett," she tells me. Norte remembers also Crawford's on Whittier Boulevard and "baby love-in's at Montebello Park." Old school car clubs have been meeting at Montebello Park on weekends for decades.
Fifty year-old Daniel Gallardo is a longtime educator and high school counselor who remembers Montebello Park as one of the city's epicenters. "Los Lobos played there, along with the great Steve Medrano, a Montebello guitar virtuoso," he says. During his youth "Whittier Boulevard was Montebello's Hollywood Boulevard. All the action happened there. Cars would cruise on Sundays. All the stores and restaurants were located on Whittier. The movie 'Boulevard Nights,' was about Whittier Boulevard."
Gallardo has lived most of his life in Montebello and now lives in Monterey Park. His childhood in Montebello was a memorable middle class existence. "We moved to Montebello in 1969," Gallardo tells me. "The Pomona Freeway was still not built. We moved into a new track home. One updated feature was that all the wiring was underground. No telephone wiring above ground. My parents bought their 4 bedroom home for 35 thousand dollars. There were Latinos, Asians, African Americans, whites. It was all good." It was a great neighborhood to grow up in. "We could be out late riding our bikes or skateboards. We had fun as kids playing touch football on the street," he remembers. "Teenage years sent us in different directions." He credits his own success to his strong mother. "Our mother always pushed us to study and get a career."
Gallardo had many interesting friends on his block. One of his neighbors became an All-American water polo player at UCLA, and later a champion off-road racer. Though everyone grew up comfortable, there were some of his neighbors that later got into trouble even though they were raised well and went to Catholic School. One bright young man later pursued a life of crime. The downfall for many was drugs and alcohol, according to Gallardo..
In the 1970s and 80s, Gallardo attended the Catholic School Don Bosco in nearby Rosemead. "Don Bosco was an excellent school back when I went there," he shares. "I was in the class of 1983. Excellent teachers and demanding curriculum. There were no slackers. Everybody wanted to get good grades. The school was calm and had a nice vibe." He remembers doing a ton of homework. Most of the kids from his neighborhood went to Schurr High.
Gallardo has seen Montebello change throughout his life. "Paramount Boulevard did not exist," he says. "The Montebello Mall was built in the '80s. There were no townhouses across the street on Firvale. That was our dirt path to ride our bikes. Oak Hills didn't exist." Oak Hills is a sprawling complex of condos in North Montebello. Gallardo now owns a condo in Oak Hills, just blocks from his childhood home, where his parents still live.
Schurr High School
25-year-old Richard Kano is half Japanese and half Mexican. He has lived most of his life in Montebello and East L.A. "I remember making friends with the local punks from Schurr High and hanging out at Ashiya Park now and then," he says. "Montebello was the place where I met most of my close friends. I mostly remember how punks from Montebello all had their roots in East L.A." His first job was in Montebello at the Mothers Nutritional Center on Whittier and Wilcox. For six years his band mates from Schurr and their group, "Skeptical Youth" were a staple in the East L.A. punk scene. "The friends I met at Schurr are still who I am close with to this day."
Kano especially remembers his Drama teacher at Schurr. "Mr. Gonzalez who was an old school punk head who played bass for MDC for some time, so he had legitimate credentials. He taught me that punks used to be educated and introduced me to fields like quantum physics and philosophy. He taught me to be more than a wild party animal who didn't care. Although the partying took me to places I never thought I would go, his wisdom always played a role in my interests. I was always influenced by his charisma and debating abilities. He is the teacher who really made a difference on how I thought and think till this day."
Betty Harbison is an award-winning English teacher that has been at Schurr High School for over 30 years. "Every year, I marvel at the diversity of my students expressed through our Benedictions Project, when my students create and decorate multi-lingual greetings for the homeless/impoverished and a convalescent home in the greater Los Angeles area and a local senior citizen center for the holidays," she says. The student writers group she started has been very successful. They have won awards in several genres and have competed in the Poetry Out Loud National Recitation Competitions. Harbison has taken students to see readings at Cal State L.A. and to productions at the Disney Concert Hall. "My great ongoing joy," she says, "is helping students dream and then working with our extended M.U.S.D. family of parents, faculty and community to overcome obstacles and to help students pursue those dreams."
Japanese Americans in Montebello
Montebello's early history parallels many other areas in the San Gabriel Valley and greater Los Angeles in both its agricultural roots and with the presence of oil. Flowers, fruits, berries, and vegetables grew throughout the area. Japanese-American farmers were present in Montebello, Monterey Park, and El Monte from the turn of the 20th Century. Following the Second World War, many of these farmers were displaced, but eventually a sizeable Japanese-American population resettled around Montebello, especially in its northern segment.
Japanese-American Ken Nagata has lived in Montebello since 1980. He lives in Oak Hills. He tells me he has seen the city grow in wealth and character over the years. "The main street of the city is renovated and looks nicer than many years ago. The traffic flow and the streets seem cleaner and more organized," he says. "The Montebello Plaza by the Pomona Freeway, right below where I live, has gone through many iterations and the general stores/shops in the Mall has moved up in grade...meaning brand name stores have come in. And many shoppers seem to have moved up in the income level. The stores look sharp and up-to-date with many of 'today/now' type attractions."
Nagata's second son, Yoshi, was born in Montebello at Beverly Hospital. "My two sons went to Schurr High and generally I felt satisfied with their teaching methods and results," Nagata shares. "My oldest son, who has a learning disability, attended 'special' education at Schurr High and they were very good a helping him transition from after high school to adult life transition training programs conducted by county and state." Nagata worked for many years in the aerospace industry, and is now one of the reverends at the Rissho Kosei-Kai Buddhist Temple in Boyle Heights.
I spoke to Ken's son Yoshi about his childhood in Montebello and his years at Schurr High School. "Growing up my dad would always take us to our local parks and nature trails to exercise," he told me. "I remember running around with my brother and father throwing the ball around and then going to Thrifty's to get some ice cream. I remember running around the slopes of Oak Hills, playing tag, hide and seek, or trying to catch lizards and bugs with my friends."
Yoshi's friends when he was growing up were mostly Latino and Asian. "I didn't think about it much when I was younger, but when I started going to college I was a little shocked at the diversity of ethnicities outside of Montebello and San Gabriel Valley," he says. After his college years he realized how unique Montebello and the SGV is. "For my parents especially, the local Japanese markets and video rental stores were very important. My mother was born and raised in Japan, and came to America after marrying my father. If it weren't for these local businesses I'm sure it would have much more difficult and stressful for my mother to adapt to a new life in America." Another special site for the Nagata family was the bowling alley on Beverly Boulevard. "Generations of families have this special place to have fun, share and create wonderful memories," Yoshi says.
Among the many parks in Montebello, Ashiya Park on Beverly Boulevard commemorates Montebello's sister city in Japan, Ashiya. And in turn, Ashiya, Japan has a "Montebello Rose Garden," in honor of the bond between the two cities.
One of the most popular Japanese eateries in the area is called Bachans, takeout. Bachans is Japanese for grandmother, and the founder named the restaurant after his wife's late mom, who was known for her phenomenal Japanese food. Bachan's is on Potrero Grande directly across the street from the Resurrection Cemetery and is actually located in Rosemead, but it is less than a football field away from Montebello city limits. Known for their home cooked Japanese comfort food, they became a local sensation thanks to many Yelp reviews. The corner where they are located is where Montebello, Rosemead, Monterey Park, and South San Gabriel meet. Each of these cities have a long history of Japanese-Americans in their communities. There is also a traditional Japanese market called Tozai, right next door to Bachans. Both of these sites are well loved by Japanese and non-Japanese alike.
Armenians in Montebello
Nineteen year-old Elmast Kozloyan is one of Betty Harbison's award-winning students from Schurr. Now in her freshmen year at Cal State L.A., Kozloyan had a poem published last year in the Los Angeles Times. She grew up in Montebello. "I never expected that Schurr High School would affect my life as much as it did," she says. "That was where my writing career was started. It was thanks to teachers such as Betty Harbison and Eric Greene that helped me reach my potential and pushed me to grab at every opportunity. I would not be the person I am today without them."
Before going to Schurr, Kozloyan could often be found at the Montebello Library. "I spent a lot of my childhood in the library," she remembers. "I struggled to read for a very long time, but I loved stories. So I kept at it and would stay there for hours, taking home as many books as they would allow. This is how I fell in love with reading," she says.
Among other childhood memories, Kozloyan especially remembers going with her mother to Grant Rea Park. This park in East Montebello has a small zoo with farm animals and many local schools take field trips there. "This probably explains why I'm now a vegetarian," she says. "Most of my childhood was spent playing in parks and feeding ducks."
For Kozloyan's family, the Armenian Genocide Memorial was always a very important place. Located in Bicknell Park in West Montebello, the Armenian Genocide Memorial was built in 1968 and the tall stone sculpture can be seen from throughout Montebello and also from Garfield Boulevard a few miles north in Monterey Park. Though Glendale and East Hollywood are more famous, Montebello was the first Armenian neighborhood in Southern California, dating back to the late 1940s.
Kozloyan tells me, "Every year on April 24 we'd fill up in the car, leave flowers, and go out for dinner. For a long time I didn't understand what these trips meant at the time but now when that time of year comes around, I see my family and I'm so grateful that we are alive and free in this country."
In addition to the Armenian Genocide Memorial, there is an Armenian Center on Washington, 100 yards west of the plaque commemorating the Battle of the Rio San Gabriel. The Armenian Center is a very important site for the Armenian community as a gathering place and also where the language can be spoken and traditions can be preserved. My student from Woodbury University, Lori Boghigian, wrote a research paper on the importance of Armenian Centers in Glendale, Hollywood, and Montebello, and in her essay she uncovered how Montebello first became a destination for Armenians following the Second World War.
Boghigian wrote, "Many people that are a part of the Montebello Armenian Center are descendants of the displaced peoples from Russia who were taken to internment camps in Germany during World War II. An Armenian American soldier General George Mardikian eventually took responsibility for the Armenians in the camps, and took them to a safer place in the United States: Montebello, California. They settled in Montebello as they settled in the internment camps; by building churches, schools, Armenian centers, etc." As her research demonstrates, George Mardikian can be credited with helping make Montebello the first Armenian enclave in Southern California.
Boghigian interviewed Montebello Armenian residents like Gev Iskajyan and Razmig Sarkissian while visiting the Armenian Center. "Armenian Centers are where Armenians gather to be a part of a cultural exchange through social and educational means," she wrote in her paper. "The Diaspora utilizes these centers to sustain their communities, coming together to further their cause and remain Armenian in the Los Angeles melting pot."
The Holy Cross Armenian Apostolic Cathedral in Montebello is equally important to the city as the Genocide Memorial and the Armenian Center. Joseph Davidian, an Armenian American, told me, "Montebello is just as famous as Glendale with Armenians around the world." He also told me that Armenians, "Gather especially around churches and schools." The Armenian Mesrobian School is located in Pico Rivera, just east of Montebello city limits near Beverly Boulevard. Established in 1965, the institution has had many distinguished alumni and operates as a fully accredited school.
The new mayor of Montebello, Jack Hadjinian, is Armenian American and a third-generation resident of the city, his family having been in Montebello since 1957. Considering this year was the Centennial of the Armenian Genocide and the importance Montebello has had to the Armenian community, many Armenians in the area are proud that their mayor is Armenian. Locals are also excited about the upcoming annual Armenian Food Fair and Fest, which will be taking place June 6 at the Holy Cross Cathedral.
The Future of Montebello
One final note is about the Montebello Hills. There is a large parcel of undeveloped land, about 487 acres, just east of Montebello Boulevard that is actually an oil field. For now the field only holds oil wells, cactus and the chaparral. For many years now there has been an ongoing debate about development on the property. Cook Hill Properties wants to build a planned community of 1,200 homes with neighborhood parks, trails and open space. Backers of the project say that it will bring needed tax revenue to the city and relieve the housing shortage. Critics say this remaining space is a unique natural area that supports numerous native plants and animals like the coastal sage scrub, the endangered California gnatcatcher and red tailed hawks. The debate has taken extra-long because Montebello's city politics were in disarray up until recently. Both sides have strong arguments and the city is facing a tough decision with this over the next few years.
All in all, Montebello is a landmark suburb in Los Angeles County. Its unique history and tradition of diversity rank the city among other great pockets of Southern California. Tim Wong says, "My wife and I always talk about how Montebello is the perfect location. It's pretty much 30 minutes or less to every corner of LA county and only a few more to OC. The beach, the foothills, Hollywood, Downtown... all the entertainment you need but far enough away to appreciate it." Salute to Montebello for being an illustrious location in the landscape of L.A. Letters.