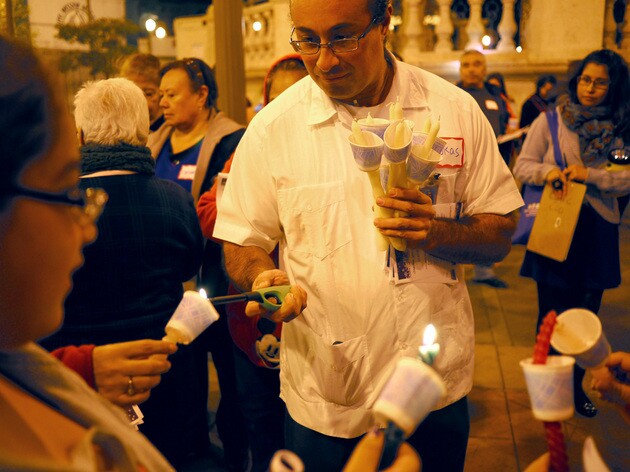 On a chilly December night last Thursday, the East Los Angeles Community Corporation (ELACC) organized a posada that involved over 100 Boyle Heights residents and ELACC members, staff, and volunteers proceeding from Mariachi Plaza to the ELACC house. Traditionally a purely religious observance in Latin America during the Christmas holidays, ELACC borrowed from the posada ritual to embed their social justice campaigns in accessible theatrical skits that were performed on the streets of Boyle Heights during the procession.
Christmas posadas are not foreign to residents of Boyle Heights, a predominantly Latino neighborhood (over 90% according to the L.A. Times neighborhood mapping project). Posadas are observed to reenact Mary and Joseph's search for shelter in the days leading to the birth of Jesus. Especially popular in Mexico and carried over to Mexican-American neighborhoods in the United States, posadas are held for nine days to celebrate the nine months Mary carried Jesus in her womb.
ELACC's annual posada harnesses the ritual to encourage community members to participate in activities that advocate making Boyle Heights a better neighborhood. Past campaigns have brought attention to public safety through peace posadas; this year it continued the tradition of advocacy through a message urging Boyle Heights to reclaim their streets. "We highlight the struggle for space in Boyle Heights as we face development pressure from Downtown L.A.," stated ELACC executive director Maria Cabildo.
This year the campaigns were staged through creative popular education tactics that included four theatrical skits, all in Spanish, at different points of the procession. After the opening of the posada at Mariachi Plaza, the group moved to a raised portion of the Boyle Heights Metro plaza to begin the skits. Each skit included one one ELACC staff member and participants from ELACC's community membership, which made the campaign issues more accessible for local residents, as they were able to see themselves and their neighborhood through the people they know, and experience the theater on the streets on which they live.
"As a land-use organization that focuses on the equitable use of land, it's important that our activities with residents use corridors that they are familiar with and share in the community tradition of the posada," reflected ELACC community organizer Jose Fernandez.
The campaign themes of the four skits included: the ELACC Metro campaign that provides an alternative vision to corporate-driven big box retailer development for the 8 vacant lots that Metro owns along the Gold Line in Boyle Heights; the people's plan or 'The Plan del Pueblo' created by residents in collaboration with ELACC to push the City Planning Department to update the Boyle Heights Community Plan; a campaign to legalize street vending and bring awareness to police harassment of the vendors; and lastly an environmental justice campaign that works to measure the levels of air pollution at high-traffic street corners in order to provide evidence for policies that can reverse these toxic levels.
At each stop along the procession route where the popular education theater was performed, community participants remained engaged in the messages, laughed with their fellow residents acting the part of the developer or the police, and cars and onlookers noticed their streets used for live theater with a purpose. "Our posada is tied to the holidays, but it's also fun; we use the space of our streets, but use them with a message," expressed ELACC community organizer Jorge Villanueva.
Several lessons can be learned from ELACC's engagement of space for social change within the neighborhood they work in.
One is the reality that L.A. neighborhoods and its changing demographic should not be expected to simply respond to traditional American forums for civic participation, such as town halls. Effective engagement methods can build off of cultural, religious, and ethnic traditions of immigrant residents -- such as the posada for Latinos -- and be transformed to street theatre that communicates important messages of political participation and civic education.
Another is that urban space and the streets of L.A. remain places where democracy can flourish, if appropriated by innovative and socially just organizations like ELACC. They can inspire the city to have their hopes and desires of a more just city pour out of their homes, halls of government, education classrooms, churches, and organization headquarters, and spill out onto the streets for all to share.
George Villanueva examines the engagement of space and place that aims to make Los Angeles more democratic, socially just, culturally intriguing, and fun. He currently is a PhD Candidate in Communication at the USC Annenberg School for Communication and Journalism, with a research focus on civic engagement, spatial justice, and sustainable urban development. George is a native Angeleno that was born and raised in the intersecting spaces of East Hollywood, Koreatown, and the Temple-Beverly corridor (now Historic Filipinotown).