Mayor Garcetti's first executive direction was the launch of the Great Streets program. The first batch of said streets are located throughout almost every region of the city, but especially within the San Fernando Valley, where four of the fifteen streets are located. None of the streets in question are located in Downtown Los Angeles, where the streetscape is already pretty active. However, the Great Streets Studio and Community Arts (the folks behind CicLAvia and Re:Imagine Garden Grove) just organized an event called Pop-Up Broadway to demonstrate what exactly a fully-functioning great street might look like.
On Broadway
Broadway strikes me as a natural choice for such an event. When I have had access to cars, I've often used them to cruise my own favorite "great streets" -- streets like Alameda, Crenshaw, Mulholland, San Fernando, Ventura, Vermont, Wilshire, and Broadway, that in their long, sometimes winding courses, slice through fascinating cultural strata.
Broadway begins on the Eastside, near the edges of the neighborhoods of Happy Valley, Hillside Village, Rose Hill, and Lincoln Heights. Although at this end it is designated North Broadway, here it actually runs east-west through the bustling Lincoln Heights Business District and its many attractions. The street wasn't always called Broadway, as a sign reading "HISTORIC Buena Vista St. Viaduct" informs travelers traversing the Los Angeles River.
On the river's west bank Broadway gently curves past the Cornfield and the remaining remnants of Little Italy, near Dogtown and through Chinatown and El Pueblo. Crossing over the 101, it passes through the Civic Center and Grand Park before entering downtown's Historic Core, where Pop-Up Broadway took place -- more on that in a bit.
South of the 10 Freeway, South Broadway finally actually turns south near the intersection of Martin Luther King Boulevard, which marks the original southern border of the city. Everything south of MLK was developed by Americans, not the Spanish, and the streets are thus oriented along cardinal directions instead of the course of the Los Angeles River. In the shadow of the 110 Freeway, Broadway runs through the mostly residential neighborhoods of South Park, Florence, Broadway Square, and Century Palms. This long stretch has mature shade trees, colorful storefronts, plenty of charm -- although all become less plentiful south of Slauson and become practically non-existent in the slashed-and-burned path of the 105 Freeway.
South of the 105, Broadway leaves the city of Los Angeles and enters the unincorporated communities of Willowbrook and West Compton. South of Athens Park in Willowbrook's Athens Village area, Broadway's surroundings transition from residential to industrial. After 18 miles (29 kilometers), Broadway quietly slips into Main Street on the north banks of Dominguez Channel between the Goodyear Blimp Base and Metro Bus Yard SB-18.
Pop-Up Broadway
Pop-Up Broadway took place in the Historic Core, in the theater district -- so known for its concentration of monumental picture palaces. At the time of their construction Broadway was also both the western terminus of Route 66 and the city's high street. It's always surprised me that in the city most widely associated with film, tourists have always been directed not here, but to the Hollywood district's memorial sidewalk, a replica real estate sign, and a fairly generic mall.
Even neglected by capital and tourists, the four blocks of the street utilized by Pop-Up Broadway have long boasted some of the city's most beautiful buildings, like the gorgeous Eastern Columbia Building, the almost equally stunning United Artists Theater Building (now the Ace Hotel), and even comparatively modest buildings like the California Broadway Trade Center, F.W. Woolworth Department Store, LL Burns Building, N.B. Blackstone and Company Building, Ninth and Broadway Building, SoCal Gas Building, Western Costume Building, and others.
Before Mayor Garcetti's Great Streets, Broadway already benefit from
Bringing Back Broadway, a ten-year revitalization plan which kicked off in 2008, if in typically slow motion. Bringing Back Broadway's dress rehearsal has taken six years of preparation and the work that went into getting here is often subtle -- which is kind of the point. The most visible change is the presence of the new, furnished, pedestrian areas located on spaces which had previously been surrendered to the automobile.
As with so much of Los Angeles, from behind the wheel of an automobile, at least during the day (when the colorful signs don't glow), not much looks different from the way it did for the last few decades. While the name "Bringing Back Broadway" implies that the street went somewhere, it was really the building's original tenants and customers who departed.
When I first came to Los Angeles in the 1990s I was variously told that Los Angeles's downtown was either dead or simply didn't exist. However, when I wanted to buy jewelry or clothing, it was usually to Broadway that I went. Business was primarily conducted in Spanish (although I overheard lots of Armenian and Farsi too), but then as now Broadway -- along with Alvarado in Westlake, Larchmont in Windsor Square, and 1st Street in Boyle Heights -- convincingly trampled to death what I'd heard about nobody walking in this city.
None of this Broadway rapture is meant to suggest that the street was always functioning at its full potential. Above the ground floor, where there weren't newspaper curtains and window fans, painted graffiti signaled a complete lack of traditional residential or commercial usage. Several times I ventured up to those floors for parties and performance art. Those events invariably took place at night, when the sometimes single blinking bulb in Sassony Arcade seemed the only beacon for nocturnal wayfarers.
For Pop-Up Broadway, several ideas of what can make a street great were on display. There was dance theater, plein air painting, spoken word performance, typewritten poetry, Vaudeville style performances, video installations, yarn bombing, and live music. If there was a quantifiable beneficial space, it was the pop-up shop located in an otherwise empty store front where the non-profits Downtown Women's Center, Maternal & Child Health Access, and Piece By Piece sold goods whose proceeds benefit their respective and respectable causes.
On the other hand, although I consider myself relatively tolerant of Portlandish whimsy, I'm still not exactly sure how the added visual clutter of knit graffiti is less offensive than the traditional painted variety. Even though I was additionally skeptical about the power of Ren Fair-ish street performances to contribute meaningfully to a neighborhood's revitalization, I felt much more insulted by the marquee above the Orpheum Theatre which seemed eager to promote class friction through simplistic binaries. The question "Gente o gentry?" was followed by "Pupusas o pilates?" because apparently "pupusas y pilates" is out of the question. I decided to consulted the theater's menu in search of an answer and found zero Salvadoran options.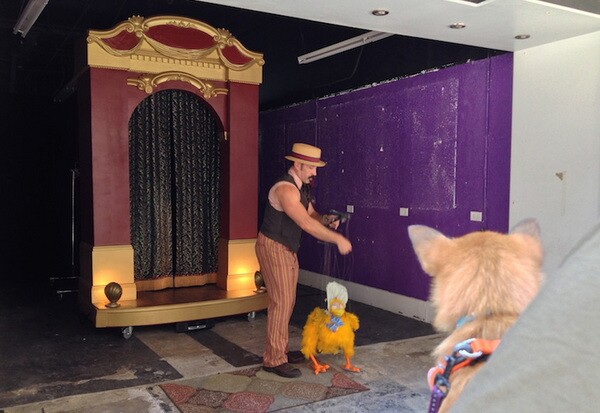 This is not to suggest that even with ample empty space, Broadway is not seeing long-established Latino businesses pushed aside for less community-specific ones (sometimes international chains like Urban Outfitters). Broadway Trade Center, located in the former Los Angeles flagship of the old Missouri-based May Company department store, has long been home to a swap meet which few of Downtown's new yuppies may patronize, but has long benefited those who came before them. Other transitions are less painful -- who can be outraged by a Ross restoring and moving into a long abandoned Art Deco Woolworth's?
My final stop was at Indie Desk, a co-working space which to me sort of resembles a private library, albeit without books and perhaps faster internet. There was a large dry erase board and questionnaires asking respondents what, in their estimation, makes a great street. I checked off all of the multiple choice answers -- which included street musicians, murals, and built out curbs -- but under "other" added:
permeable pavement (15% of thirsty Los Angeles lies under impermeable street scape)
street vendors
xeriscaped verges instead of paved ones
free municipal wi-fi
curb cuts and even sidewalks
shade trees instead of palm (or none)
benches which don't attempt to solve homelessness merely by being uncomfortable
protected bike lanes
After I left the event I walked to my bus stop and didn't have to walk far or wait long (since daytime service is pretty good). The stop was nothing but a sign stating which buses stop there, and trash can full of Jack in the Box refuse. As I rode the bus away I thought of bus stops on the great streets of other great cities -- sheltered ones with seating, lighting, route maps, arrival time displays, and off-board fare collection systems. Now I'm being whimsical.
Photos: Eric Brightwell