The lost murals that shaped the region's reputation for street level public art have limited documentation. Renderings are rare, so sometimes photographs and slides, taken before social networking made sharing images part of the mural experience, are the only evidence of their existence. Many are preserved at the Social Public Art and Resource Center (SPARC).
Photographs of murals from a post-civil rights alliance between artist and neighborhood are cultural contraband -- fittingly stored in a building that used to be the Venice police facility. Since murals are seemingly prohibited from being recreated or restored because of a lack of funding, or walls overtaken by advertising, the mural tradition of social messages are smuggled back into the public art consciousness from within these archives.
Like the Mural Conservancy of Los Angeles, SPARC is embattled to find funding for preserving works, which makes the institution's Durón Gallery an important conduit for unheard voices. SPARC staffers are getting ready for an artists talk on April 10 supporting the current exhibition "Loss, Memory and Recovery | Dwora Fried & Linda Vallejo," which closes April 11. In it, Fried's mixed media boxes capture people, places, and emotions, literally under glass. Composed in identical wooden boxes with glass fronts, the pieces challenge beliefs with scenes of displacement and entrapment, as if culled from disjointed memories. Linda Vallejo's work is from her political satire series "Make 'Em all Mexican," taking iconic images and adapting skin and features to forge new cultural identify.
As I noted before, a photograph of a mural can also take on the aesthetic of collage when the environment is documented along with the work itself. In photos of murals painted over, like the current exhibition at SPARC, the composition becomes displacement of memory stilled as incarcerated emotion, making a larger connection to the stored photographs of missing murals.
After the post "A Touch of Mural," I asked SPARC what murals they sponsored, and since eradicated, have left a void in the city's mural legacy.
* * * *
TOP PHOTO: "Cecil" by Richard Wyatt (1989)
"Cecil" commemorates the late Cecil Fergerson, who advocated for African-American visual art in Southern California, and who the muralist considered a mentor. The mural "has suffered the debilitating consequences of weather and pollution and is presently so faded that it is scarcely recognizable," wrote City Watch in 2013. "Like many others, it needs a relatively small infusion of funds to ensure that the Los Angeles region truly matches in cultural practice what it proclaims so boldly in theory." "Cecil" welcomed you to Watts Towers Arts Center at 1727 E. 107th Street.
* * * *
"Koreans" by Dong-In Park (1989)
Eleven segments show the experiences of Korean immigrants living in the United States, a theme used in the mural to be sympathetic to loneliness and cultural adjustments, yet reminded viewers that hard work could also provide solace and rewards. "It shows people who miss Korea and sometimes get depressed, but they work hard and find a way to achieve success," Park said to the Los Angeles Times in 1993. The Koreatown mural was at 690 Wilshire Place, near Seventh.
* * * *
"Flight to the Angels" by Hitoshi "Tony" Yoshida (1989)
"Life's possibilities, expressed with human and divine imagery," is, according to Michael Several in 1997, the central theme of Hitoshi Yoshida's mural, which used perspective and symmetry of Los Angeles City Hall to balance children interacting with Japanese tradition. They are framed by seascapes -- the artist's own homage to Japan's woodcut artist Hokusai (1760-1849). Worth noting is Michael Several's research on murals during the 1980s, and up to the year 2000, is housed in the USC Libraries Special Collections. The mural used to be part of Little Tokyo's Public Art portfolio at 407 E. Third Street.
* * * *
"Untitled" by Robert Delgado (1989)
Abstract design re-purposed as indigenous symbolism and overlapped with realism made this mural a cathedral for the neighborhood. This mural introduced many to Delgado's command of form and color, a style that he continues to use across the U.S. The untitled mural graced Aliso-Pico Apartments on Gless Street near Fourth.
* * * *
"All that you can be" by Elliot Pinkey (1990)
Elliot Pinkey painted Compton, as we recently wrote at KCET. This lost mural shows a father cradling his newborn, centered in the mural, and eight arms extended out with hands clutching symbols of occupations in science, arts, or trades. The title wasn't so much a statement from the mural, but the father in the mural. It was painted at 8601 Broadway at Manchester.
* * * *
"Wish You Were Here" by Art Mortimer (1990)
Mortimer captures people and place in a regional embrace, as seen with his other known works, "Fairfax Community Mural" and "Brandelli's Brig" in Venice (Not to mention his murals in the rural mural movement of California's desert cities). In "Wish You Were Here," the image in the postcard image is the same intersection the person looking at the mural would have been standing next to. The intersection was at 9053 Sepulveda Boulevard at Nordhoff in North Hills, CA
* * * *
"Que Esconde La Esperanza (What is hidden in hope?)" by Alma Lopez and The Women's Public Art Workshop (1995)
Working under the direction of Alma Lopez, Woman's Public Art Workshop had artists work with mothers recovering from substance abuse, wrote MCLA. For this mural, three women with angel wings, in unison, rise above a harsh environment and influence. Their children, who are off to the side waiting, are filled with love and forgiveness. This mural was at Plaza Community Clinic at 648 Indiana Street.
* * * *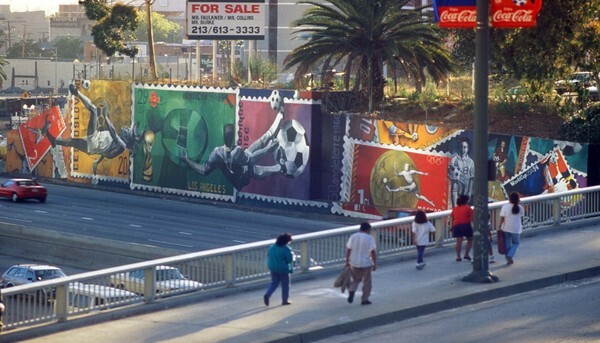 "Stamps of Victory" by Johanna Poethig (1994)/SPARC sponsored restoration (1999)
Commissioned by World Cup Soccer and SPARC, the composition "used stamps with soccer motifs to symbolize international communication and exchange in sports," writes Poethig on her site. In Los Angeles, the artist is also known for Broadway's "Calle de la Eternidad." "Stamps of Victory" used to be on the 110 Freeway, between the Seventh and Eighth street off ramps.
* * * *
"Espiritu del Rio" by Joshua Sarantitis (1998)
The prolific public artist is known as a contributor to Philadelphia's mural program, but also has a presence in Los Angeles. His "Espiritu del Rio" (Spirit of the River) played off the expressive hands of actress Dolores Del Rio. One hand held the sun, an eye of light, and the other guided the river to pass under a bridge and become a transformative ribbon. Spiritual waterways are also seen in another Sarantitis mural, also named "Espiritu del Rio," in West St. Paul, Minnesota. Sarantitis will soon have new work in California. He and muralist Ricardo Mendoza were selected by the OC Fair & Event Center to team on an Agricultural Workers Memorial in Costa Mesa, titled "Table of Dignity." "Espiritu del Rio" used to be at 2420 Ripple Street in Elysian Valley.
All photos courtesy of the Social Public Art and Resource Center.