Through all forms of art there is a path of evolution, self enlightment and Transformation of the conscious mind.-- Silvana Jeyd Paredes
I first met Silvana Paredes while we were restoring "The Great Wall Mural" in Los Angeles. Jeyd, as many call her, comes off as a very thoughtful and quiet sort of a person, but don't be fooled: inside is a firecracker exploding. Notice I didn't say waiting to explode, because Jeyd waits for no one.
Her philosophy is geared toward mother earth and the holistic movement. However as serene as this may sound, she is involved with the mural movement and graffiti art; she's also tried her hand in tattoo art. She mentions that breaking into the graffiti world is difficult, but breaking into tattooing is even harder. Why? Because most men in this business think they have all the talent, and that Jeyd is just another woman that does not need to be there. They are surprised when they see her art, usually making dumb remarks such as "Did you do this? No way!" Yes Jeyd, in the art world, we as women have yet to come a "long way baby!"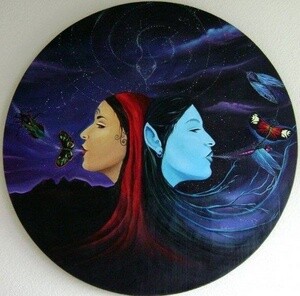 Jeyd was born and raised in Los Angeles, California. Growing up seeing street art fired her up to explore graffiti. She started experimenting with spray paints on different surfaces and styles; her medium of choice ranges from acrylic, oil paints, spray paints and Henna tattoos. Her tattoos are reminiscent of indigenous cultures from her South American roots in Uruguay, which means "River of Painted Birds" in the Guarani language.
As lovely as these tattoos are, she isn't doing them any longer. Her current work shows the spiritual side of life, how it conflicts with the modern world -- nature vs. the manufactured world. In her artwork Jeyd conveys her interest in metaphysics and fascination with Mayan cosmology, folklore and Eastern medicine. She believes that the ancestors have much to teach us, and that young people should learn how to use ancient knowledge to solve modern problems.
The two people who have influence Jeyd are Artist Remedios Varo, (1908-1963), a Spanish-Mexican para-surrealist painter and anarchist, and her father, Luis Paredes, a published writer and educator. As a child, her father would tell many stories that filled Jeyd's head with so many visuals that to this day she is most likely painting them.
Google her for more info and to see her works. Take a look at Jeyd's website and see her beautiful and powerful works. Who knows, you may commission her someday and this will make our Mazatl dance.
Sonya Fe is a painter and muralist long affiliated with the Chicano Art Movement. She directed the screen printing workshop at Mechicano Arts Center and contributed to The Great Wall of Los Angeles. See her profile page for videos of interviews conducted for Departures: Highland Park.