Many have called late July and early August "the dog days of summer," but they must not have been active in the cultural landscape of Los Angeles. June and July and now August have been so packed with literary events, live concerts, art shows and city tours that I've hardly been home. On the lines below is a compendium of writers, artists, musicians and venues keeping summer spirit alive in Los Angeles.
Ever since last autumn's "A Record of Light", the Last Bookstore has hosted occasional plays amidst their schedule of frequent readings. On three Sundays in July they featured a play written by the Cal Arts MFA grad Billy Mark called "Homo Economicus." Coming in at just under 75 minutes, the play analyzes contemporary value systems and the role of the artist and their relationship to economics throughout history. The 7-act narrative goes from ancient Egypt and Greece to the Renaissance up to our present day. Shadow, light and experimental dialogue assists the telling of the tale. Questions are addressed like can someone serve both God and money? Much of the dialogue sounds like poetry and the characters reply to one another at times in chorus. Fans of progressive theater will be enamored. The play was recently selected by the Society of Contemporary Arts and Sciences to receive the 2012 Best Ensemble Award.
When my friend the activist-author and cultural anthropologist James Nailor invited me to perform poetry at his birthday party I never expected to be performing after Reggae legend Pato Banton. Banton rocked seven songs in honor of his old friend James and even paused to tell humorous and personal stories between songs. James' party was adjacent to the Los Angeles River in Long Beach at the Daisy Green belt just south of Del Amo Blvd and Daisy Avenue. The park grounds were spacious enough for several hundred people and next to a public swimming pool. Pepper trees and eucalyptus thickets interspersed with open green space just east of the Los Angeles River and 710 freeway. The late afternoon breeze melted with the music. Besides Banton, singer-songwriter Jason Luckett played several songs along with some ballistic percussionists. I did a short poetic set before the sunset and immensely enjoyed the serendipitous afternoon.
Over the last six years I've been doing walking tours for the Museum of Architecture & Design. The Urban Hike series circulates across neighborhoods like Leimert Park, Boyle Heights, Little Tokyo, Koreatown, MacArthur Park, the Los Angeles River, Eagle Rock, Culver City, Miracle Mile and most recently the Los Angeles Arts District. Once primarily railroad buildings, warehouses, loading docks and other industrial lots, the Arts District first began transforming in the Seventies when artist carpenter pioneers began leasing and buying old warehouses in order to convert them into studio space. By the early eighties, a small but dedicated group of residents formed in the area. Lines were blurred between performance art, punk rock and poetry in Arts District locales like Al's Bar. The Traction & Hewitt General Store at Third and Traction was originally called Joel Bloom's Cornerstore.
Joel Bloom was a neighborhood activist whose work in City Hall helped make the area officially declared the "Arts District." Bloom passed in July 2007. The annual "Bloom Festival," honors his memory and celebrates the enclave. Bloom lived in the Arts District for 21 years and his store was in the community since 1994. The city designated Third Street and Traction as Joel Bloom Square. Bloom managed to stop LAUSD from building a warehouse in the Santa Fe Freight Depot. Shortly after Bloom's efforts, the Southern California Institute of Architecture also known as SCI-ARC relocated from the Westside in 2000 to the large quarter-mile long building and converted it into a vibrant center for the study of architecture. SCI-ARC'S conversion of the old landmark into a state of the art school is great example of adaptive reuse.
SCI-ARC is located in the former Santa Fe Freight Depot, an impressive building over 1000 feet long and 37 feet wide. Originally designed in 1907 by Harrison Albright, SCI-ARC's site is listed with the National Register of Historic Places. Albright was an architectural pioneer known for his use of reinforced concrete. In its heyday as a freight train depot it had the capacity for unloading over 100 train cars. Now the architecture train runs 24-7. The Final Projects of Architecture students line the parking lot next to the Fourth Street Bridge. SCI-ARC is at the vanguard of the architectural avant-garde. Under the direction of Starchitect Eric Owen Moss, the school's progressive ethos epitomizes the emerging neighborhood.
The other recent Urban Hike tour we did was through the Santa Ana Arts District. Though I've done bus tours in Orange County before, it was my first walking tour there. Over the last three years I have performed poetry at an annual art show at the GCS Gallery. GCS Santa Ana is a gallery apparel store comparable to Crewest in the Historic Core that seems much more like a space you'd find in Downtown LA or the Arts District. Because of my trips to GCS I discovered that the Santa Ana Arts District is loaded with galleries, restaurants, bookstores and boutiques. There's a collection of historic buildings built in Beaux-Arts, Spanish Colonial Revival and Art Deco within a few blocks along Main, Broadway and the perpendicular streets, the oldest date back to the 1890s. Mear One, Rik Fourfiftyfiver and I were marveling at the streetscape there walking back to our car after the art show. Over the last 15 years local preservationists began restoring Downtown Santa Ana. The Old Santa Ana City Hall is an art deco treasure. The streetscape is similar to L.A.'s Historic Core and other older downtowns like Long Beach and Oakland with buildings from the Roaring Twenties.
The Santora Building of the Arts is one of Broadway's crown jewels; it looks like an elegant old cruise ship. The façade of the building is the cleanest of adobe adorned with a few selected corners of well-crafted ornament. Built in 1928 the three story building houses sveral galleries like GCS and is designed in the Churrigueresque variant of the Spanish Colonial Revival style; the same architectural style of the museums in San Diego's Balboa Park. The Old Orange County Courthouse is a red sandstone building built in the Richardsonian Romanesque style in 1902. When the new courthouse was built in the late 60s the old courthouse was gradually declared a protected landmark because of its iconic design. Besides being a popular wedding location, films like "Legally Blonde" and "Catch Me If You Can," have filmed in the courtrooms there. The local streetscape of downtown Santa Ana is an eclectic mix of art, history and architecture.
For the fourth summer in a row I taught a poetry workshop at 826LA in Echo Park. Located on Sunset Blvd, next door to Stories Books, 826LA is a writing center known for mentoring hundreds of teen scribes. Staff members like Joel Arquillos, Marisa Urrutia Gedney and Julius Diaz Panoringan selflessly dedicate themselves to local youth. During the week long workshop we also had guest appearances by authors like Gloria Alvarez, Sesshu Foster, Chiwan Choi and V. Lazaro Zamora. This summer's workshop has been especially gratifying because there is a blind student that has been blowing everyone away with her potent verse. The hospitable space of 826LA seems to be a magnet for talented young poets. The workshop concluded with a culminating reading and publication of a book with their poems in it. 826LA is a magical space and every summer there gets better.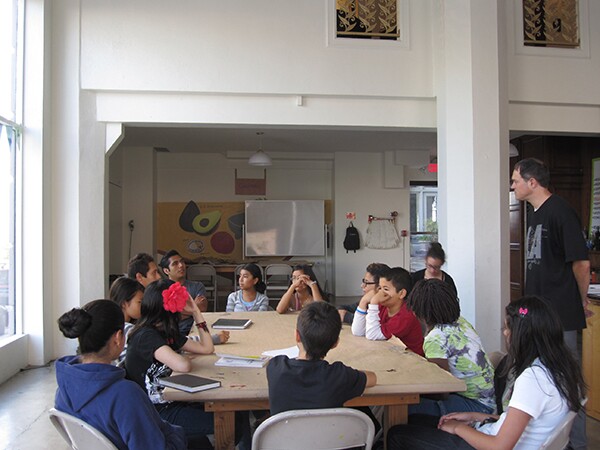 There's always something happening in Downtown Pomona. I've written before about the poet Besskepp and his weekly Pomona open mic, A Mic & Dim Lights. This week I'd like to briefly highlight two of his protégés. The poet-activist known as Judah One has opened a gallery/performance space in Pomona Arts Colony called "Machine Pomona." Assisted by Jerrence Owens aka LaVoice, they operate an art gallery and boutique with local designs and frequent art openings and poetry events. They've been open about 6 months and are already very popular with local art lovers and college students.
Another poet-activist originally from A Mic & Dim Lights, the Diamond bar-based David Romero also hosts a bi-monthly event in the Pomona Arts Colony called, "Between the Bars." Held at the dBA 256 Wine bar lounge twice a month on Wednesdays, the event joins Besskepp's weekly along with the frequent events at Machine Pomona to offer a steady diet of culture for Claremont and Pomona. When he's not hosting shows, Romero leads workshops for the Los Angeles Public Library Say What? Teen Poetry program and with students at the Juvenile Detention and Assessment Centers in San Bernardino. Romero, Judah One and Besskepp are a big part of the emerging arts scene in Pomona.
Lincoln Heights has recently received attention for the weekly club, the Low End Theory. Held at the Airliner and known as the incubator of LA's dubstep scene, DJ superstars like Flying Lotus and the Gaslamp Killer gained fame there over the last 5 years. I was recently in Lincoln Heights to witness Mear One finish a large mural. Located near Pasadena Avenue and Ave 28, he painted a large wall at a place called the Tee Shirt Spot. Any Los Angeles aficionado of street wear and local urban gear will love their merchandise. Besides selling several shirts designed by Mear One, they have shirts made by a few other selected local artists like Psycho Realm. Mear One is on a major campaign this summer painting murals around Los Angeles as well as large commissioned projects in both Chicago and Europe. Check this time-lapse video of his Lincoln Heights piece here:

There have been several other amazing events that I have been too busy to even attend. I was disappointed to miss the Gil Scott-Heron tribute concert at the Grand Performances concert in downtown LA in late July, but I couldn't make it because I was scheduled from months back to perform poetry twice that night in Venice. I did have several conversations with Gil's daughter Gia Scott-Heron and our dialogue about her father's legacy and her own writing will be in a future column. Art, music and poetry is truly alive in Los Angeles --- stay tuned for more dispatches from the landscape of LA Letters.