The nation observed the holiday for the first time on January 20, 1986 after a 15 year campaign that began not long after King's assassination in 1968. The story of this holiday reads like an indie drama, marked with controversy, political hope and symbolism, starring labor unions, key government officials, massive public engagement, and... Stevie Wonder. In researching the history of this holiday, three important factors contribute to the formation of Martin Luther King, Jr. Day, which are explained below.
Controversy and Politics
It wasn't until year 2000 when the holiday was celebrated as intended by all 50 states. In 1971, Congress received over six million signatures in support of the federal holiday through the King Holiday Bill, initiated by Michigan Congressman John Conyers in 1968, yet no action was taken. Much of the hesitancy stemmed from cost and an aversion to breaking tradition--federal holiday had never honored a private citizen except for two: Christopher Columbus and George Washington.
In 1979 the bill again failed to pass in the U.S. House of Representatives by five votes. In reaction, the Martin Luther King Jr. Center in Atlanta launched campaigns to generate support for the holiday from corporations and influential public figures. In 1981 Stevie Wonder's "Happy Birthday" became an anthem for the holiday and large donations from mega corporations helped fund the campaign.
Meanwhile, local organizations and ethnic enclaves had already begun celebrating Dr. King within their communities. In Los Angeles, the Southern Christian Leadership Conference West launched King Week in 1978, an annual celebration of King's legacy, and Compton celebrated the civil rights leader in a 1981 parade hosted by celebrity Red Fox, which also served to kickoff Black History Month.
Despite cost concerns, President Ronald Reagan signed the bill into Public Law 98-144 in November 1983 after Congress passed it with an overwhelming majority.
What's in a name?
Once the King Holiday Bill was signed into law, a few states remained stubborn, choosing instead to honor Human Rights Day or Civil Rights Day (Utah and Arizona respectively), omitting King's name. In Virginia, the state paired the commemoration of Confederate heroes Robert E. Lee and Thomas "Stonewall" Jackson with Dr. King to make Lee-Jackson-King Day, which was celebrated from 1984 to 2000.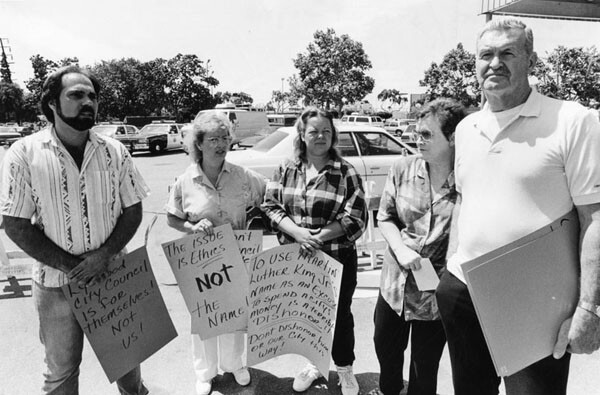 Los Angeles, marked by its own civil rights struggle and memories of visits by Dr. King. (including a 1958 three-day stay at Caltech), has its own side of the story. By the time MLK Jr. Day became official, L.A. was already dealing with similar controversy. In 1983, during the renaming of Santa Barbara Avenue to honor Dr. King, local citizens wished to memorialize a local figure, such as Bridget "Biddy" Mason, and preferred to distance the area from a black brand. But former City Councilman Robert C. Farrell, who initiated this project, cited the stretch of the road's linkage to four districts with then large black constituencies. Against public dissent--including those in the black community--and government concern, the seven-mile road was renamed. The street continues to honor Dr. King annually during the Kingdom Day Parade, organized by CORE-CA since 1985.
Labor
Martin Luther King Jr. Day came to pass with the help of the Uniform Monday Holiday Act. Signed into law in 1968, it was designed to increase the number of three-day weekends for federal employees, moving fixed date holidays to designated Mondays. We also owe the holiday to the unremembered efforts of labor unions. In a wave of strikes during the 1970s, labor workers nationwide risked their jobs to celebrate the legacy of Dr. King, whose own interests were deeply rooted in labor issues. In fact, his assassination took place on a visit to support black sanitation workers on strike in Memphis, Tennessee. The image below features labor leader and civil rights activist Cesar Chavez honoring King in a 1968 memorial at the Los Angeles Coliseum, decades before his 1990 speech "Lessons of Dr. Martin Luther King."
The grassroots campaign to keep the Dr. King holiday relevant has resurfaced with the national MLK Day of Service, designated by Congress in 1994 to coincide with the holiday. Perhaps the history of the holiday itself--the many voices that kept a campaign alive for 15 years--can inspire us as a reminder of the power and endurance of masses.
Banner photo of Dr. Martin Luther King Jr. addressing crowd at the March On Washington D.C, 28th August 1963: courtesy of CNP/Getty Images