The San Gabriel River watershed is a 60 mile waterway beginning high up in the San Gabriel Mountains that eventually empties into the Pacific Ocean near the Los Angeles and Orange County border. This week L.A. Letters explores the landscape, built environment, and cultural history of the San Gabriel River, with special attention focused on the southern half of the river's path from Whittier, Downey, Santa Fe Springs, Bellflower, Norwalk, Cerritos, Lakewood, Hawaiian Gardens, Los Alamitos, Long Beach and Seal Beach. I know the area especially well because I grew up riding my bicycle along the River.
First a quick note to those that do not know: the 605 Freeway flows the path of the San Gabriel River, and the 710 Freeway follows the Los Angeles River. This is obvious to older generations, but many of the younger population know nothing about the power and storied histories of the waterways that run parallel to the 605 and 710. Thanks to titans like Lewis MacAdams and the Friends of the Los Angeles River (FoLAR), the Los Angeles River has been the subject of expensive studies and covered in a plethora of film and literature. The San Gabriel River has received much less attention, even though it is 9 miles longer than the 51-mile Los Angeles River. Moreover, MacAdams once told me that in extreme flood years, they were really just one big river anyhow. Fortunately after being inspired by FoLAR, a few organizations have come to rise in recent years to represent the San Gabriel River.
The San Gabriel River drops down from the mountains to cut across the San Gabriel Valley in a well carved path bisecting foothills near the Whittier Narrows. This is where the Rio Hondo River connects with the Los Angeles and San Gabriel Rivers. The densely wooded chaparral in the area holds lagoons along the Rio Hondo. The original San Gabriel Mission was located near here in 1771, but it was wiped out by a flood in 1775. Consequently, it moved to higher ground in present day San Gabriel, where it's been ever since. The Bosque Del Rio Hondo is a large park that is one of the remaining natural streambeds of the Rio Hondo where you can find seasonal creeks, picnic areas, access to bike paths and equestrian trails. Somewhere on the western edge of the park are a few traces to the original Spanish mission from 1771.
Less than a mile south of the Bosque Del Rio Hondo is the massive Whittier Narrows Dam. Though it's sequestered away, it is the central element of the Los Angeles County Drainage Area flood control system. Built in 1957, the 56-foot tall Whittier Narrows Dam is literally the central plug in the watershed. Collecting runoff from the uncontrolled drainage areas upstream, it is primarily during the El Nino and extreme rain seasons when the Whittier Narrows Dam plays an important role in stopping destructive floods. As widely reported, the 1938 flood killed over 80 people across South Los Angeles and the San Gabriel Valley, and the concrete flood control system came soon after.
The large Whittier Narrows Dam is something to see, but I like the park even better. Whittier native and poet Christopher Luke Trevilla shares memories of the Whittier Narrows Recreation Area:
[It] was an adventure in every sense of the word. You see while we only had one car, and old white Plymouth Volare, we packed an entire adventure in the trunk. With enough food, water, some balls, and first aid gear, we set off to the annual fiesta fairs that still take place there, or went on long walks around Legg Lake to see ducks and small boats race.
Another connection to Whittier Narrows is the 1987 earthquake centered near there. The Whittier Narrows Earthquake happened in my 8th grade year. I was locking my bicycle up at Haskell Junior High School on Del Amo in Cerritos at 7:42 a.m. when the quake struck. My friends and I ran into the open field. The quake was a 5.9 on the Richter scale, not as big as the recent quake in Japan or San Francisco's big one in 1906; nonetheless it was the biggest I had felt in my young life up to that point.
Whittier is named after the poet John Greenleaf Whittier from the 19th Century, known for his association with the Fireside Poets. I learned this only a decade ago when my old friend and Whittier native Joaquin Daniels told me that Whittier College's team mascot is the Poets, in honor of the city's founder. I'd heard the name Whittier throughout my life and had no idea. I only discovered the writer when I looked him up later. Uptown Whittier, especially along both Greenleaf and Philadelphia Street, has a lively milieu of local culture. Christopher Luke Trevilla describes more:
In Uptown Whittier I made friends with barflys, album enthusiasts, wine lovers, and bibliophiles at places like The Little Old Bookstore (now Half Off Books), Lovell's Records, Casita del Pueblo, Steve's BBQ, and other spots. In Uptown Whittier I found a Poetry group to belong to and be a part of with the Writer's Club of Whittier, and made a great friend in fellow poet Gary Imperial.
Appropriately enough, one of Trevilla's most celebrated poems is titled, "Lady Whittier." On the western edge of the San Gabriel River in Whittier is the historic home of Pio Pico, California's last Mexican Governor. The namesake of Pico Boulevard is one of the few men that lived in all three jurisdictions of California. Born in 1801 as a Spanish citizen of California, Pico died in 1894, losing his mansion a few years before his death to a banker that had him sign a contract he couldn't read. Though Pico could speak English, he could not read or write it and the banker had him sign a contract he hadn't read. His home that he lived in for many years is now a park, not open often enough but still there by the river.
Downstream from Whittier along the San Gabriel River, the waterway passes through Pico Rivera on the west as it blends into Downey. Downey is known for a few things in particular, like being the home of the Carpenters, the historic McDonalds on Lakewood Boulevard, and as a former epicenter of the aerospace industry. Recently I've heard rumblings of a live music and poetry scene there, from the Downey Arts Coalition and Third Thursday Poetry night series.
Below Downey is Bellflower on the west and Norwalk to the east. Both blue collar suburbs, most of the development in these areas happened in the 1950s and beyond. Humble tract homes dominate most of the landscape. The river passes major east-west roads in the suburban grid: Whittier Blvd, Slauson, Telegraph, Florence, Firestone, Rosecrans, Alondra, Artesia, pockets and webs of small neighborhoods connecting from Whittier, Downey, Norwalk into Lakewood and Cerritos.
DJ Waldie is well known for his 1996 book "Holy Land" about growing up in Lakewood. Considering I'd gone to high school in Lakewood, I read it shortly after it came out to see what his thoughts were. I'd always appreciated growing up in my mother's house in Cerritos, but at the same time I was excited when I moved to UCLA and stayed there. Waldie's Lakewood is portrayed in a beautiful short book, and he made me appreciate my own childhood area better. As Brett Lott describes it, the narrative is, "part celebration, part elegy, part poetry, part history." I liked Waldie's history and his descriptive pieces about the San Gabriel River. A widely quoted passage from that book explains more:
Until the Corps of Engineers built the county's flood control system, the Los Angeles and San Gabriel River were called "tramp" rivers because they found a new bed almost every winter.In the 1880s, the bed of the San Gabriel River would routinely shift more than a mile west after a heavy rain.The Los Angeles River once entered the Pacific Ocean near the city of Santa Monica and then at San Pedro, eighteen miles away. Once, the Los Angeles River was completely captured by the Los Angeles River...My city is between the two rivers.
Furthermore I'd heard Lakewood was partially named such because it was often a lake because of the rivers. The quick development of the Lakewood Plan in the early 1950s is well known for being an archetypal suburban plan. Waldie celebrates the history and also describes his half century connection to the area. He still lives in the home his family has owned in Lakewood since 1946.
In addition to Waldie, Joe Gardner is a younger poet that writes about East Lakewood, the lesser known part of the city. Gardner is a graduate of Artesia High School in 1992 and went on to serve in the U.S. Military, and then got a graduate degree from the School of Hard Knocks. Gardner was in my graduating class, and we both had the phenomenal English teacher Steve Cizmar during our Senior year. We had done a few projects together back then, and had lost touch until 2010 when Joe moved back to Southern California. We reconnected and reflected on poetry, our old teacher, old friends and the old neighborhood. It turns out he'd been writing poems the entire time through his travels. I told him to bring some poems out to my monthly poetry night, and soon enough he was sharing his poetry all around Los Angeles and Long Beach.
Another blessed event that happened to Joe when he moved back to Lakewood was that he reconnected with his high school sweetheart Jennifer, and they are now engaged. The closing stanza of his poem "18 years" exemplifies Joe's romantic sensibility:
It's like seeing friends and family after being gone for 18 years and everywhere I've been there's nowhere been anywhere quite like here and I sit on the porch of this beautiful backyard at that house where I lost my virginity waiting for my woman to come home so we can walk through the old neighborhood park and ease the night away with good dark beer and memories and stories of the last 18 years
Gardner calls his work, "Working Class Poetry." His forthcoming book of poems is heavily anticipated and will be published by the Long Beach/San Pedro based publisher Lummox, run by the legendary poet RD Armstrong, aka Raindog. Gardner and Raindog are an excellent fit. Gardner is one of my oldest friends, and the only other poet I know from my high school. We went to Artesia High School on Del Amo near Norwalk Boulevard. Artesia High School is actually in East Lakewood, but it was named Artesia because when it was built in 1954 neither Lakewood nor Cerritos were very developed. Nearby Artesia, now known for Little India on Pioneer Boulevard, was a much older city -- and that's why the high school was named after it.
Cerritos was originally called Dairy Valley and one of the largest milk-producing cities in the nation well into the 1960s. The name was changed to Cerritos in 1967. My parents moved there from Long Beach in 1971 when the city was just being built. The dairy farms were all gone by the late 1970s and replaced by tract homes and shopping centers. In many ways, the city took some of the best ideas from Lakewood's suburban development even further. The city had lots of small parks, the shopping mall, the Auto Square and now the Performing Arts Center. Cerritos was declared the most ethnically diverse city in the 1990 US Census. I grew up on the southern side of Cerritos and ended up going to high school at Artesia, a less funded school than Cerritos or Whitney. Cerritos is also known for the World Famous DJ Crew "the Beat Junkies." They were a few years older than me. Growing up in Lakewood and Cerritos there was a diverse mix of Filipino, Korean, Mexican, African-American, Indian and a few guys like Joe Gardner and I.
Cerritos was a great place to grow up, for the most part quite safe, but in the late 1980s gangs were everywhere, even the suburbs. Nearby Hawaiian Gardens could be dangerous and there were even Cerritos gangsters in Accords and Acuras. The riverbed on the western side of the city was one place you could always find graffiti or perhaps run into the wrong crowd. Mike Davis was my professor in 1997 and we talked one time about Hawaiian Gardens, one city south of Cerritos and Lakewood. I told him I grew up near there and would ride my bike to the comic book shop.
Davis told me that Hawaiian Gardens is where the San Gabriel River and Coyote Creek meet and how it would flood frequently in the days before concrete channels and the flood control system. All of Cerritos and Lakewood would flood heavily, but Hawaiian Gardens was especially hit the hardest because of the two waterways meeting there. He also told me that it was originally a poor neighborhood of working class Whites and Mexicans that would work in the farms of present day Cypress and Cerritos. Later, I realized that many of Southern California's poorer areas like Watts, Boyle Heights and Hawaiian Gardens have roots dating back to the river and early floods. Now known for its casino, Hawaiian Gardens is the smallest city in Los Angeles County, completely surrounded by Long Beach, Lakewood and Cypress. Less than a mile south of Cerritos, the two cities are quite different.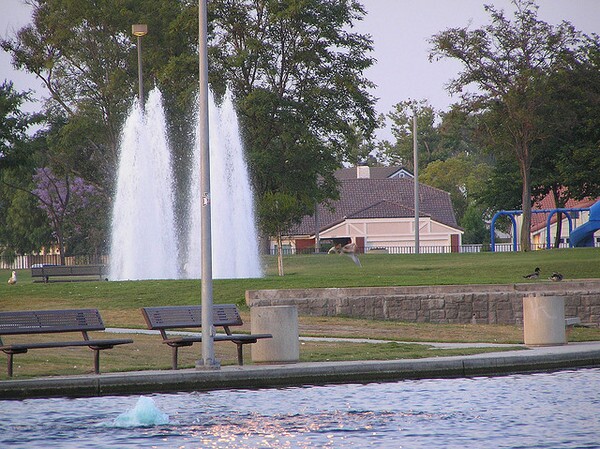 Phuong-Cac Nguyen grew up in Cerritos, attending Whitney High School and then USC. When I met her over a decade ago, she was writing for the Los Angeles Times and URB Magazine. She wrote a prose poem in 2004 about Cerritos called "Branded," that captures Cerritos. The subtitle of the piece reveals more, "When Suburbia Infects Your Epidermis, You Become a Zombie." She paints a vivid picture of the corporate landscape of Cerritos and a day in the life. Here's the first third of the piece:
Woke up in my Ikea bunk/futon bed combo, in my Cherokee onesie. Had a mocha at Starbucks. Went to Cerritos Park East to work out at the community gym in my Adidas pants and New Balance shoes in my American Apparel underwear. Went home and showered, washing with Nexxus shampoo/conditioner and Softsoap bodywash. Shaved my legs and armpits with a disposable Bic razor. Slathered on St. Ives body lotion. Changed into Diesel jeans, Express tank top, Vans slip-on shoes and socks from Kohl's. Stopped by Borders bookstore to browse magazines and get annoyed by the newest fashions that I always think I started.
More recently Nguyen moved to Sao Paulo, Brazil and wrote a book about it. Nguyen's cosmopolitan sensibilities have served her well as a journalist. She is one of the only writers I have known to ever really write about Cerritos. I'm sure more will be written in the future. Cerritos and Lakewood and other nearby cities like Cypress and La Palma are gateways between LA and Orange County. I lived for 18 years just north of Del Amo in Cerritos. I made countless bicycle trips along the San Gabriel Riverbed to my grandfather's house four miles south in Long Beach. He lived on Spring Street just west of the river by El Dorado Park. We'd spend many Saturdays riding south down the river to Seal Beach. The closer you'd get to Seal Beach the more you could smell the ocean. We'd usually ride all the way to where the river empties into the Pacific. Once we got near the coast, we'd ride all the way to the Seal Beach pier and get lunch somewhere. The oil platforms offshore greeting our eyes and if it was clear enough Catalina Island loomed "26 miles across the sea". The skyscrapers of Long Beach and the Queen Mary could be seen immediately to the northwest. Seal Beach is a quiet beach community, we enjoyed countless afternoons there.
There's much more to share about Cerritos, Lakewood, Long Beach and the San Gabriel River. Future editions of LA Letters will spotlight more of Southern Los Angeles County. This edition of LA Letters salutes the neighborhoods along the San Gabriel River. The river and these cities are sacred landscapes in the topography of L.A. Letters.
Top: San Gabriel River bike path. Photo by The City Project used under a Creative Commons license.