Who's rocking the populace in the postmodern metropolis? Behold the lore of L.A. Authors. Every year more and more L.A.-centric literature and regional books emerge from both major New York publishers and a handful of West Coast houses, like UC Press, Chronicle, Heyday, Angel City, City Lights, Red Hen, and others. Though a few may get past me, I do my best to keep track of all of the new titles. This week L.A. Letters explores three recent L.A. books and pays tribute to 15 years of the seminal music venue, Firecracker.
West of Eden
"West of Eden: A Life in 21st Century Los Angeles" by Chuck Rosenthal is a Los Angeles memoir that defies categorization. Rosenthal calls his style "Magic Journalism." He says, "A Magic Journalist understands that the narrative essay becomes a living metaphor of an inexpressible truth." Whether he's satirizing Topanga Canyon, literary agents, and the local writing community, or ruminating on the influence of the Beats, Rosenthal is an original voice equipped with the vocabulary to spell out the beauty, horror, and irony that constitutes contemporary Los Angeles.
Rosenthal's perspective borders on irreverent, but then tenderly pulls you over to his favorite scenic overlook to see the Ballona Wetlands, or take a trip east of Hollywood. Rosenthal is a postmodern philosopher. There's an underlying surrealism in the work. Published by the local What Books Press -- an imprint of the Glass Table Collective -- the cover is a painting by legendary Eastside artist Gronk. Gronk even appears as one of the characters in one of the work's short stories. In one of the funniest vignettes in the book, titled "Masters of the Poetry Universe," Rosenthal describes a busy weekend of poetry readings and the literary landscape of the city:
If you live in Los Angeles you can go to a poetry reading everyday. More than everyday. You can go to hundreds of poetry readings everyday. You think this is a movie industry town? A music industry town? A TV town? Entertainment industry? No. It's a poetry industry town. There are more poets than people here. More poets than cars. More poetry presses than designer dresses.
Rosenthal is on to something here. Week after week in this column I write about the many small presses and poets Rosenthal mentions. He knows what he is talking about. He is not a poet though his partner Gail Wronksy is a prominent poet that like him is also a Writing Professor. "West of Eden" offers a seasoned, candid and comical account of 21st Century Los Angeles.
Photoetry: Poetry and Photography From South Central L.A
"Photoetry: Poetry and Photography From South Central L.A." by professor and poet Hiram Sims is published by Figueroa Press. Sims spent much of his childhood in the Crenshaw District, and attended Foshay High School near Adams. After earning both his undergraduate and Masters' degree at USC, the Los Angeles-born Sims has taught at Cal State L.A., Long Beach City College, Compton College, and USC, among others. His new book of 43 poems includes a photo for every poem. The powerful pictures were taken by five different photographers: Sam Bendall, Adam Tillman Young, Ameer Espy, Charisse Sims and Kim Soria.
In his poetry Sims asks important questions, like, "Where is South Central?" He explores intersections and the popular myths behind the area. One of his biggest projects is debunking the fear and false ideas that have been propagated about South Los Angeles. He pays tribute to his wife, their newborn children, and his charismatic relatives; he reminisces on gangbangers sweating him at Western and Exposition. Portraits and images from his early childhood to his current daily life come alive in poem after poem. Classic forms are used for many of the poems and, more than anything, the tone, he says, "is a love letter to my home."
Sims was taught at a very early age to care about his community, listen to his elders, and work earnestly. His poems reflect this world view and also seem to be directed at a younger version of himself or, more specifically, to his children, like the poem addressed to his daughter. Dating back to 2005, Sims has been cultivating writing groups at every school he teaches. The fruits of his efforts have culminated into an organization called the Community Literature Initiative. Sims founded the organization in order to "train dedicated, aspiring authors in the Los Angeles community to write, edit, and refine creative works."
Over the years Sims has met many great writers in the community. He knows that there are many writers that can't afford grad school or expensive formal training, but that doesn't mean they aren't excellent writers or can't be nurtured. His own writing talents were discovered early by a few great instructors, which gave him the desire to give back. By his mid-teens he was writing poems constantly, "as a way to capture lyrical pictures of moments I wanted to keep."
Sims' writing talents and accomplishments put him on a fast track at USC during his undergrad years. He had a Master's from USC in Professional Writing by his mid-20s. After almost a decade of teaching he is now in the position where he would like to help other writers develop, like how he was helped. The Community Literature Initiative program is his way of doing this. The World Stage in Leimert Park is one of the venues connected to the program.
The program takes on 14 fiction writers and 14 poets for the year. The website explains more: "The CLI course is a 10-month (September to June) training program to refine works-in-progress into finalized manuscripts ready for publication. At the conclusion of the 10-month program, all participants are guaranteed a first-book publishing contract with one of our partnering Los Angeles Small Presses."
Sims is excited about his partnerships with the small presses and local bookstores. The program begins this Fall and they are still accepting applicants. Early instructors and guest lecturers include Jalondra Davis and Gerald Locklin. As his book and the organization reveal, Sims loves his community and wants to do all he can to give and further cultivate the literary landscape.
Songs in the Key of Los Angeles
There's not much to say about "Songs in the Key of Los Angeles" that hasn't been said, but the sweeping new book by Angel City Press, edited and arranged by USC Professor Josh Kun, is a masterpiece. Using sheet music from the collection of the Los Angeles Public Library, the book provides an illuminating musical window into Southern California from the years of 1849 to 1959. Featuring the colorful and elaborately designed covers of over one hundred pieces of vintage sheet music, the songs and accompanying prose cover the whole gamut of Los Angeles history, from mythic missions, orange groves, Hollywood history, the railroad, Jazz Age waltzes, Mexican folk traditions, and the rise of West Coast Jazz.
Josh Kun was the perfect author and editor to organize this collection. Besides being a Los Angeles native and musical scholar, he is also an accomplished DJ. I remember the first time I saw him spin at Fais Do Do with Garth Trinidad in 2000. Kun earned his Ph.D through his 20s, but still had his feet in the musical underground, working with KPFK radio and local musical ambassadors like Carlos Nino. There are very few that have the musical knowledge of Los Angeles that Kun does. The book also features contributions from William Deverall, Jim Heimann, Victoria Dailey, John Koegel, Stew, Van Dyke Parks, Inna Arzumanova, and Jacqueline Cogdell Djedje. Djedje's essay, "Early Milestones of Black Music in Los Angeles," is a fascinating account citing specific early records and long forgotten venues. The combination of the vintage sheet music and detailed back stories will undoubtedly inspire future studies.
Over the last year there's been a lot of debate in the news about the sound of Los Angeles and iconic songs about California. Steve Lopez even dedicated a few columns to it. More than just about anybody, Josh Kun is an authority on this subject. In the introduction he writes, "this book is one attempt to bring it back to life, to reanimate the past that lives in music -- not for the sake of replicating it or repeating it, but for the sake of learning from it. What were the songs of Los Angeles then, and what are they now? And perhaps just as important: How would you tell your own story about Los Angeles in a song?" "Songs in the Key of Los Angeles" is a dynamic early road map for anyone interested in the city's musical history. See these KCET Artbound stories for more as well.
15 Years of Firecracker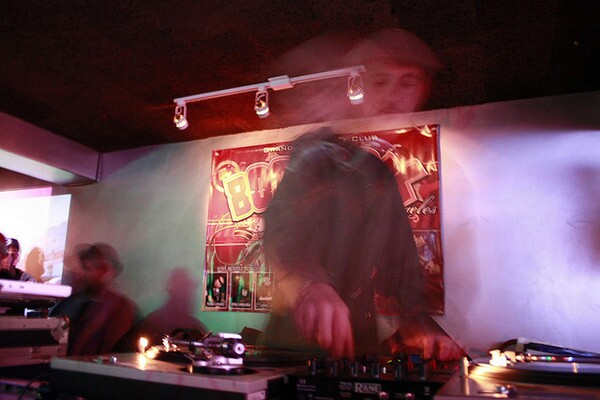 Speaking of songs in the key of Los Angeles, one of L.A.'s most popular nights of music over the last generation will be having a reunion party. On Friday September 27, 2013, KPFK's "Truthseeker Radio," along with Mochilla, will be organizing a birthday reunion party to celebrate 15 years of Firecracker. Firecracker was a legendary event that I have covered before -- it had hip hop upstairs and jazz in the bar on the bottom floor. Though Firecracker stopped their regular event at the end of 2009, they will be rekindling the spirit for a one night reunion and Eric Coleman's birthday party.
Firecracker's home was at the Quon Brothers' "Grand Star Restaurant," a two-floor Chinese restaurant in Chinatown on Broadway, just north of College. Firecracker was founded in August of 1998 by a coalition of artists, activists, writers, photographers, filmmakers and DJs. It was held on the first, third, and fifth Friday of every month, so you always had to check the calendar and count Fridays.
Co-founder Lisa Yu says, "When the idea of Firecracker was first conceived, Daryl Chou, myself, James Kang, and a few other friends envisioned an artistic space where local writers, poets, visual artists, and musicians could come together to perform, share, and inspire. We craved a space where our community could come together to create and grow, so we wanted to make sure that this party incorporated not only the music that inspired us, but also other artistic elements that were part of our scene."
They called up four DJ friends of theirs -- Wing Ko, Eric Coleman, Alfred Hawkins, and Paris Potter -- to be the original DJs. Before long, the location, the people, and the music merged into one. Lisa Yu says, "We showcased artists who inspired us, like Chaz Bojorquez, Omar Ramirez, Angelo Moore (Fishbone), Mear One, HVW8 crew."
Yu continues, "Quickly, and beyond what we ever imagined, our intimate party grew into something much larger and took on a life of its own. After a while, Logic joined the official crew, as did Azul and Kutmah a bit later." They teamed up with like-minded artists and orgs, like Brian Cross, Madlib, Giant Robot, Stones Throw Records, Mochilla, Chocolate Bar, and Root Down to cross-pollinate the party.
My old friend Rich took me to Firecracker a few months after it started. I remember the first time we were there, and how we remained in the forecourt long after last call. Daryl Chou, one of the co-founders, never missed one over 12 years. This dedication is an overlooked factor in longevity. Consistency, like Daryl's and resident DJ's like Eric Coleman, is the main ingredient needed to create an event with the staying power of Firecracker. Stalwarts, like Miles Tackett, Carlos Guaico, and DJ DUSK, hardly missed a week at Root Down over the same period.
The Firecracker 15 Year Anniversary will bring the original cast back for a night of sonic celebration. DJ Battlecat will be joining the residents on the tables. Firecracker was one of the primary places where superstar DJs like the Beat Junkies would come to not only flex their mixing skills, but play extra eclectic tunes because the crowd was aurally educated and with it. The reunion event will undoubtedly be an omnibus phantasmagoria of funk, soul and classic hip hop.
As these three new books and the Firecracker Reunion party indicate, the cultural, musical, and literary landscape of Los Angeles is alive and well. There is no shortage of excellent writing or nights of vibrant music. Salute to these esteemed L.A. authors and musicians playing songs in the key of Los Angeles, they are all towering titans in the topography of L.A. Letters.